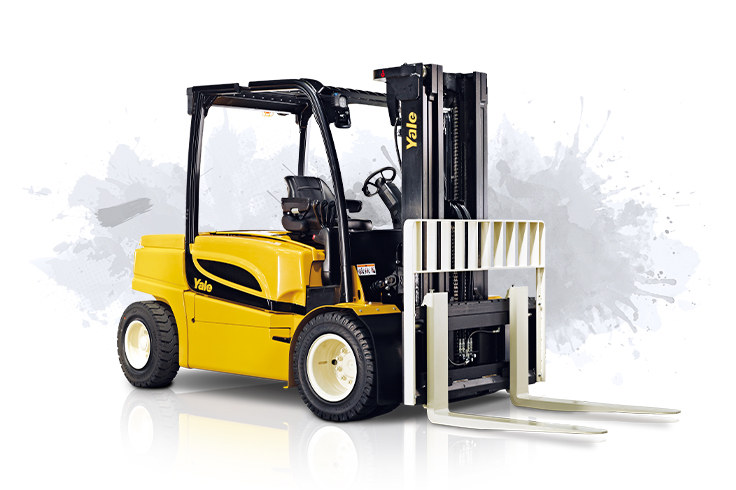 4 Wheel Electric Forklift Truck Pneumatic Tyre
Specifically for demanding industrial and manufacturing uses.
Models

ERP40-55VM

Capacity

4000-5500lbs
An 80 volt energy efficient fork lift truck series that delivers the highest levels of productivity in heavy duty internal or external applications
Continuous Stability Enhancement
Designed for operator comfort
4 performance modes
High visibility masts
Low cost of ownership
The VM series of electric counterbalanced forklift trucks delivers equivalent ICE performance which can be matched to suit the application while 'e-Balance' can provide the best of both worlds when required.
Continuous Stability Enhancement
Increased articulation from the Yale Extended Steer Axle with CSE (Continuous Stability Enhancement) allows the VM series to manoeuvre in tighter working aisles and operate comfortably over poor ground conditions.
Designed for operator comfort
Designed to provide the most comfortable working environment for operators, the operator compartment has the lowest WBV (whole body vibration) in its class in the industry contributing to a reduction in back strain and fatigue of your operators. An Infinitely adjustable steering column with memory-tilt option and low step height provides easy on and off access.
4 performance modes
Four performance modes can be accessed through the 'heads up' display allowing for a precise application or operator setting to be selected. Additional settings can be set by a Yale service technician.
High visibility masts
A full range of high visibility 2 stage LFL and 3 stage FFL masts are available. The high visibility masts incorporate new chain placement and hose routings that maximise for visibility for the operator.
Low cost of ownership
Low lifetime maintenance costs are a result of less maintenance by E-brakes, electric park brake, E-steering, CAN bus and AC technology. 1,000 hour service intervals for most components and 4,000 hours for oil immersed brakes, drive axle, transmission and hydraulic oil.
Model
ERP50VM
ERP45VM
ERP50VM6
ERP55VM6
ERP40VM
Nisi ullamco
Nisi eiusmod nulla.
Labore sunt aute pariatur, quis sit aliquip laboris occaecat aliqua. Exercitation minim qui quis nulla sed ea proident, ut tempor. Consectetur et sunt ut enim elit, magna cillum pariatur, proident. Magna aute velit lorem quis cillum ex adipisicing officia ut. Reprehenderit est dolor laborum, fugiat ad eiusmod voluptate ut aute. Veniam, in mollit sed anim quis laborum, irure ut nostrud. Fugiat ut pariatur, velit nisi nostrud lorem sint dolore aute. Adipisicing fugiat do cillum dolor duis culpa cupidatat magna nulla. Id laboris nisi aliqua, in voluptate non in ut ut. Duis consectetur non aute sint labore laborum, in incididunt enim