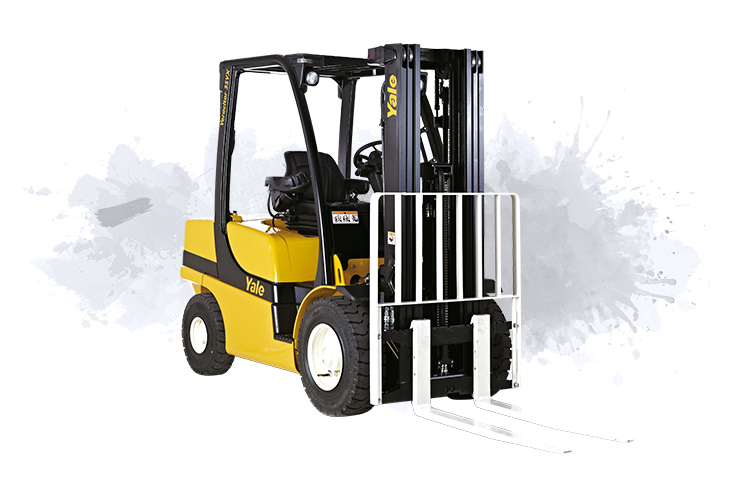 4 Wheel IC Forklift Pneumatic Tire
Optimal productivity with superior protection
Models

GDP/GLP20-35VX

Capacity

2000-3500lbs
Designed for medium to heavy duty applications, the GDP/GLP20-35VX Veracitor® is a favorite among the retail industry, home centers and general manufacturing environments.
Customizable for the application
Productivity
Continuous Stability System
Simple serviceability
Attachment options
Designed for medium to heavy-duty use
Customizable for the application
Each truck in the Veracitor series is customizable with packages for specific customer needs, from medium- to heavy-duty applications.
Engine options:
PSI 2.4L LPG/Dual Fuel
Kubota 2.5L LPG
Kubota 2.4L Turbo Diesel
Yale® Flex Performance Technology™ allows operators to boost fuel economy or turn up performance to maximize productivity during peaks
Transmission options:
Electronic Powershift - smooth electronic inching, electronic shift control and heavy duty clutch packs
Techtronix 100 (optional) - all features of the standard transmission, plus controlled power reverse, controlled rollback and auto deceleration system to help reduce wear on transmission, brakes and tires
Hydraulics options:
Cowl mounted mechanical levers - easy reach ergonomic design, excellent right-side access
Accutouch mini-lever electro-hydraulics (optional) - fingertip activation, best-in-class comfort
Brakes
Drum - self-energizing and automatically adjusting
Oil-cooked wet disc - long life with virtually zero maintenance, fully sealed for tough environments
Productivity
Did you know 54% of companies list meeting customer demands for faster response times as one of their top five challenges?
The Veracitor series is designed to boost productivity with faster cycle times. In fact, the GP-VX shaves seconds off each cycle and delivers up to 27% more power, allowing your operators to move up to 12,000 more loads per truck, per year.
Continuous Stability System
The Continuous Stability System (CSS) reduces truck lean in turns for improved lateral stability and uses an innovative steer axle mounting design for superior travel over uneven surfaces.
Maintenance-free design with no electronic or hydraulic components to service or replace
Simple and effective mechanical system with only two wearable parts
Simple serviceability
Ownership costs account for the majority of lift truck costs, including periodic maintenance, repairs and fuel costs. To help save time and money, Yale engineered the GP-VX series with a focus on:
Reduced fuel consumption: The GP-VX series consumes up to 66% less fuel per truck than the leading competitor, reducing costs and boosting efficiency and sustainability initiatives
Lowered scheduled lifetime maintenance costs: The GP-VX series requires less maintenance and technician labor per truck, saving up to $14,619 on periodic maintenance over 10,000 hours of operation.
Attachment options
The Yale Veracitor series offers a variety of attachment packages to provide the right tool to drive lasting productivity in your operation.
Integral side-shifting fork positioner to handle a variety of pallet widths, avoiding the need to make frequent stops and reposition forks by hand
Paper application kit reduces the accumulation of paper debris in the engine compartment, and includes vented hood, high-temperature hydraulic oil, exhaust wraps and optional radiator link screen
Model
GDP/GLP35VX
GDP/GLP30VX
GDP/GLP35VX
GDP/GLP35VX
GDP/GLP25VX
GDP/GLP25VX
GDP/GLP30VX
GDP/GLP25VX
GDP/GLP30VX
GDP/GLP20VX
Nisi ullamco
Nisi eiusmod nulla.
Labore sunt aute pariatur, quis sit aliquip laboris occaecat aliqua. Exercitation minim qui quis nulla sed ea proident, ut tempor. Consectetur et sunt ut enim elit, magna cillum pariatur, proident. Magna aute velit lorem quis cillum ex adipisicing officia ut. Reprehenderit est dolor laborum, fugiat ad eiusmod voluptate ut aute. Veniam, in mollit sed anim quis laborum, irure ut nostrud. Fugiat ut pariatur, velit nisi nostrud lorem sint dolore aute. Adipisicing fugiat do cillum dolor duis culpa cupidatat magna nulla. Id laboris nisi aliqua, in voluptate non in ut ut. Duis consectetur non aute sint labore laborum, in incididunt enim