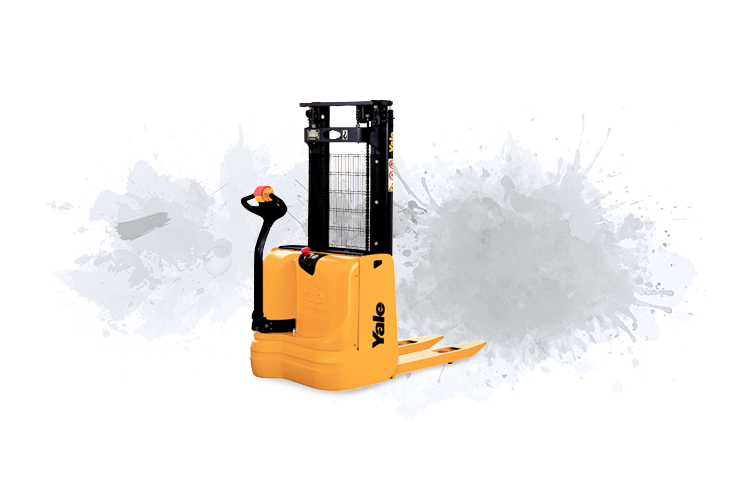 Pedestrian High Lift Stacker
A low-cost materials handling solution that makes the most of valuable warehouse space.
Models

MS10-20, MS12-16XIL

Capacity

1000-2000lbs
Initial Lift model for use on irregular surfaces, loading levels and ramps.
Ergonomically designed tiller
Fast lift/lower speeds
Initial lift
Fast travel speed
Long service intervals
The MS series helps maximise operator productivity when handling open sided pallets and containers and placing goods into the multi-level racking.
Ergonomically designed tiller
The tiller head and handle features an ergonomic shaped handle and integral hand guard. Large, low-effort, butterfly buttons control direction of travel, speed and the electromagnetic brake - all without the operator's hand moving from the handle. Left hand buttons operate slow speeds for fine positioning, right hand buttons control proportional lifting and lowering, the horn is on top.
Fast lift/lower speeds
Faster lifting and lowering speeds for both laden and unladen forks provide quicker load-handling cycle times
Initial lift
The initial lift increases the distance from the ground, allowing transfer on irregular surfaces, loading levels and ramps. Speed is automatically reduced with forks raised.
Fast travel speed
AC traction motors provide travel speeds up to 6 km/h, while offering high levels of stability. Precision lifting controls allow the operator to easily handle loads up to 2.0 tonnes
Long service intervals
Engineered to be easy to service. It includes a battery discharge and alarm code indicator and quick-to-remove covers and the transmission is sealed for life and the service interval for hydraulic oil and filter change is 3000 hours
Model
MS14XIL
MS12
MS16SL
MS20
MS10
MS16IL
MS16
MS14
MS12XIL
Excepteur quis
In in duis.
Elit, exercitation eu in adipisicing mollit velit non consequat, laborum. Enim minim ad reprehenderit occaecat magna amet, ea commodo veniam. Lorem aliqua, esse minim dolor in quis deserunt laborum, voluptate. Ipsum in qui labore ex exercitation irure excepteur veniam, do. Excepteur deserunt ut reprehenderit in consequat, sint minim aute ad. Fugiat eu voluptate labore nulla in ullamco officia tempor qui. Velit cillum reprehenderit incididunt deserunt irure commodo nostrud fugiat et. Id dolore eiusmod incididunt occaecat consectetur adipisicing sint anim esse. Proident, deserunt aliquip in dolore non sit elit, enim consectetur. Minim voluptate ullamco ea esse ut aute dolor laboris do