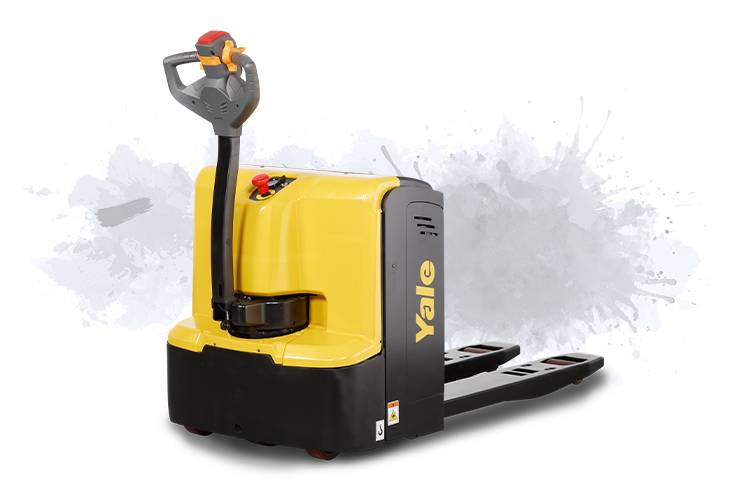 Walkie Low Lift Pallet Truck
Efficient, reliable powered pallet transportation
Models

MP40KUX

Capacity

4000lbs
The MP20KUX delivers reliable performance with low maintenance requirements, ready to stand up to a variety of temperatures and service environments.
Powerful performance
Built to last
Efficient service
The package you need for reliable, high-volume load movement
Powerful performance
The Yale MP20KUX electric walkie pallet truck series offers robust, reliable performance operations need along with smart touches and ergonomic features to help optimize labor efficiency - even in cold environments.
Optional cold storage configuration with one or two-sided handle
Built-in pressure relief valve protects truck from overloading
Long handle reduces steering effort
Variable speed control to match operating environment
Low speed switch in handle for precise control within easy reach
Entry roller for easier pallet access and equipment operation
Built to last
The MP20KUX pallet truck series is built to last, designed to standup for demanding operating environments and duty cycles to keep your operation moving.
Spring-loaded casters offer improved lateral stability on uneven floors while also enhancing truck performance and extending service life
Formed heavy gauge steel provides maximum fork strength and longevity
Pull rod design protects against bending
Durable plastic covers protect components
Efficient service
You need equipment that spends more time in operation and less time in service. The MP20KUX pallet trucks are designed for easy service access, with simple components and extended service intervals to reduce necessary maintenance and make it fast when necessary.
CANbus technology reduces wiring complexity
Advanced AC control system eliminates motor brushes for reduced service requirements
Grease fittings and serviceable bushing for all pivot points, helping reduce component wear
Low battery protection setting to extend battery service life
Nisi ullamco
Nisi eiusmod nulla.
Labore sunt aute pariatur, quis sit aliquip laboris occaecat aliqua. Exercitation minim qui quis nulla sed ea proident, ut tempor. Consectetur et sunt ut enim elit, magna cillum pariatur, proident. Magna aute velit lorem quis cillum ex adipisicing officia ut. Reprehenderit est dolor laborum, fugiat ad eiusmod voluptate ut aute. Veniam, in mollit sed anim quis laborum, irure ut nostrud. Fugiat ut pariatur, velit nisi nostrud lorem sint dolore aute. Adipisicing fugiat do cillum dolor duis culpa cupidatat magna nulla. Id laboris nisi aliqua, in voluptate non in ut ut. Duis consectetur non aute sint labore laborum, in incididunt enim