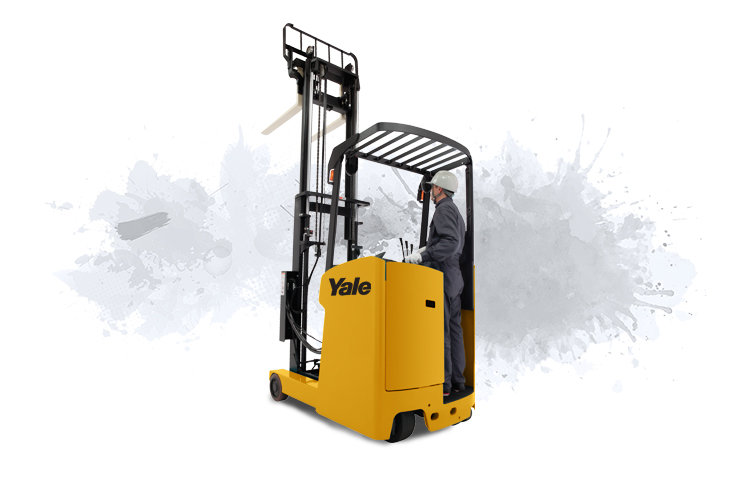 Reach Truck with Moving Mast
Comfort and agility for reliable pallet handling
Models

FBR13-18S(W)Z

Capacity

1250-1800lbs
Experience ergonomic performance at its best with the Yale FBR13-18S(W)Z.
Operator comfort
Exceptional manoeuvrability
Efficient handling in tight areas
Operator comfort
We know operator comfort is vital over long shifts, that's why the Yale FBR13-18S(W)Z is equipped to meet operator needs in these demanding environments.
A round shaped operator space which wraps flexibly around the operator
A high back support helps to support the shoulders from the sides
Low 250mm floor height helps reduce operator fatigue in work with frequent on-off application
Exceptional manoeuvrability
There is no room for error in tight spaces. That is why operator confidence over performance and control is key.
Travel and load handling operations are locked (disabled) when the operator leaves the operator compartment
Acceleration is restricted while the forklift is turning preventing hazardous situations such as rollover
The anti-rollback mechanism, prevents the forklift from rolling back when it starts from a stop on an upslope.
Model
FBR13SZ
FBR18SWZ
FBR15SWZ
Nisi ullamco
Nisi eiusmod nulla.
Labore sunt aute pariatur, quis sit aliquip laboris occaecat aliqua. Exercitation minim qui quis nulla sed ea proident, ut tempor. Consectetur et sunt ut enim elit, magna cillum pariatur, proident. Magna aute velit lorem quis cillum ex adipisicing officia ut. Reprehenderit est dolor laborum, fugiat ad eiusmod voluptate ut aute. Veniam, in mollit sed anim quis laborum, irure ut nostrud. Fugiat ut pariatur, velit nisi nostrud lorem sint dolore aute. Adipisicing fugiat do cillum dolor duis culpa cupidatat magna nulla. Id laboris nisi aliqua, in voluptate non in ut ut. Duis consectetur non aute sint labore laborum, in incididunt enim