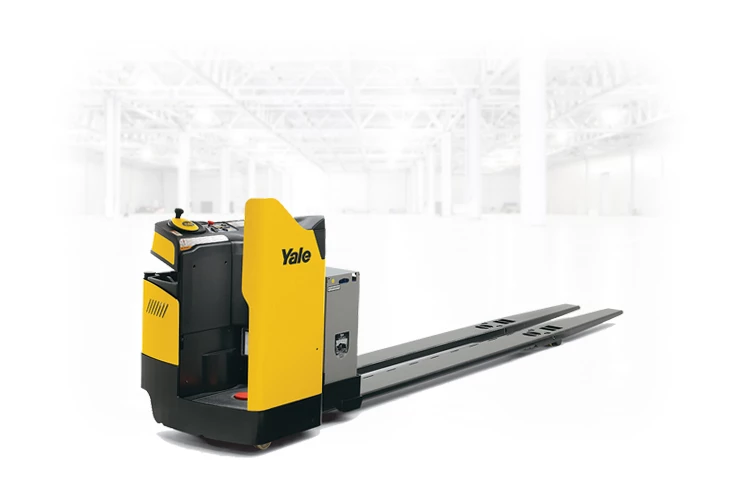 Keep Pallet Transportation Moving
Models

MPR080-MPR100VG

Capacity

8000-10000lbs
The enclosed end rider is engineered from the ground up based on feedback from customers, offering the comfort, productivity and dependability to get even the most demanding cross-docking and transportation jobs done.
Operator comfort
Powerful performance
Maneuverability
Proven reliability
Low maintenance
More Comfort, More Productivity, More Dependability
Ergonomic advantages
A comfortable operator is a productive operator. From a large operator platform to intuitive controls, the enclosed end rider is easy to operate and comfortable to ride.
Electric power steering significantly reduces steer effort and offers lock-to-lock adjustability, enabling tight turns in crowded spaces and helping reduce operator fatigue
Contoured, padded compartment uses flexible urethane foam padding to surround the operator, with bakrest, hip pad, elbow and knee support
Exclusive multi-zoned operator presence system allows operators to adjust stance for greater comfort and stamina during the course of a shift
Contoured multifunction control handle offers three adjustable positions and allows fingertip control of lift and lower, travel and horn functions
Powerful performance
The enclosed end rider's productive travel speeds and energy efficiency enable operators to move more loads per hour.
Extended shift feature tailors truck performance to maximize energy efficiency, keeping you working longer between battery charges
Advanced pallet entry-exit system and high-performance hydraulics to help produce quick cycle times
Programmable acceleration and travel speeds
Four programmable performance modes let operators tailor truck performance to their application or skill level
Maneuverability
The enclosed end rider is designed to help operators confidently move pallets in and out of tight spaces and across dock plates.
Full six inches of lift height for optimal clearance
Tight turning radius
Electric power steering
Intelligently positioned undercarriage components
Four-point chassis and rigidly sprung load bearing components boost stability, helping keep loads level
Proven reliability
Meticulously designed, rigorously engineered and yes, thoroughly tested. The MPR-VG enclosed end rider is built to last and exceed the highest standards for reliability and performance – and we have the test results to prove it.
Lifted over 1 billion pounds without failure – a testament to the design of our complete linkage system
Survived over 1,000 hours in the most demanding, high-duty cycle applications, proving the extremes the heavy duty linkage of the enclosed end rider can endure before needing service
Durable components, including dual caster wheel assembly, heavy duty fork frame, larger drive tires, tandem load wheels and AC traction motor, all built for easy service and long-lasting performance
Low maintenance
While no truck is maintenance free, the enclosed end rider is designed to keep service to a minimum and when it is needed, to get it done fast.
Quick release service door hatch provides access to traction controller, drive motor and hydraulic power unit
High efficiency AC traction motor requires no service
Electric power steering eliminates potential leak points of hydraulic systems
CANbus communication simplifies wiring, reducing potential failure points
Electro-mechanical parking brake has no service requirements
| Model | Load Capacity | Lift Height | Battery Capacity Voltage | Weight |
| --- | --- | --- | --- | --- |
| MPR080 | 8000lbs | 9.3 | 24V / 375-930Ah | 1500 |
| MPR100VG | 10000lbs | 9.3 | 24V / 375-930Ah | 1500 |