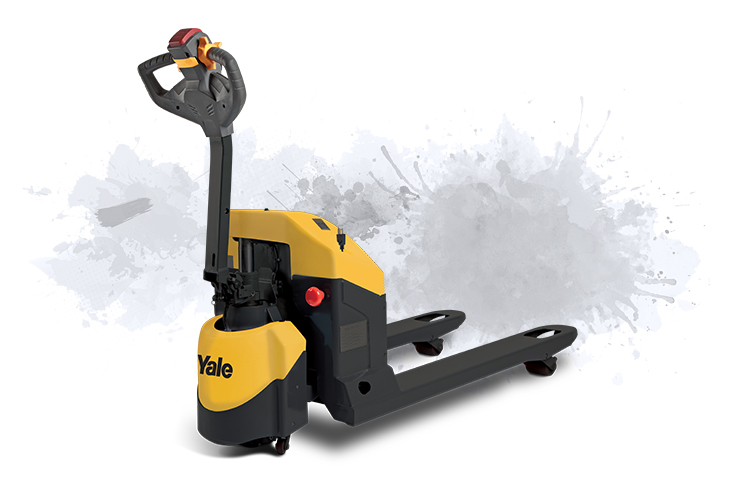 Walkie Low Lift Pallet Truck
Powered solution for pallet transportation
Models

MP15UX

Capacity

1500lbs
The Yale electric walkie offers a package of ergonomics, efficiency and a built-in charger to keep operations moving.
Engineered for productivity
Ergonomics
Easy service and dependability
Reliable pallet transport solution with convenient charging
Engineered for productivity
Your operation runs lean, which means you need equipment that's ready when you are, built to keep business moving. The MP15UX is built with several smart features to maximize productivity.
Built-in charger capable of plugging into standard wall outlet
Floating balance wheel automatically adjusts height and improves stability during unloading
Small turning radius and drive capability when tiller is upright, offering strong maneuverability
Entry roller for easier pallet access and equipment operation
Ergonomics
The MP15UX electric walkie delivers with features designed with ergonomic advantages and to optimize performance.
Long handle reduces steer effort
Variable speed control to match operating environment
Low speed switch in handle for precise control within easy reach
Emergency stop button and emergency reversing belly button to maximize operator control
Designed with casters for greater stability
Easy service and dependability
The MP15UX series is tough enough to standup to your operation's challenges day after day, with both rigid structure and a simple design for fast, efficient service.
Formed heavy gauge steel provides maximum fork strength and longevity
Durable plastic covers offer protection while removing for easy service access
Sealed, maintenance-free batteries
Simple components and no computer-based diagnostics required
| Model | Load Capacity | Lift Height | AST | Battery Capacity Voltage | Weight |
| --- | --- | --- | --- | --- | --- |
| MP15UX | 3300lbs | 4.5 | 67 / 66 | 24V / 65Ah | 451 |
Nisi ullamco
Nisi eiusmod nulla.
Labore sunt aute pariatur, quis sit aliquip laboris occaecat aliqua. Exercitation minim qui quis nulla sed ea proident, ut tempor. Consectetur et sunt ut enim elit, magna cillum pariatur, proident. Magna aute velit lorem quis cillum ex adipisicing officia ut. Reprehenderit est dolor laborum, fugiat ad eiusmod voluptate ut aute. Veniam, in mollit sed anim quis laborum, irure ut nostrud. Fugiat ut pariatur, velit nisi nostrud lorem sint dolore aute. Adipisicing fugiat do cillum dolor duis culpa cupidatat magna nulla. Id laboris nisi aliqua, in voluptate non in ut ut. Duis consectetur non aute sint labore laborum, in incididunt enim