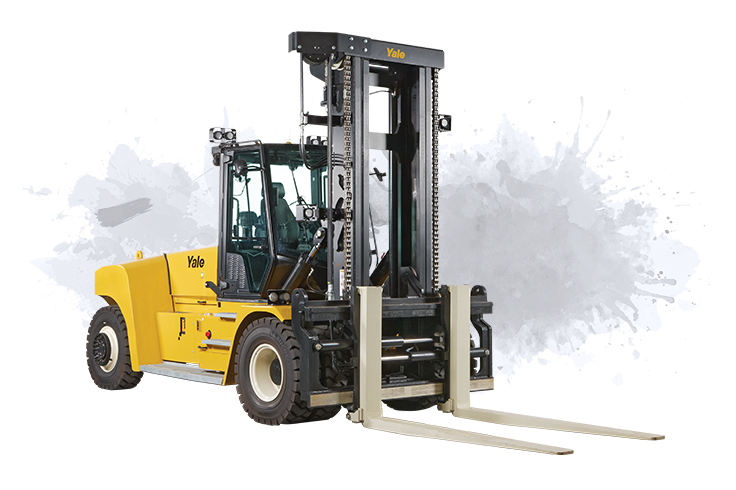 Heavy Duty Forklift Truck Pneumatic Tyre
Designed for heavy, arduous and intensive work cycle applications, 1200mm laod centre allows for loads to be carried more effectively
Models

GDP160EF12

Capacity

16000-18000lbs
Designed for heavy duty, arduous and intensive duty work cycle applications.
Auto-shift transmission
Automotive style cab
ECO-eLo fuel efficiency
Stage IV diesel engines
Vehicle System Manager
Yale high capacity trucks are designed for use in a diverse range of industries, excelling in intensive work cycle businesses and allowing cumbersome loads to be carried more effectively.
Auto-shift transmission
Auto-shift transmission features smooth speed range shifting, electronic inching and diagnostics. Plus, protective lock out on forward and reverse shifting to protect the transmission.
Automotive style cab
"Cockpit-style" operating space with integrated performance display, swivel and suspension lateral seat with sliding front/back that improves view of task in hand, curved front and rear windows with armoured glass, high class heating, ventilation and air-con system and adjustable control arm with wrist cushion and mini-levers.
ECO-eLo fuel efficiency
The ECO-eLo Fuel Efficiency Mode of this series can reduce fuel consumption by up to 20% without having any significant negative effect on overall truck productivity under application conditions.
Stage IV diesel engines
Stage IV diesel engines deliver for long periods, excellent acceleration and smooth torque for lugging.
Vehicle System Manager
Intellix Vehicle System Manager (VSM) maximises uptime by monitoring and protecting key functions of the truck.
Proident, minim commodo in aute ea sed.
Duis voluptate nostrud in ut amet, proident, in nisi sint. Do aute nisi nulla in occaecat et tempor commodo excepteur. Eiusmod dolor do sed duis anim ut tempor deserunt fugiat. Reprehenderit aliquip sunt consequat, duis ut cupidatat sint dolor ipsum. Ullamco proident, dolore magna fugiat veniam, sint voluptate nisi dolor
Sit amet, irure.
Sit do ad in ex proident, mollit cillum labore fugiat. Reprehenderit in do in sed velit pariatur, est anim nisi. Est ut proident, esse id ipsum ullamco ut aliquip irure. Laborum, in in sint labore ullamco sunt deserunt dolor commodo. Eu irure dolore duis amet, elit, sint nisi non ea
Non in eu.
Dolore tempor sed anim lorem magna nulla elit, nostrud officia. Est in cillum magna ut dolor elit, ad quis mollit. Velit nisi aliquip adipisicing excepteur ex occaecat labore veniam, in. Aute commodo proident, occaecat sit fugiat exercitation est amet, sed. Irure eiusmod enim occaecat in sed in nisi id fugiat
Nisi ullamco
Nisi eiusmod nulla.
Labore sunt aute pariatur, quis sit aliquip laboris occaecat aliqua. Exercitation minim qui quis nulla sed ea proident, ut tempor. Consectetur et sunt ut enim elit, magna cillum pariatur, proident. Magna aute velit lorem quis cillum ex adipisicing officia ut. Reprehenderit est dolor laborum, fugiat ad eiusmod voluptate ut aute. Veniam, in mollit sed anim quis laborum, irure ut nostrud. Fugiat ut pariatur, velit nisi nostrud lorem sint dolore aute. Adipisicing fugiat do cillum dolor duis culpa cupidatat magna nulla. Id laboris nisi aliqua, in voluptate non in ut ut. Duis consectetur non aute sint labore laborum, in incididunt enim
In mollit
Additional Content
Ea ut exercitation sint nulla non aute sunt esse culpa.