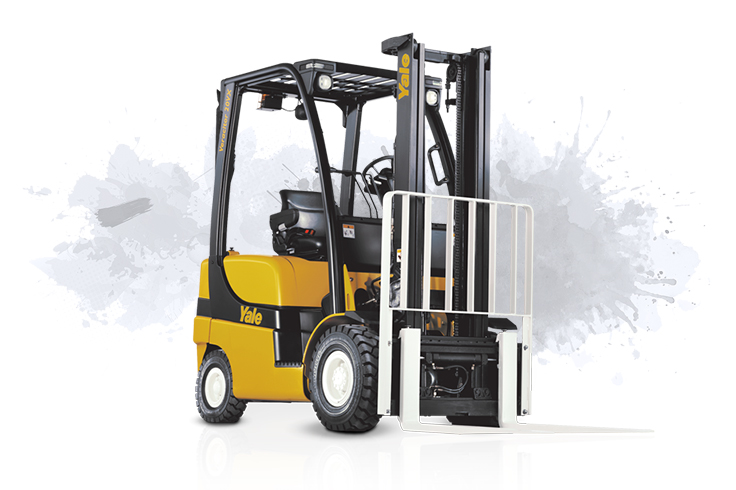 4 Wheel IC Forklift Pneumatic Tyre
Efficiency in outdoor and indoor applications
Models

GDP/GLP16-20VX

Capacity

1600-2000lbs
The GDP/GLP16-20VX Veracitor® is rugged enough for outdoor environments, but its maneuverability and speed also make the truck optimal for indoor use. It's designed for a long work life with less maintenance requirements in standard and medium-duty applications.
Customizable for the application
Ergonomic features
Built to last
Simple serviceability
High performance engine
Quality and configurability to fit even niche applications
Customizable for the application
Each truck in the Veracitor® VX series is customizable with packages for specific customer needs, ranging from standard- to medium-duty applications.
Engine: PSI 2.4L LPG with Yale® Flex Performance Technology™ that allows operators to boost fuel economy or turn up performance to maximize productivity during peaks
Transmission options:
Standard Electronic Powershift transmission with smooth electronic inching, electronic shift control and heavy duty clutch packs
Techtronix 100 transmission (optional) offers all features of the standard transmission, plus controlled power reversal for reduced tire spin and fuel consumption, controlled rollback and auto deceleration system
Hydraulics options:
Cowl mounted mechanical levers offer easy reach ergonomic design, excellent right-side access
Accutouch mini-lever electro-hydraulics (optional) with fingertip activation, best-in-class comfort
Ergonomic features
The GC-SVX series is packed with operator-friendly features to help stave off fatigue and keep productivity high, all shift long.
Hi-Vis™ mast with single free lift chain for clear visibility
Low step height for easy entry and exit
Steering wheel with 12-inch diameter and infinitely adjustable steer column helps operators of all sizes find comfortable operating position
Isolated powertrain reduces noise and vibration
Continuous Stability System (CSS) reduces truck lean in turns for improved lateral stability and uses an innovative steer axle mounting for superior travel over uneven surfaces
Rear drive handle with horn button (optional) improves comfort in reverse operation
Built to last
The Yale Veracitor series is engineered to be among the most dependable equipment available, with a rugged powertrain and enhanced monitoring options.
Innovative cooling system offers excellent airflow through optimized ducting and high-volume tunnels
Anti-clog radiator is completely shock-mounted for long service life
Reliable electronics, including sealed connectors, that enable entire truck to be pressure washed
Hall effect sensors and switches have magnetically operated solid state components and are completely sealed
Continuous Stability System is a completely maintenance-free solution, with no controllers, sensors and extra wiring
Simple serviceability
The GC-SVX series not only requires less maintenance, it's designed to make service easy when it is necessary - reducing associated time and cost.
Rear-opening, one-piece hood and one-piece floor plate offer excellent cowl-to-counterweight access
Coolant recovery bottle is easily visible for checks, and fill neck is within easy reach
Automatic electronic inching eliminates need for periodic adjustment
Auto deceleration system reduces brake usage and maintenance
Coil-over-plug ignition design eliminates spark plug wires and need for periodic replacement
Intellix VSM vehicle systems manager (optional) continuously monitors truck functions and immediately alerts operators of service needs
PC-based diagnostics enable fast, accurate troubleshooting for first-time fixes
High performance engine
High performance heavy-duty industrial engines deliver power efficiently with 500-hour service intervals. All engines feature cast iron blocks and five main bearing design with exhaust valve seats to ensure long operating life. Engines are fully isolated from the frame and axle resulting in low vehicle noise and vibration levels. Super quick glow plugs allow the engine to start quickly and reliably under cold conditions, delivering a cleaner exhaust by advancing the fuel injection timing based on water temperature. In addition, new performance optimisation developments are included such as cooling on demand, load sensing hydraulics (power on demand), RPM management and alternate engine idle speed to help further reduce the total fuel consumption in most applications. The energy-efficient ECO-eLo performance mode reduces energy consumption by up to 15% compared with previous generation engines and without compromising productivity.
Intellix Vehicle System Manager (VSM) maximises uptime by monitoring and protecting key functions of the truck.
Model
GDP/GLP18VX
GDP/GLP16VX
GDP/GLP20VX
GDP/GLP16VX
GDP/GLP20VX
GDP/GLP18VX
Proident, minim commodo in aute ea sed.
Duis voluptate nostrud in ut amet, proident, in nisi sint. Do aute nisi nulla in occaecat et tempor commodo excepteur. Eiusmod dolor do sed duis anim ut tempor deserunt fugiat. Reprehenderit aliquip sunt consequat, duis ut cupidatat sint dolor ipsum. Ullamco proident, dolore magna fugiat veniam, sint voluptate nisi dolor
Sit amet, irure.
Sit do ad in ex proident, mollit cillum labore fugiat. Reprehenderit in do in sed velit pariatur, est anim nisi. Est ut proident, esse id ipsum ullamco ut aliquip irure. Laborum, in in sint labore ullamco sunt deserunt dolor commodo. Eu irure dolore duis amet, elit, sint nisi non ea
Non in eu.
Dolore tempor sed anim lorem magna nulla elit, nostrud officia. Est in cillum magna ut dolor elit, ad quis mollit. Velit nisi aliquip adipisicing excepteur ex occaecat labore veniam, in. Aute commodo proident, occaecat sit fugiat exercitation est amet, sed. Irure eiusmod enim occaecat in sed in nisi id fugiat
Nisi ullamco
Nisi eiusmod nulla.
Labore sunt aute pariatur, quis sit aliquip laboris occaecat aliqua. Exercitation minim qui quis nulla sed ea proident, ut tempor. Consectetur et sunt ut enim elit, magna cillum pariatur, proident. Magna aute velit lorem quis cillum ex adipisicing officia ut. Reprehenderit est dolor laborum, fugiat ad eiusmod voluptate ut aute. Veniam, in mollit sed anim quis laborum, irure ut nostrud. Fugiat ut pariatur, velit nisi nostrud lorem sint dolore aute. Adipisicing fugiat do cillum dolor duis culpa cupidatat magna nulla. Id laboris nisi aliqua, in voluptate non in ut ut. Duis consectetur non aute sint labore laborum, in incididunt enim
In mollit
Additional Content
Ea ut exercitation sint nulla non aute sunt esse culpa.