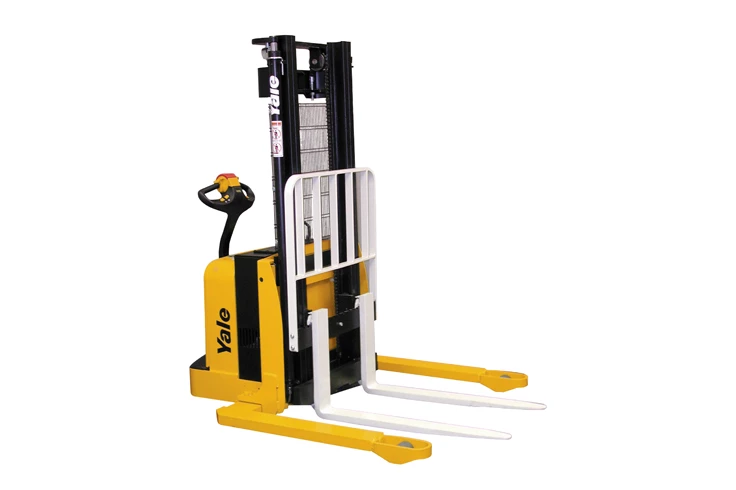 Pedestrian High Lift Stacker
A low cost solution that makes the most of valuable warehouse space
Models

MS10-12E

Capacity

1000-1200lbs
A compact pedestrian pallet stacker designed to be operator friendly with smooth drive, lift and lower control to provide effortless manoeuvrability.
Ergonomically designed tiller
Combi MOSFET
Robust and durable
Long service intervals
Energy efficient
The MS10-12E compact pedestrian pallet stacker has been designed to be as operator friendly as possible with smooth drive, lift and lower control to provide effortless manoeuvrability in the tightest corners of the warehouse or production floor.
Ergonomically designed tiller
The tiller head is designed for operator comfort and features an ergonomic shaped handle with angled grips and integral hand guard. Large, low effort butterfly buttons control the direction of travel and speed as well as the electromagnetic brake. Lift and lower buttons are conveniently located tiller head. The tiller arm is mounted onto the drive unit and the offset position increases visibility around the mast.
Combi MOSFET
The new generation MOSFET high frequency COMBI controller is to regulate both traction and pump operation. Automatic speed reduction when cornering is activated via the controller and regenerative braking as well as anti-rollback start up on an incline provide additional energy efficiency.
Robust and durable
For durability the mast guard is made from wire mesh. The fork section for 1 and 2 stage masts is the same, 60mm for the first 250mm from the carriage.
Long service intervals
Maintenance requiremnts are limited; with inspection intervals recommended every 1000 hours of service for a long operational life.
Energy efficient
The controller can be adjusted to forward and reverse travel speeds, reverse current braking, release braking, lift and lowering speeds and deceleration braking. The operator and application performance can be matched to ensure maximum productivity.