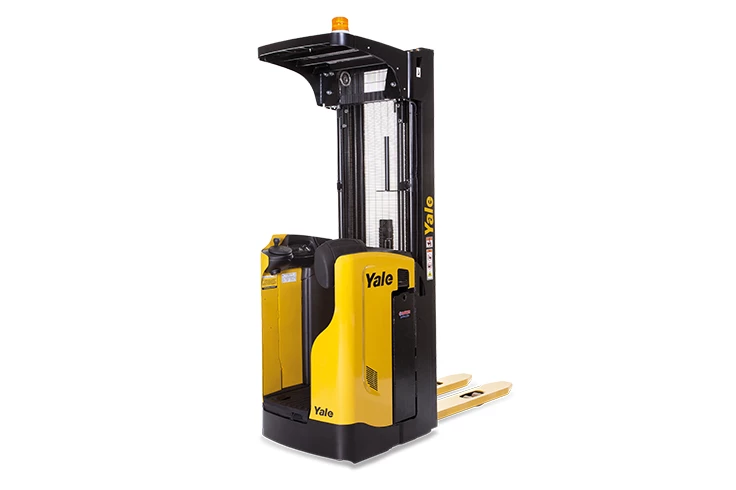 Designed for stacking and retreiving goods in long internal transport operations
Models

MS16S

Capacity

1600lbs
The Yale MS16S series has operator's needs central to its design enabling the transfer of goods over long and short distances, quickly and with excellent operator visibility.

Adjustable fly-by-wire steering
MOSFET Control
Adjustable seat
Different mast types
AC Technology
The MS16S rider stacker truck has been designed for stacking and retrieving goods in medium to long internal travel operations. With excellent access, a variable seat position and a high lift mast, this truck provides a comfortable working environment, leading to enhanced productivity.
Adjustable fly-by-wire steering
The electronic fly-by-wire steering requires minimum effort and allows rapid manoeuvring. The large dimensioned, low effort butterfly button controls direction of travel and speed as well as opening and closing the electromagnetic brake.
MOSFET Control
The MOSFET high frequency COMBI controller is to regulate both traction and pump operation. The controller features automatic braking and regenerative braking as well as anti-rollback start-up on an incline. Automatic speed reduction when cornering is activated via the controller and regenerative braking as well as anti-rollback start up on an incline provide additional energy efficiency.
Adjustable seat
A contoured polyurethane fully vertical adjustable cushion seat permits seated, leaning and standing operation/support for the operator to relieve fatigue over extended travel runs/shift times. The operators compartment also includes a padded armrest and the wide chassis width provides generous leg room for added operator comfort.
Different mast types
A variety of mast types including free lift 2 and 3 stage masts are available. Rollers are permanently lubricated and sealed for maximum service life. A Lexen transparent guard is fitted as standard.
AC Technology
The AC motor delivers fast travel speeds in the laden/unladen condition, high start-up torque and acceleration as well as efficient running. The use of AC motor technology eliminates forward and reverse contactors. The motor is mounted vertically for easy access, improved ventilation and minimum contamination from the ground.
Excepteur quis
In in duis.
Elit, exercitation eu in adipisicing mollit velit non consequat, laborum. Enim minim ad reprehenderit occaecat magna amet, ea commodo veniam. Lorem aliqua, esse minim dolor in quis deserunt laborum, voluptate. Ipsum in qui labore ex exercitation irure excepteur veniam, do. Excepteur deserunt ut reprehenderit in consequat, sint minim aute ad. Fugiat eu voluptate labore nulla in ullamco officia tempor qui. Velit cillum reprehenderit incididunt deserunt irure commodo nostrud fugiat et. Id dolore eiusmod incididunt occaecat consectetur adipisicing sint anim esse. Proident, deserunt aliquip in dolore non sit elit, enim consectetur. Minim voluptate ullamco ea esse ut aute dolor laboris do