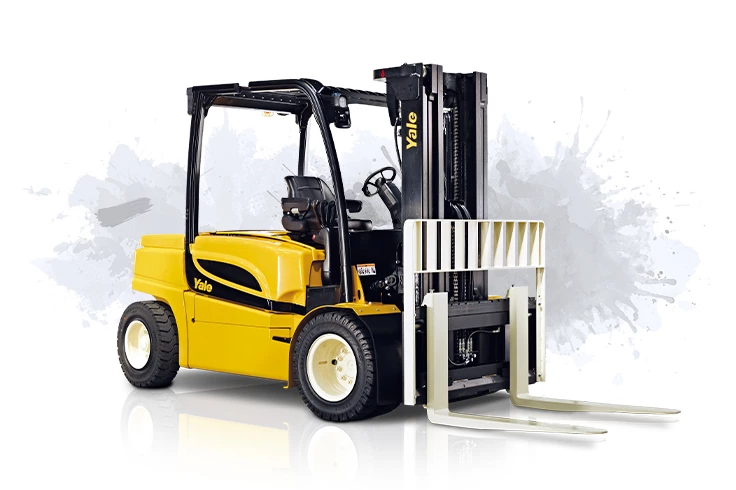 4 Wheel Electric Forklift Truck Pneumatic Tyre
Specifically for demanding industrial and manufacturing uses
Models

ERP40-55VM

Capacity

4000-5500kg
An 80 volt energy efficient fork lift truck series that delivers the highest levels of productivity in heavy duty internal or external applications
Continuous Stability Enhancement
Designed for operator comfort
4 performance modes
High visibility masts
Low cost of ownership
The VM series of electric counterbalanced forklift trucks delivers equivalent ICE performance which can be matched to suit the application while 'e-Balance' can provide the best of both worlds when required.
Continuous Stability Enhancement
Increased articulation from the Yale Extended Steer Axle with CSE (Continuous Stability Enhancement) allows the VM series to manoeuvre in tighter working aisles and operate comfortably over poor ground conditions.
Designed for operator comfort
Designed to provide the most comfortable working environment for operators, the operator compartment has the lowest WBV (whole body vibration) in its class in the industry contributing to a reduction in back strain and fatigue of your operators. An Infinitely adjustable steering column with memory-tilt option and low step height provides easy on and off access.
4 performance modes
Four performance modes can be accessed through the 'heads up' display allowing for a precise application or operator setting to be selected. Additional settings can be set by a Yale service technician.
High visibility masts
A full range of high visibility 2 stage LFL and 3 stage FFL masts are available. The high visibility masts incorporate new chain placement and hose routings that maximise for visibility for the operator.
Low cost of ownership
Low lifetime maintenance costs are a result of less maintenance by E-brakes, electric park brake, E-steering, CAN bus and AC technology. 1,000 hour service intervals for most components and 4,000 hours for oil immersed brakes, drive axle, transmission and hydraulic oil.
| Model | Load Capacity | Load Centre | Lift Height | Turning Radius | Battery Capacity |
| --- | --- | --- | --- | --- | --- |
| ERP40VM | 4000kg | 500mm | 6000mm | 2411mm | 80V / 840-930Ah(V/Ah) |
| ERP45VM | 4500kg | 500mm | 5735mm | 2411mm | 80V / 840-930Ah(V/Ah) |
| ERP50VM | 5000kg | 500mm | 5735mm | 2411mm | 80V / 840-930Ah(V/Ah) |
| ERP50VM6 | 5000kg | 600mm | 5290mm | 2573mm | 80V / 840-930Ah(V/Ah) |
| ERP55VM6 | 5500kg | 600mm | 5290mm | 2573mm | 80V / 840-930Ah(V/Ah) |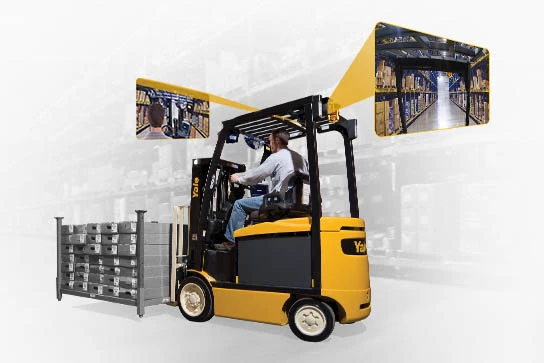 Yale Vision telemetry
Complete fleet visibility and control
Yale Vision provides real-time fleet monitoring for more informed decisions. The solution offers easy-to-use dashboards and analytics to manage cost, optimise productivity and protect assets.
See the difference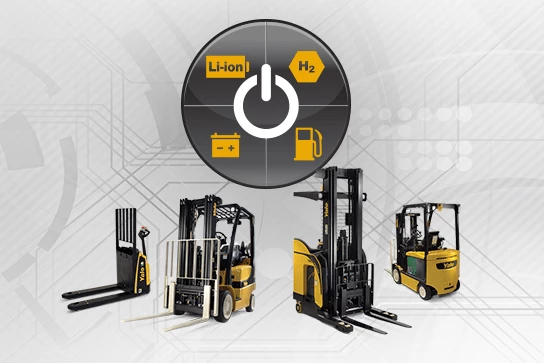 Yale Power Suite
Unlock the True Power of Your Operation
Yale Power Suite has the industry's widest range of power sources from a variety of brands, so you get the best solution available to maximize your operations. Our team has deep industry knowledge about forklift power sources to evaluate your application and recommend the power source that gives you the best return on your investment.
Learn more
Value-added services
Lift trucks are only part of our solution
Our value-added services are designed to help you get the most out of material handling investments.