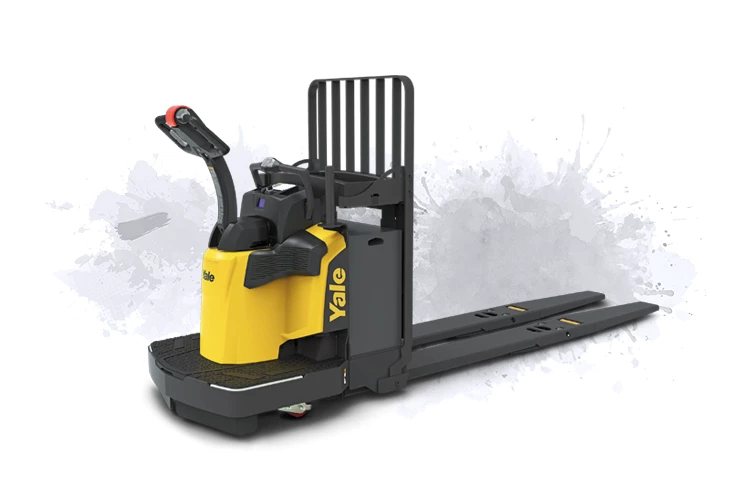 Boost Order Picking, Escalate Throughput
Models

MPE60-G, MPE060-080VH

Capacity

2721-3628kg
Designed with a variety of industry-exclusive ergonomic enhancements and smart features, the end rider boosts labor efficiency and throughput in several workflows, including dock loading/unloading, torizontal transport and low-level order picking.


Ergonomic advantages
Smart features
Awareness boosters
Durable construction
Service-friendly features
You Talked. We Listened. Together, We Changed the Game.
Ergonomic advantages
The Yale end rider is designed around the operator, packed with features to help increase comfort, focus and productivity all shift long.
Platform cushion provides 30% less shock and vibration when compared to conventional rubber mats to improve comfort and promote steadier footing
Power assist steering helps reduce physical effort by up to 60% compared to manual steer trucks and is programmable to match desired steering feel
Full rotary control handle uses a twist/grip design to minimize wrist stress and allow for precise lift/lower, travel control and horn functions from both sides
Integrated knee pads deliver industry-leading support and use a unique waffle pattern for flexibility, airflow and comfort
Extended operator platform (optional) offers 30% more usable floor space than leading competitors, allowing optimal foot positioning for enhanced stability and reduced fatigue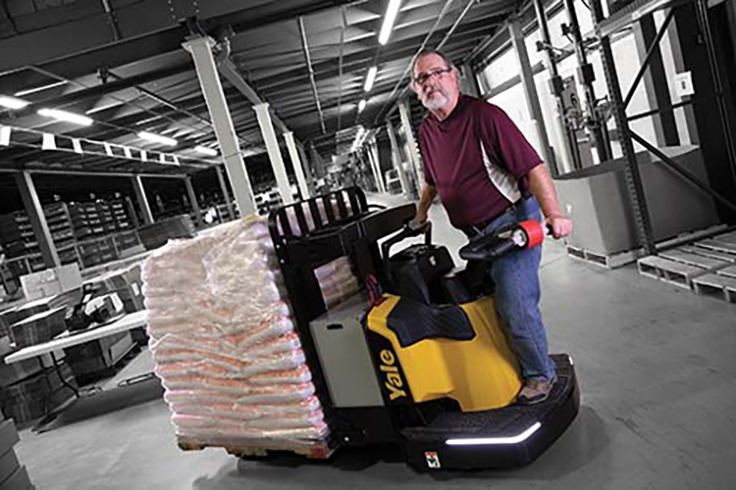 Smart features
Get the high-throughput advantage you're looking for. The Smart Shift bundle on the Yale End Rider allows the operator to better use the truck and improve efficiency and productivity.
Smart Lift/Lower automatically raises/lowers forks with one touch, shaving seconds off picks by enabling the operator to focus on the next task while the lift/lower function completes
Smart Acceleration provides two distinct acceleration profiles based on application, load and task. Can save 1-4 seconds per movement by using the faster profile before loads become too high
Smart Slow Down reduces truck speed when cornering to enhance load stability and operator control, decreasing risk of product damage
Smart Cruise Control permits operator to set truck speed and relax the throttle over long hauls, minimizing wrist/hand stress
Awareness boosters
The Yale end riders come with industry-exclusive features to enhance awareness in a variety of busy warehouse conditions and encourage safer operation.
Dual horn buttons — Allow operators to engage without moving hand from driving position
LED platform lights (optional) — Boost pedestrian and operator awareness in dark trailers or congested areas. Encased for added protection and durability, and programmable with different modes/flash patterns to communicate status
LED fork lights (optional) — Provide low-level illumination in dimly lit environments to help reduce risk of pallet and product damage. Recessed or caged for added protection and durability
Durable construction
To stay productive, you need equipment that can handle rigorous demands, day after day. Uneven surfaces, contacting pallets, repeatedly starting and stopping—it's all in a day's work.

That's why we strengthened every inch of our end riders, designed to have the durability required for your toughest challenges.
Enhanced frame stability capable of standing up to toughest use
Reinforced forks with 25% more steel
Engineered undercarriage to protect vital components


Service-friendly features
Extreme cost pressures and tight margins mean you have little tolerance for taking trucks out of commission for maintenance.

Yale end riders are engineered for longer service intervals and easier maintenance. You can spend more time moving product and less time servicing equipment — keeping total cost of ownership to a minimum.
Easy maintenance access for simple, fast service
Heavy duty lift linkage and abuse-tolerant undercarriage
Extended service intervals of up to 1,000 hours, with maintenance as much as 50% less often than competitors
It all adds up to big savings — up to $150,000 in lifetime maintenance savings compared to fleet of 50 competitive units.*

*Up to $150,000 lifetime savings is based on fleet of 50 Crown PE 4500 end riders operating 2,000 hours/year, while adhering to OEM recommended maintenance intervals and average $50/hour maintenance labor costs.
| Model | Load Capacity | Lift Height | Battery Capacity | Weight |
| --- | --- | --- | --- | --- |
| MPE060VH | 2721kg | 236mm | 24V / 375-930Ah(V/Ah) | 540kg |
| MPE60-G | 2721kg | 236mm | 24V / 375-930Ah(V/Ah) | 540kg |
| MPE080VH | 3628kg | 236mm | 24V / 375-930Ah(V/Ah) | 540kg |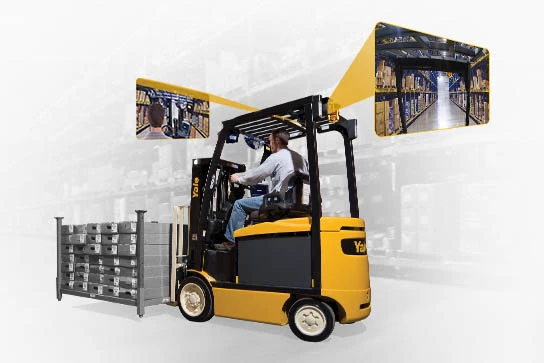 Yale Vision telemetry
Complete fleet visibility and control
Yale Vision provides real-time fleet monitoring for more informed decisions. The solution offers easy-to-use dashboards and analytics to manage cost, optimise productivity and protect assets.
See the difference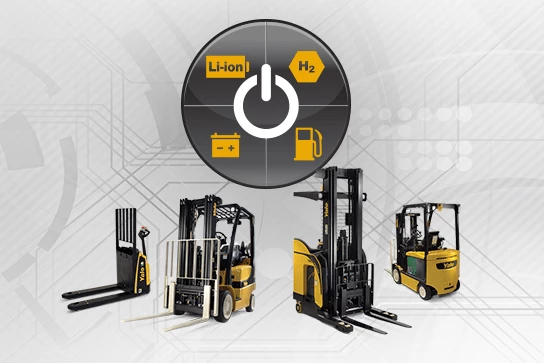 Yale Power Suite
Unlock the True Power of Your Operation
Yale Power Suite has the industry's widest range of power sources from a variety of brands, so you get the best solution available to maximize your operations. Our team has deep industry knowledge about forklift power sources to evaluate your application and recommend the power source that gives you the best return on your investment.
Learn more
Value-added services
Lift trucks are only part of our solution
Our value-added services are designed to help you get the most out of material handling investments.