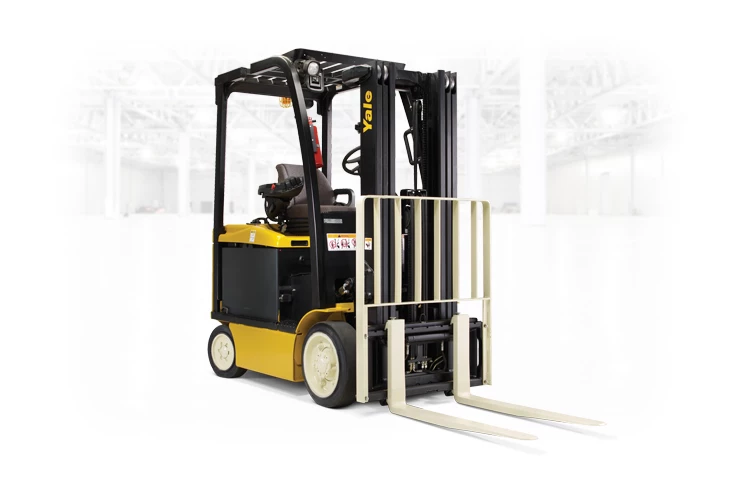 Electric Four-Wheel Cushion Tire
Efficiently handle indoor pallet storage, retrieval and transportation tasks
Models

ERC045-070VG

Capacity

2200-3500kg
ERC-VG electric trucks are designed for demanding indoor applications that require clean, quiet-running, heavy duty capability. These trucks offer plenty of power and high stacking ability, along with excellent ergonomics, reliability and maintenance ease.
Designed for comfort
Industrial-grade components
Application-matched performance
Less maintenance, easy service
High performance with best-in-class energy efficiency
Designed for comfort
The ERC-VG series is designed with a focus on human engineering, with a variety of operator-friendly features to minimize strain and fatigue, while maximizing productivity.
Customizable operator compartment allows precise positioning of the steering column and seat to optimize comfort and forward visibility through the mast
Open floor plate design offers up to 20% more floor space, while extra-thick floor mat absorbs shock
Power-assisted braking reduces pedal effort, with ergonomic layout for greater comfort
Large, textured grab handles
Deep, anti-skid steps enable easy entry, exit
Hydraulic controls are offered in two configurations to provide low-effort, tactile control of all hydraulic functions
Thumb actuated or foot directional control offer quicker, smoother control of travel speed and direction
Industrial-grade components
Tough indoor applications require electric trucks that are up to the task. The Yale ERC-VG series is designed to get the job done, with industrial-grade components and smart engineering to provide productive value and long life.
CANbus technology reduces wiring and connections for greater reliability
Drive axle uses high-strength gears and shafts to resist stress from quick direction changes
Steer axles use tough cast ductile iron for one-piece integrity and durability to support the counterweight and handle road shocks and vibration
Welded steel frame offers rigidity and protection of internal components
Sealed electrical connections resist moisture and dirt
Application-matched performance
From tough, short shuttle applications to long runs and ramp usage, the ERC-VG is built for varied applications.
Cool running, low maintenance AC technology provides enhanced performance and longer battery run time
Selectable performance modes allow truck performance to be tailored to real-time conditions and operator skill
Extended Shift functionality provides an excellent balance between battery run time and truck productivity
Return-to-set-tilt option brings the forks to a preset position when tilting for easy operation
Premium Permormance package (optional) provides up to a 12% increase in travel speed and lift speed
What's more? Competitive testing shows that the ERC045-070VG electric rider product offers the best energy efficiency (energy used per load moved) of any lift truck in its class in North America.
Less maintenance, easy service
Ownership costs account for the largest portion of dollars spent on a lift truck, including periodic maintenance, repairs, power costs, brakes and other items. Yale engineers focused on reducing maintenance requirements, making service more efficient when it is necessary.
Easy component access, including easily-removable floor plates and a rear-hinged hood that opens nearly 80 degrees
Reduced regular service requirements due to AC traction and hydraulic motors with no brushes and single-contactor AC electrical system
Clearly numbered wires, sealed connectors and common-sense routing make service easy and efficient
Auto Deceleration System reduces demand on brakes, extending service life
Hydraulic and steering functions in a single pump and motor assembly limits items that require service
| Model | Load Capacity | Load Centre | Lift Height | Turning Radius | Battery Capacity | Weight |
| --- | --- | --- | --- | --- | --- | --- |
| ERC045VG | 2200kg | 500mm | 6000mm | 1735mm | 36V / 1100-1300Ah - 48V / 800-1000Ah - 80V / 375-400Ah(V/Ah) | 4650kg |
| ERC050VG | 2500kg | 500mm | 6000mm | 1757mm | 36V / 1100-1300Ah - 48V / 800-1000Ah - 80V / 375-400Ah(V/Ah) | 4710kg |
| ERC055VG | 2500kg | 500mm | 6000mm | 1884mm | 36V / 1100-1300Ah - 48V / 800-1000Ah - 80V / 375-450Ah(V/Ah) | 4650kg |
| ERC060VG | 3000kg | 500mm | 5968mm | 1915mm | 36V / 1100-1300Ah - 48V / 800-1000Ah - 80V / 375-450Ah(V/Ah) | 5090kg |
| ERC065VG | 3200kg | 500mm | 5968mm | 2074mm | 36V / 1500-1600Ah - 48V / 1100-1200Ah - 80V / 600Ah(V/Ah) | 5180kg |
| ERC070VG | 3500kg | 500mm | 5968mm | 2094mm | 36V / 1600Ah - 48V / 1200Ah - 80V / 600Ah(V/Ah) | 5390kg |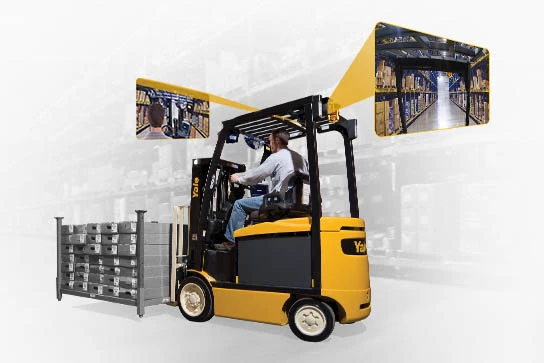 Yale Vision telemetry
Complete fleet visibility and control
Yale Vision provides real-time fleet monitoring for more informed decisions. The solution offers easy-to-use dashboards and analytics to manage cost, optimise productivity and protect assets.
See the difference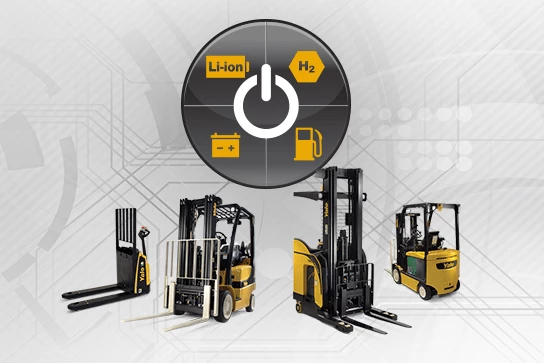 Yale Power Suite
Unlock the True Power of Your Operation
Yale Power Suite has the industry's widest range of power sources from a variety of brands, so you get the best solution available to maximize your operations. Our team has deep industry knowledge about forklift power sources to evaluate your application and recommend the power source that gives you the best return on your investment.
Learn more
Value-added services
Lift trucks are only part of our solution
Our value-added services are designed to help you get the most out of material handling investments.