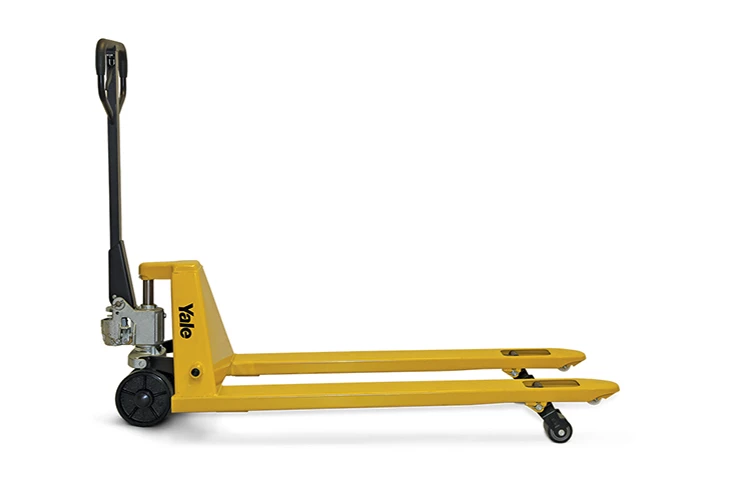 Durable and Easy-To-Use for Basic Pallet Handling Tasks
Our manually operated hand pallet trucks deliver exceptional durability, functionality and serviceability at competitive value.
Durable design
Easy to use
Variety of options
Move Loads With Minimal Operator Experience and Exertion
Durable design
You need a hand truck that can handle the rigors of your operation, day in and day out.
That's why we've designed the YA55-PT with industrial strength steel and a reinforced buckhead base, along with:
Heavy duty 1.25-inch thick steel adjustable push rods
2.1-inch thick steel C-channel
8-inch long reinforcement bars
9-inch handle base support prevents bending
Easy to use
The YA55-PT features an ergonomic, user-friendly design that helps reduce operator fatigue and downtime.
Cushioned handle with rubber grip for operator comfort
Maximum lift available with 10 full strokes
Hand and foot release for quick, convenient lowering
Articulating axle keeps load stable and offers superior maneuverability
Entry and exit helper rollers prevent "pushing" and "pulling" pallets
Standard polyurethane wheels and rollers for easy rolling
Variety of options
The YA55-PT is available in many different configurations to suit virtually any application.
Weigh scale — Allows the operator to easily lift, transport, and weigh loads with 99.9% accuracy, with easy-to-read meter, large LCD display, keypad and automatic tare functions
Galvanized stainless steel — Designed for corrosion resistance, chemical exposure and cold temperatures
Low profile — Handles unconventional loads that are too low for standard pallet trucks
Quick-lift pump — Features standard pumping operation for lifting and lowering loads and self-propelled movement for easy transportation of goods
Further customization is available for fork lowering, length and width, diversified capacities, load backrests, skid adaptors and more.
Value-added services
Lift trucks are only part of our solution
Our value-added services are designed to help you get the most out of material handling investments.