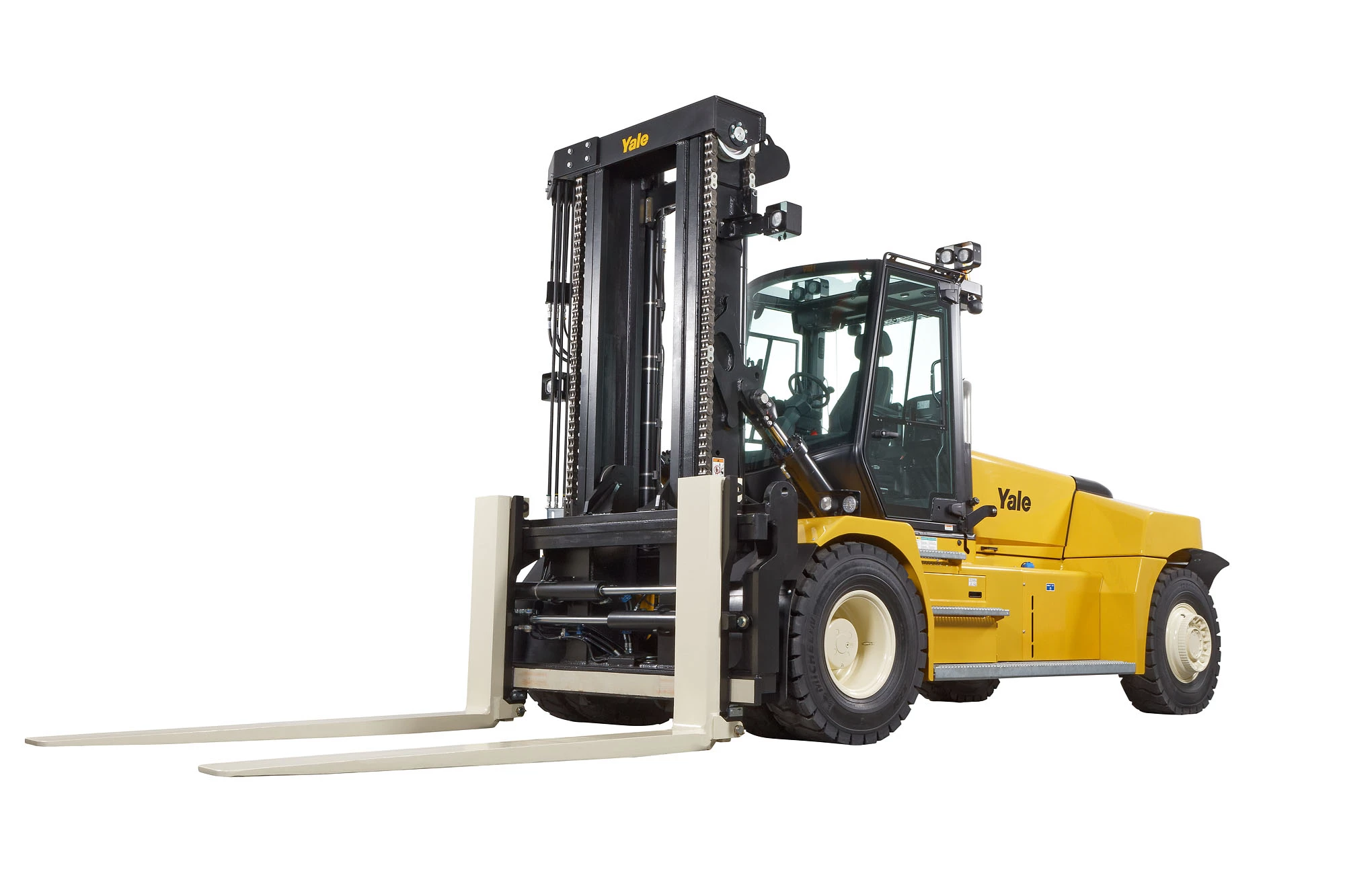 HIGH CAPACITY LIFTING UPTO 16 TONNES
Models

GDP80-160DFEF

Capacity

8000-160000kg
The GDP80-160DF/EF delivers a combination of ergonomics, power and durability in a robust platform designed for the most demanding duty cycles in logistics operations in various industry applications.
Efficient performance
Operator comfort
Maximum productivity
Service and dependability
All-day productivity in logistics applications
Efficient Performance
In logistics applications, you need a lift truck with the power to get through the difficult challenges while avoiding high running costs.
Stage V compliant engine with all the benefits that come with it. Such as combining a Selective Catalytic Reduction (SCR), a Diesel Exhaust Fluid (DEF) like AdBlue® and a Diesel Particulate Filter (DPF).The Tier 4 Final after-treatment package offers cooled Exhaust Gas Recirculation (EGR), a Selective Catalytic Reduction system (SCR) for NOx reduction, a Diesel Oxidation Catalyst (DOC) for Particulate Matter (PM)
For easy access and heat rejection, both after-treatment units are packed in one box and conveniently positioned on the outside of the truck.
All this allows for compliance to the Stage V requirement without compromising on the Yale promised performance.
Operator comfort
The DF/EF series is designed to keep operators comfortable and focused, for lasting productivity.
Low step heights for easy entry and exit
Low noise thanks to vibration dampeners for the powertrain
High, open carriage and mast sections offer unobstructed view of fork tips
Optional foot directional control pedal for quicker, smoother control of travel direction
Optional Accutouch mini-lever e-hydraulic controls accompany the adjustable armrest for low-effort, fingertip control of hydraulic functions and horn
Maximum productivity
The DF/EF series delivers the performance you need to meet the highest performance benchmarks in your scheduled duty cycles.
Automatic throttle up provides automatic response to lift inputs from the operator when the lift lever is activated, with a controlled rev-up to keep the engine in the most efficient operating range
Maximum travel speed of upto 30 km/hr (subject to model)
Fast lifting and lowering speeds
Service and dependability
The DF/EF series offers the build quality, smart features and serviceability to keep performing, shift after shift.
Sideways tilting cab offers unobstructed access to the engine and key components
CAN bus connections help to reduce fault identification time
Longer service intervals increase uptime and reduce service costs.
Sturdy mast design
Engine protection system monitors coolant, air intake temperatures and oil pressure
Transmission system monitors pressure, temperature and forward/reverse lockout during changes in direction
Efficient hydraulic system does not require engine speeds to run as high to extend component life
Quad-cooler radiator design channels only cool air, not preheated air, across cores
| Model | Load Capacity | Load Centre | Lift Height | Turning Radius | Overall Width | Weight |
| --- | --- | --- | --- | --- | --- | --- |
| GDP80DF | 8500kg | 600mm | 7000mm | 5731mm | 2541mm | 13270kg |
| GDP90DF(L) | 9500kg | 600mm | 7000mm | 4111mm | 2541mm | 13535kg |
| GDP90DF | 9500kg | 600mm | 7000mm | 5731mm | 2541mm | 13804kg |
| GDP100DF(S) | 10500kg | 600mm | 7000mm | 5920mm | 2541mm | 14883kg |
| GDP100DF | 10500kg | 600mm | 7000mm | 4637mm | 2541mm | 14470kg |
| GDP120EF12 | 12500kg | 1200mm | 7000mm | 4953mm | 2541mm | 19754kg |
| GDP120DF | 12500kg | 600mm | 7000mm | 4637mm | 2541mm | 15882kg |
| GDP130EF(S) | 13500kg | 600mm | 7000mm | 4637mm | 2541mm | 18629kg |
| GDP130EF | 13500kg | 600mm | 7000mm | 4637mm | 2541mm | 17806kg |
| GDP140EF | 14500kg | 600mm | 7000mm | 4637mm | 2541mm | 18483kg |
| GDP140EF(S) | 14500kg | 600mm | 7000mm | 4637mm | 2541mm | 19328kg |
| GDP160EF(S)12 | 16400kg | 1200mm | 7000mm | 4968mm | 2541mm | 23461kg |
| GDP160EF12 | 16400kg | 1200mm | 7000mm | 5200mm | 2541mm | 22681kg |
| GDP160EF | 16500kg | 600mm | 7000mm | 4637mm | 2541mm | 19459kg |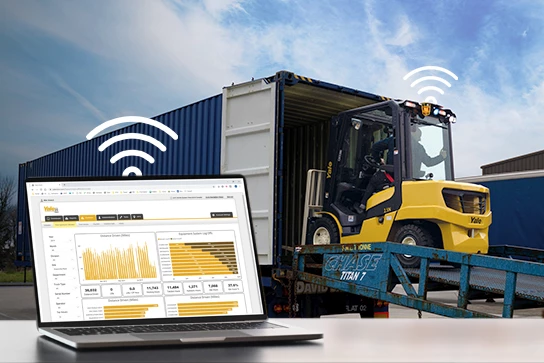 Yale Vision telemetry
Complete fleet visibility and control
Yale Vision provides real-time fleet monitoring for more informed decisions. The solution offers easy-to-use dashboards and analytics to manage cost, optimise productivity and protect assets.
See the difference