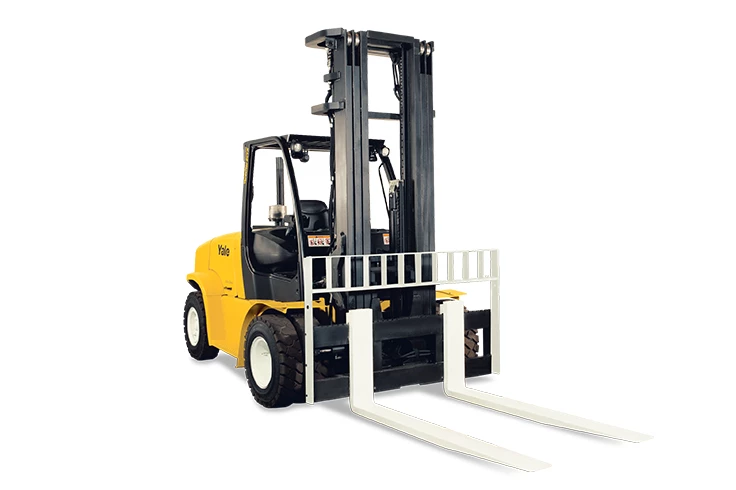 Internal Combustion Forklift Pneumatic Tyre
Premium heavy-duty internal combustion counterbalance lifting up to 9 tonnes
Models

GDP/GLP80-90VX

Capacity

8000-9000kg
Proven reliability, ideal for outdoor heavy-duty applications, the GDP/GLP80-90VX series provides the durability and versatility you need to get the job done, best suited for the paper, wood, metals and construction industries.
Robust and durable industrial engine
Techtronix™ 3x2 transmission
Stage V emission compliant
Ergonomic features
Efficient servicing
Robust and durable industrial engine
The GDP/GLP80-90VX uses the Kubota 3.8L SI/CI industrial engine which delivers a long and durable life. Designed specifically for industrial applications, it provides long service intervals in heavy duty applications.
Diesel variants (CI) are equipped with an idle up capability to minimise Diesel Particulate Filter (DPF) out of truck cleaning and the need for park regeneration.
LPG (SI) engines are derived from the Diesel engine base, delivering durable performance in all operating conditions.
Techtronix™ 3x2 transmission
The Techtronix™ 3x2 transmission features three-speed forward and two-speed reverse for additional travel speed and gradeability with the Auto Deceleration System that slows the truck when the accelerator pedal is released.
Stage V emission compliant
The truck's engine is equipped with high pressure common rail, Exhaust Gas Regulation (EGR) valves and Selective Catalytic Reduction (SCR) via Diesel exhaust fluid. These combined technologies provide fuel efficient operation that is compliant to the latest emission standards (Stage V).
An active regenerating Diesel particulate filter significantly reduces the number of services intervention, the DPF performance is constantly monitored and displayed on a supplemental display at the operator's eye level.
When lifting a load, the Auto-Speed Hydraulics automatically increases the engine speed to provide on-demand full hydraulic power.
Additionally, the Intellix VSM™ maintains the current travel speed unless directed by the operator on the accelerator. No operator inching is required and productivity is increased by simplifying operator actions.
Ergonomic features
The GP-VX series is packed with operator-friendly features to help stave off fatigue and keep productivity high, all shift long.
Mast and cab provide excellent through-mast visibility of the load and truck
Optional cab is available with or without air conditioning
Isolated powertrain reduces noise and vibration
Infinitely adjustable steer column helps operators find a comfortable operating position
Low step height, increased shoulder clearance and easy right-side access for simple ingress and egress
Efficient servicing
The GP-VX series not only requires less maintenance, it's designed to make service easy when necessary - reducing related time and cost.
Cowl-to-counterweight access makes servicing fast and convenient
Intellix VSM vehicle systems manager supervises fast direction changes that reduce drive tire spin and tire wear
Auto Deceleration System (standard on the Techtronix transmission) reduces brake usage and associated wear and tear
Innovative cooling system enables lower operating temperatures with excellent airflow through optimized ducting and high volume tunnels
Radiator is 100% shock-mounted for long service life
Reliable electronics, including sealed connectors
| Model | Load Capacity | Load Centre | Lift Height | Turning Radius | Overall Width | Weight | Engine | Transmission |
| --- | --- | --- | --- | --- | --- | --- | --- | --- |
| GDP/GLP80VX | 8000kg | 900mm | 6065mm | 3794mm | 2239mm | 12417kg | Kubota 3.8L Diesel / GM 5.7L LPG | Techtronix 300, 3-speed |
| GDP/GLP90VX | 9000kg | 600mm | 6065mm | 3794mm | 2239mm | 11956kg | Kubota 3.8L Diesel / GM 5.7L LPG | Techtronix 300, 3-speed |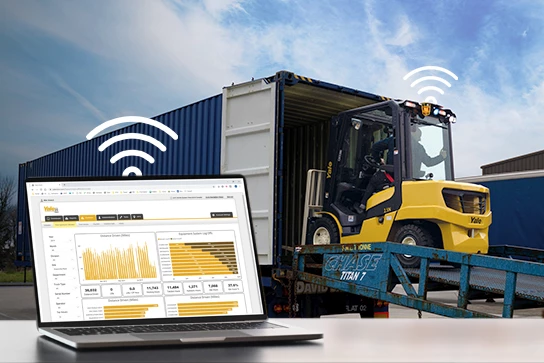 Yale Vision telemetry
Complete fleet visibility and control
Yale Vision provides real-time fleet monitoring for more informed decisions. The solution offers easy-to-use dashboards and analytics to manage cost, optimise productivity and protect assets.
See the difference