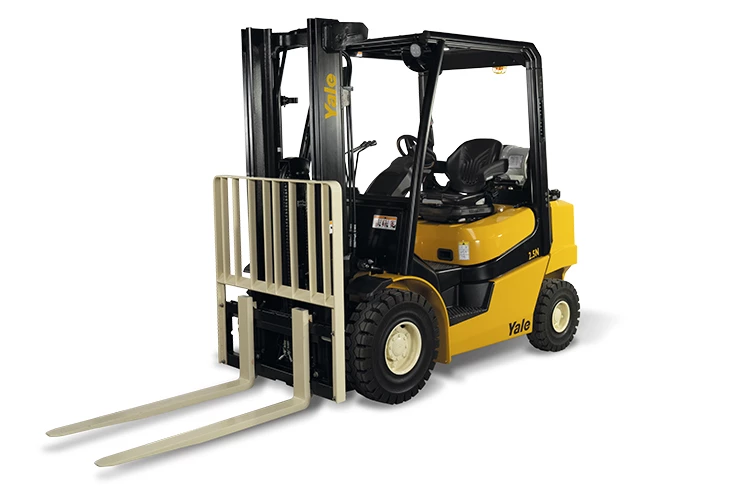 Set your own standard.
Models

GDP/GLP2.0-3.5N
While other forklift truck manufacturers might focus on a one-size-fits-all approach, we give you the flexibility to get the forklift truck that's right for you. Built around a scalable platform, the new Series N is the forklift truck you configure to meet your demands. And don't worry – dependable high performance, exceptional ergonomics and low total cost of ownership come as standard.
Operator-centric design
Fuel efficiency
Low total cost of ownership
Dependable high performance
Optional Dynamic Stability System (DSS)
Introducing the Yale® Series N
Customisation and performance for a wide range of requirements
Operator-centric design
An ergonomic workspace strategically engineered around comfort, convenience and commonality helps operators stay comfortable and productive all shift long.
Operator assistance systems help support operator awareness and best practices for manoeuvring the truck
Ergonomic operator compartment helps fend off fatigue and offer increased comfort all shift long
Excellent all-around visibility helps boost operator confidence and efficiency
Fuel efficiency
Using less fuel to do more work, makes sense for both your budget and the world.
With over 13% less Diesel* and 9% less LPG consumption per truck, the Series N offers greater fuel efficiency than leading competitive models**, reduced emissions and lower fuel costs.
*Diesel fuel consumption according to VDI EN16796. H2.​5A with VDP hydraulic pump verses Linde H2.​5D and Toyota 56-8FD25F
**According to standard test EN 16796, which is set out by the VDI. This compares all values of fuel consumption that have been published by each of the following European based manufacturers. (Linde, STILL, Jungheinrich, Toyota, Nissan, Komatsu) If the manufacturer is not in the list, then it is not stated in their spec sheets.
Low total cost of ownership
Proven reliability, durable components help minimise downtime and reduce maintenance costs. These cost saving benefits combined with the ability to custom configure the truck to match individual requirements delivers the right truck at the right price.
Telemetry monitoring diagnoses faults remotely to alert operations of maintenance needs without the need for manual inspection
On-demand cooling helps keep the Series N cool and reduces the frequency with which operators need to manually clear debris from the radiator
Greasing intervals: Tapered roller bearings in the steer axle are more durable against shock and require less frequent greasing than needle bearings found on most competitive models
Dependable high performance
Designed with exceptional all-round visibility and industry-exclusive technology to help support peak performance, confidence and productivity to meet today's challenges in a variety of applications.
Cycle times: rapid acceleration and fast lift/lower speeds, help shave seconds off each cycle
Return to set tilt: forks automatically set a predetermined tilt angle enabling consistent load placement and entry/exit positioning
Dynamic stability system (DSS): helps promote operating best practices by implementing truck performance limits speed, lifting and tilt speed. Unlike systems on some competitive models, there are no serviceable components
Object detection: utilises LiDAR technology to help alert operators to objects detected in the path of travel and automatically reduces truck speed to help increase operator awareness to potential hazards, thereby reinforcing proper operating practices and maintaining productivity
Rear facing camera and corresponding display provides additional awareness of trucks surroundings to support the operator. Particularly during maneuvering from forward to reverse.
| Model | Load Capacity | Load Centre | Lift Height | Turning Radius | Overall Width | Weight | Engine | Transmission |
| --- | --- | --- | --- | --- | --- | --- | --- | --- |
| GDP/GLP2.0N | 2000kg | 500mm | 8550mm | 2191mm | 1160 / 1280 / 1542mm | 3613kg | Yanmar 2.1L Diesel / Yanmar 2.2L LPG | Powershift 1-speed / Techtronix |
| GDP/GLP2.5N | 2500kg | 500mm | 8550mm | 2263mm | 1160 / 1280 / 1542mm | 3990kg | Yanmar 2.1L Diesel / Yanmar 2.2L LPG | Powershift 1-speed / Techtronix |
| GDP/GLP2.5N6 | 2500kg | 600mm | 8550mm | 2333mm | 1186 / 1353 / 1545mm | 4292kg | Yanmar 2.1L Diesel / Yanmar 2.2L LPG | Powershift 1-speed / Techtronix |
| GDP/GLP3.0N | 3000kg | 500mm | 8070mm | 2374mm | 1186 / 1353 / 1545mm | 4642kg | Yanmar 2.1L Diesel / Yanmar 2.2L LPG | Powershift 1-speed / Techtronix |
| GDP/GLP3.5N | 3500kg | 500mm | 8070mm | 2449mm | 1186 / 1353 / 1545mm | 4910kg | Yanmar 2.1L Diesel / Yanmar 2.2L LPG | Powershift 1-speed / Techtronix |

SMART. SIMPLE.
MAINTENANCE-FREE TECHNOLOGY.
Dynamic Stability System (DSS) is an optional maintenance-free system that sends audible and visual alerts to the operator to help promote safe operating practices. An optional feature on all Series N trucks, this innovative technology – made up of four sub-systems – limits truck performance in certain conditions to help minimise forward and sideways tip overs.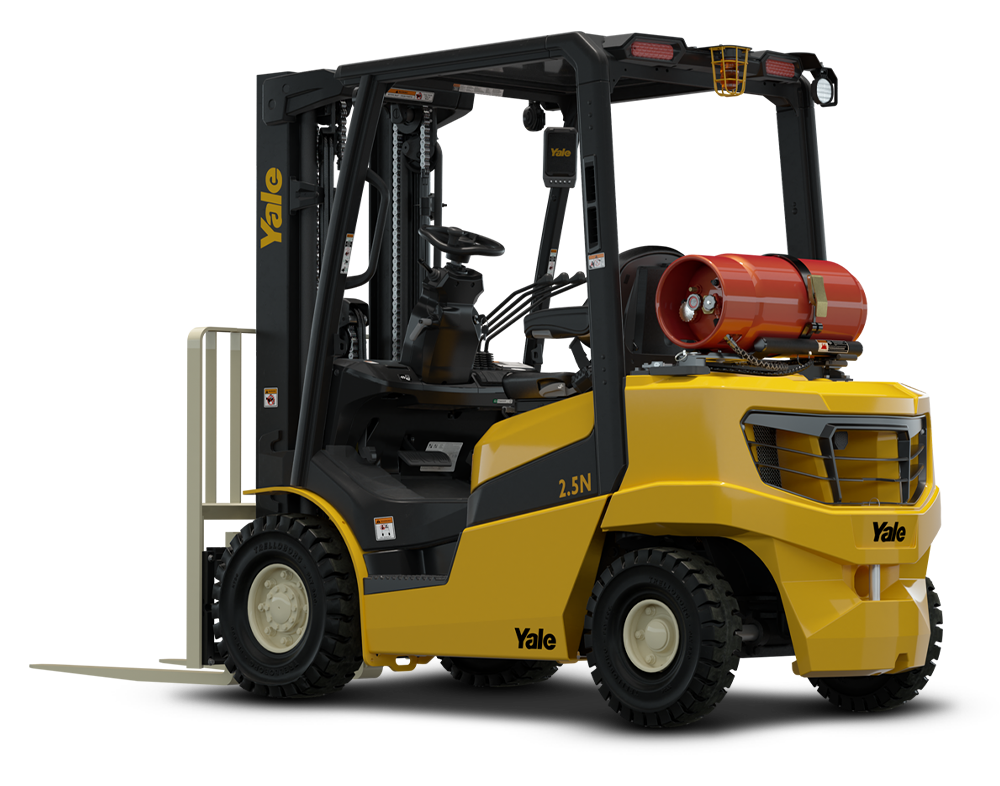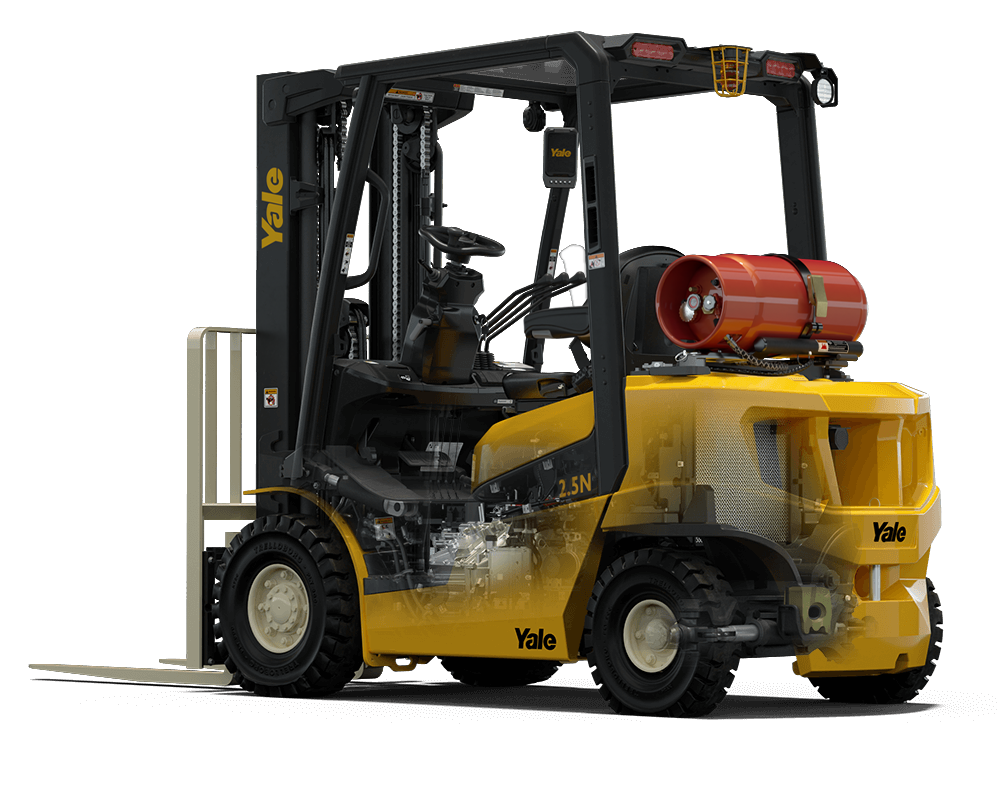 Click hotspots to explore how DSS functions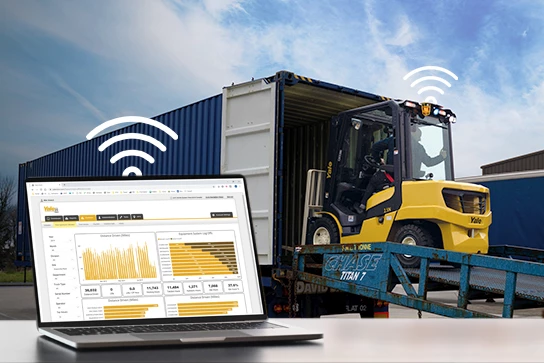 Yale Vision telemetry
Complete fleet visibility and control
Yale Vision provides real-time fleet monitoring for more informed decisions. The solution offers easy-to-use dashboards and analytics to manage cost, optimise productivity and protect assets.
See the difference