August 2021
Operator-friendly new Yale UX 4-5 tonne forklifts deliver cost-efficient top brand quality and performance
Globally leading forklift and warehousing solutions provider Yale® is introducing to Australasia and the Asia-Pacific its new UX Series GDP lift trucks, which are quality2 engineered to provide an ideal solution to less frequent usage needs without compromising on performance or dealer service backup.
August 2021
Operator-friendly new Yale UX 4-5 tonne forklifts deliver cost-efficient top brand quality and performance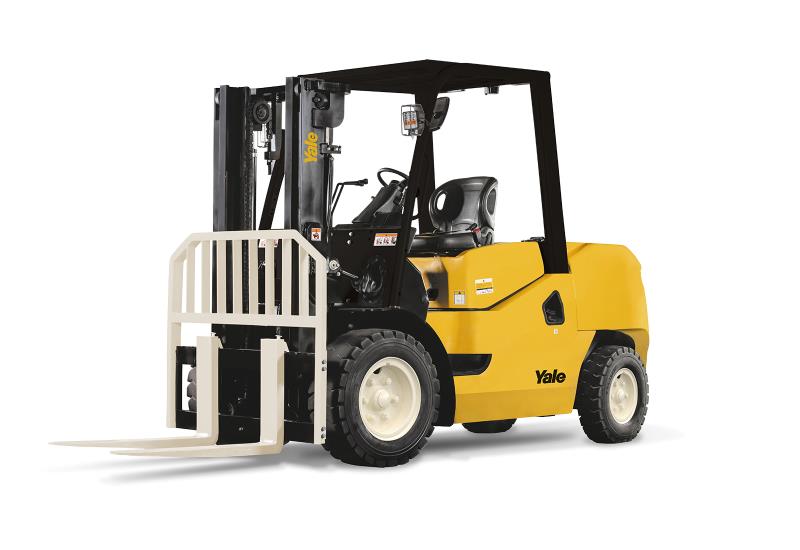 New Yale® UX Counterbalance forklift for use outdoors and indoors
Globally leading forklift and warehousing solutions provider Yale® is introducing to Australasia and the Asia-Pacific its new UX Series GDP lift trucks, which are quality engineered to provide an ideal solution to less frequent usage needs without compromising on performance or dealer service backup.
The GDP40-50UX internal combustion counterbalance pneumatic tyre forklifts, in capacities from 4-5 tonnes, respond to extensive demand for cost-effective material handling solutions available from a supplier that customers can trust, with reputable service through extensive dealer networks.
Each model is available with diesel, LPG or dual-fuelpower, a single-speed powershift transmission and a range of front-end equipment options to suit varying applications throughout widely diverse markets extending from Australasia to Asia, throughout which Yale has strong, long-established service networks.
Yale's global experience of more than a century of manufacturing quality materials handling equipment offering high quality and low downtime is invested in the brand's broad range of materials handling equipment, of which the new models are part.
The new lift trucks deliver high driver comfort and serviceability features in a package offering low cost of ownership, without compromising on global quality and backup, says Yale Area Business Director, Pacific, Mr Mark Chaffey. They provide an attractive option for customers across many industries who require quality materials handling equipment but don't need functionalities beyond the range required for their tasks.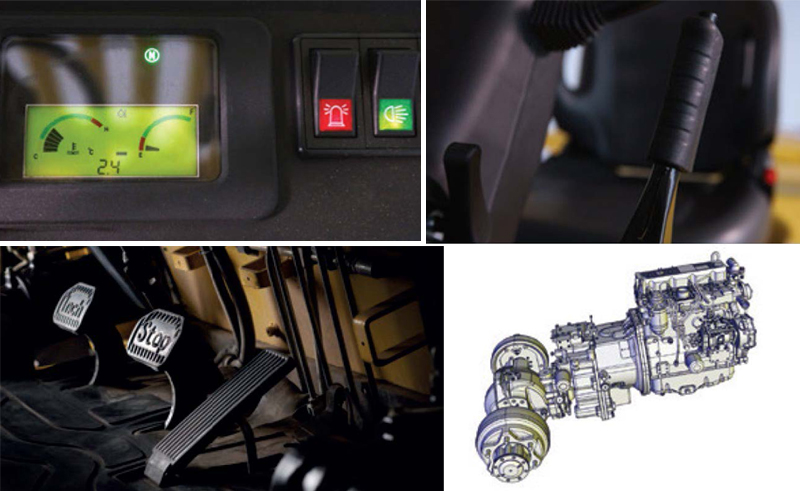 Clockwise from top left: 3.5in LED readout; fatigue-saving handbrake; wide, well-spaced controls; robust engineering
The Yale value proposition – "Yale – People, Products, Productivity" – encapsulates a no-nonsense, uncomplicated approach to materials handling, with high priorities on driver comfort, protection and features engineered to avoid downtime.
Features of the new Yale UX series GDP forklifts include:
Easy-to-operate ergonomically designed operator compartment with a familiar
automotive layout designed to enable drivers to work comfortably.
Enhanced serviceability due to the simplicity of components and
specifications, which enables servicing to be completed quickly and easily
with a large access area for service and repairs.
Low cost of ownership enhanced by the use of high quality, robust
components and excellent cooling contribution to reliable operation and lower
wear and tear.
Fast availability of cost-effective replacements parts helps reduce service and
maintenance requirements and costs.
Comfort features include Yale special display with 3.5" LCD; large foot room
on floor plate; fatigue reducing hand parking brake lever with button; small
diameter steering wheel.
Safety features include wide view mast, high-strength triplex plate overhead
guard; muffler and engine protection systems.
Environmental protection provided by noise isolation materials and
environmentally aware design and engineering for comfort, all-round visibility,
low noise levels and outstanding ergonomics. Yale's environmental priorities
include lower emissions and lower energy use.
According to testing reviewed by the EPA and the California Air Resources Board (CARB), Yale's Internal Combustion Engine (ICE) lift trucks rate among the lowest in exhaust emissions in the industry.
"The new models are engineered to respond to user demand for a strong global brand backed by a professional dealer and service network across Australasia and the Asia-Pacific," Mr Chaffey said. The Yale dealer and service network is in turn backed by the global Hyster-Yale Group, with a full product line of lift trucks in operation across hundreds of industries worldwide. Yale is one of the oldest original manufacturers of lift trucks and warehouse equipment in the world, having been in the lifting business for over 140 years.
"The Yale brand prides itself on helping customers solve materials handling challenges with solutions that individual organisations need, when and how they need them. This requires the type of backing provided with the Yale UX Series throughout Asia-Pacific," says Mr Chaffey.
The Yale dealer and service network extends across Australia, New Zealand, Thailand, Malaysia, Vietnam, Indonesia, Singapore, Philippines, Korea and Taiwan.
The Yale UX Service Difference
What differentiates the Yale UX Series service offering from other offerings on the market today is that these trucks are backed by a network of specially chosen, experienced, independent distributors, professional dealers and service providers who offer a wide range of support services to their customers.

With a keen appreciation for the varying needs of customers, Yale's network offers peace of mind, delivering fast support whenever it is needed. This support includes rapid response to maintenance requirements, comprehensive parts availability and comprehensive applications surveys. All of these commitments are key to keeping materials handling operations on track and within budget.
Offering a solution which reliably meets productivity targets, while keeping operating costs low, the Yale UX range has been designed to be easy to operate and to maintain, delivering a "Simply Efficient" solution to individual user needs.
For Information about Hyster-Yale Asia-Pacific, please contact:
Natalie Allatt
Regional Marketing Officer, Asia-Pacific
Hyster-Yale Asia-Pacific Pty Ltd

Email: natalie.kandilas@hyster-yale.com
Mobile: +61 403 469 424
T +61 2 9795 3810
Hyster-Yale Group, Inc., designs, engineers, manufactures, sells and services a comprehensive line of lift trucks and aftermarket parts marketed globally primarily under the Hyster® and Yale® brand names. Subsidiaries of Hyster-Yale Group include Nuvera Fuel Cells, LLC, an alternative-power technology company focused on fuel-cell stacks and engines, and Bolzoni S.p.A., a leading worldwideproducer of attachments, forks and lift tables under the Bolzoni®, Auramo® and Meyer® brand names. Hyster-Yale also has significant joint ventures in Japan (Sumitomo NACCO) and in China (Hyster-Yale Maximal). Hyster-Yale Group, Inc. is a wholly owned subsidiary of Hyster-Yale Materials Handling, Inc. (NYSE:HY). Hyster-Yale Materials Handling, Inc. and its subsidiaries, headquartered in Cleveland, Ohio, employ approximately 7,700 people worldwide.
For Media Release inquiries, Please Contact:
Brent Whyte or Jack Mallen-Cooper
Whyte Public Relations
T: +61 2 9901 4306
E: whytepr@whytepr.com.au
W: www.whytepr.com.au