September 2021
Safety, comfort, and ergonomics come first with new Yale UX 5-7t forklifts
Forklift and warehousing solutions specialist, Yale, is expanding its new UX Series with the introduction of its GPD5070UX6 range of 5-7 tonne forklifts, designed for enhanced safety, comfort, and ergonomics.
September 2021
Safety, comfort, and ergonomics come first with new Yale UX 5-7t forklifts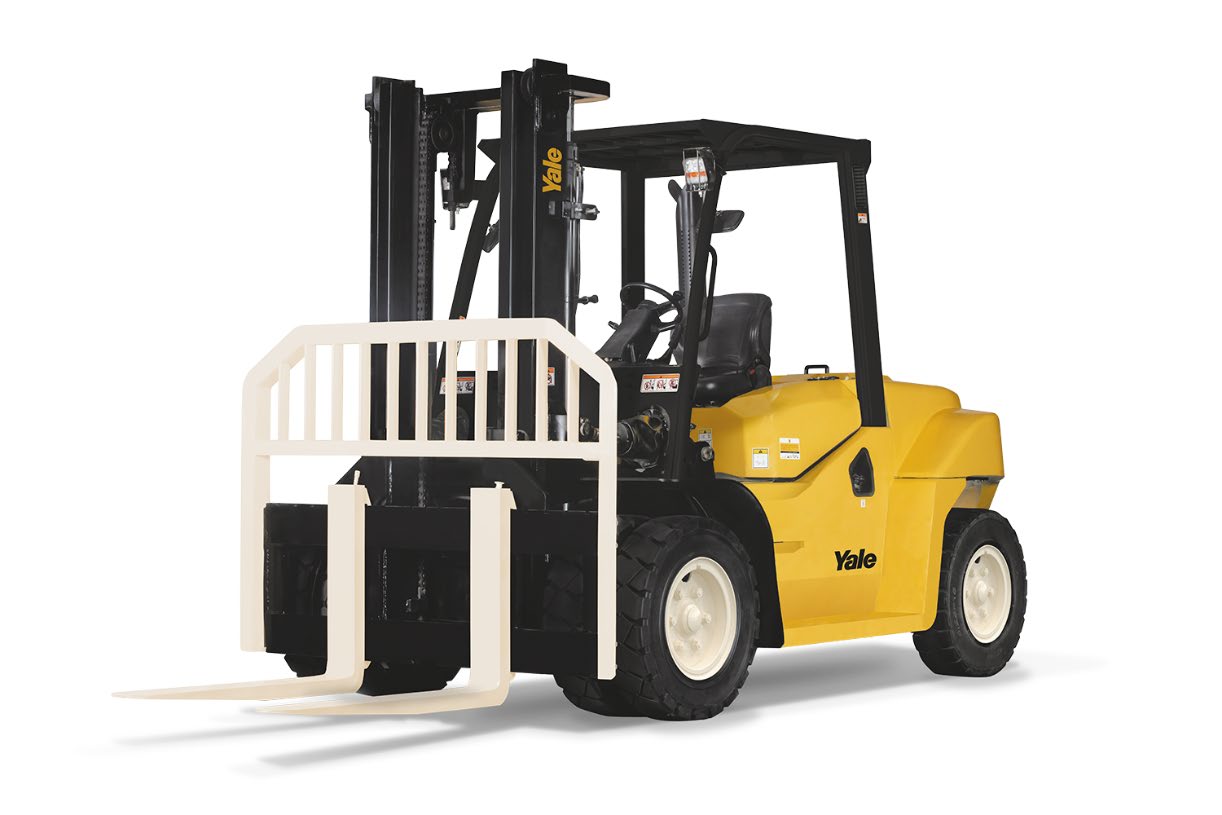 New Yale® UX Series 5-7t forklift for outdoor and indoor use
Forklift and warehousing solutions specialist, Yale, is expanding its new UX Series with the introduction of its GPD5070UX6 range of 5-7 tonne forklifts, designed for enhanced safety, comfort, and ergonomics.
The new forklifts complement the recently released 4-5 tonne range, and share its quality engineering, making them an ideal solution to meet less frequent usage needs without compromising on performance or dealer service backup.
The new 5-7t range features interchangeable parts, minimized wear, and robust components, which combine to deliver simple serviceability and a low total cost of ownership.
"These reliable new forklifts are ideally suited to a broad range of applications, including retail, truck and transport fleets, logistics and other loading and unloading tasks," says Mr Cornelius Tan, Area Business Director, Asia, Hyster-Yale Group.
"Importantly, these forklifts have the backing of Yale's global network of authorized dealers, each offering expert local service and rapid response times to minimize downtime," he said.
"While these forklifts have been designed to feature only the essential components, we appreciate that some less frequent applications may require customized or additional features, so the UX Series comes with a range of optional extras that can be seamlessly integrated into the forklift."
Customizations and optional extras include various fork lengths and mast heights, backup alarms, front window with wiper, polycarbonate top screen, rear LED work light and more.
Safety, Comfort and Ergonomics
Yale has designed the new UX Series 5-7t forklifts with the operator in mind. Standout features include:

A 3.5" LCD display, providing convenient viewing of the display data when driving and operating.
A spacious footwell, providing comfort and convenience, with control pedals designed for extra foot space, to reduce operator fatigue.
Hand parking brake, which requires low effort to operate the lever, and includes a button to reduce operator fatigue.
Transmission and drive axle, including a heavy duty and robust Powershift transmission with two forward gears and one reverse, plus a durable and long-life drive axle.
Good through-mast visibility, which delivers excellent visibility of the load and operator's forward view, thereby optimising comfort, safety and productivity.
Small 300mm diameter steering wheel with adjustable steer column,
making it easy to manipulate, responsive and with optimum mobility when working in narrow spaces. The ideally positioned steering wheel allows eight degrees of adjustment, to suit a variety of different operators.
Large access area, making service and repairs to the engine compartment easy.
High-strength profiled steel overhead guard, which enhances reliability and operator protection.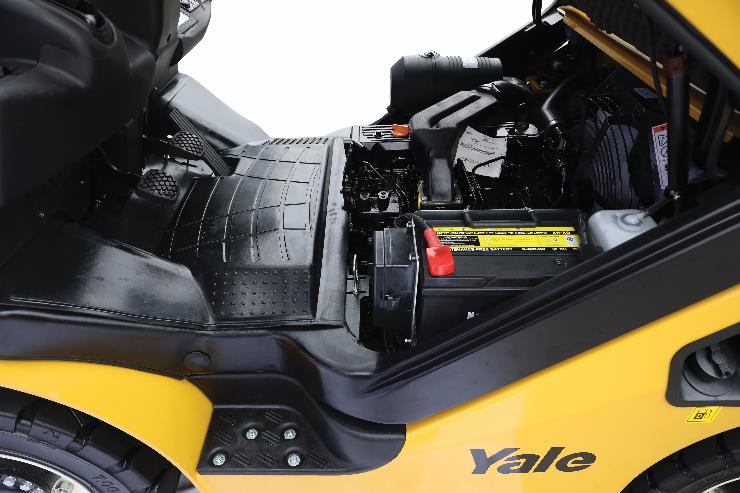 A large service area enables fast and easy servicing of the new Yale UX Series 5-7t forklifts
"All of these features come as standard in all Yale UX Series 5-7t forklifts, and spare parts management has been simplified, with high levels of interchangeability of parts between forklifts across the entire UX Series," says Mr Tan.
"Yale authorized dealers are backed by the global Hyster-Yale group with a full product line of lift trucks in operation across hundreds of industries worldwide. Local dealers will carry strong supplies of spare parts and will be ready to provide expert service to local industries," he says.
The Yale dealer and service network extends across Australia, New Zealand, Thailand, Malaysia, Vietnam, Indonesia, Singapore, Philippines, Korea and Taiwan.
The Yale UX Service Difference
What differentiates the Yale UX Series service offering from other offerings on the market today is that these trucks are backed by a network of specially chosen, experienced, independent distributors, professional dealers and service providers who offer a wide range of support services to their customers.
With a keen appreciation for the varying needs of customers, Yale's network offers peace of mind, delivering fast support whenever it is needed. This support includes rapid response to maintenance requirements, comprehensive parts availability, and comprehensive applications surveys. All these commitments are key to keeping materials handling operations on track and within budget.
Offering a solution which reliably meets productivity targets, while keeping operating costs low, the Yale UX range has been designed to be easy to operate and to maintain, delivering a "Simply Efficient" solution to individual user needs.
For Information about Hyster-Yale Asia-Pacific, please contact:
Natalie Allatt
Regional Marketing Officer, Asia-Pacific
Hyster-Yale Asia-Pacific Pty Ltd

Email: natalie.allatt@hyster-yale.com
Mobile: +61 403 469 424
T +61 2 9795
Hyster-Yale Group, Inc., designs, engineers, manufactures, sells and services a comprehensive line of lift trucks and aftermarket parts marketed globally primarily under the Hyster® and Yale® brand names. Subsidiaries of Hyster-Yale Group include Nuvera Fuel Cells, LLC, an alternative-power technology company focused on fuel-cell stacks and engines, and Bolzoni S.p.A., a leading worldwide producer of attachments, forks and lift tables under the Bolzoni®, Auramo® and Meyer® brand names. Hyster-Yale also has significant joint ventures in Japan (Sumitomo NACCO) and in China (Hyster-Yale Maximal). Hyster-Yale Group, Inc. is a wholly owned subsidiary of Hyster-Yale Materials Handling, Inc. (NYSE:HY). Hyster-Yale Materials Handling, Inc. and its subsidiaries, headquartered in Cleveland, Ohio, employ approximately 7,700 people worldwide.
For Media Release inquiries, Please Contact:
Brent Whyte or Jack Mallen-Cooper
Whyte Public Relations
T: +61 2 9901 4306
E: whytepr@whytepr.com.au
W: www.whytepr.com.au
© Hyster-Yale Asia-Pacific Pty Ltd. 2021, all rights reserved. YALE is a registered trademark of Hyster-Yale Group, Inc.