Ehmann-Holz-Zentrum: Neumarkt in the Oberpfalz, Germany
Service focus improves warehouse efficiency
Service focus improves warehouse efficiency
The Gebhardt Group is fully committed to products and services related to wood. Carpenters, interior builders, publishers, contractors, interior decorators and industrial companies can rely on them for an extensive range of products – from raw material to exclusive designer wood.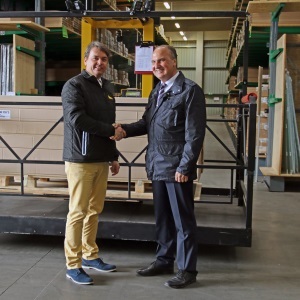 Not only is it a matter of high product quality, but also the service offer has to be right, starting with the consultation, fast order processing and then the timely delivery to the customer.

Ehmann Holz-Zentrum was acquired by the Gebhardt Group in 2008 and the wood specialist was selling the same product range as its sister company Gebhardt Holz-Zentrum in Cham. Therefore in 2016, the management made the decision that Ehmann would be established as a competence centre due to its smaller size. This decision was due not least to the fact that the Neumarkt location, with a total area of 23,000 m2 and 10,000 m2 of warehouse space, is significantly smaller than the Cham location, which has a total area of 70,000 m2 and a storage area of 30,000 m2. Since expansion in Neumarkt is not possible, Ehmann had to work with the available space which meant reducing the product range and putting the internal logistics under scrutiny to optimise processes.