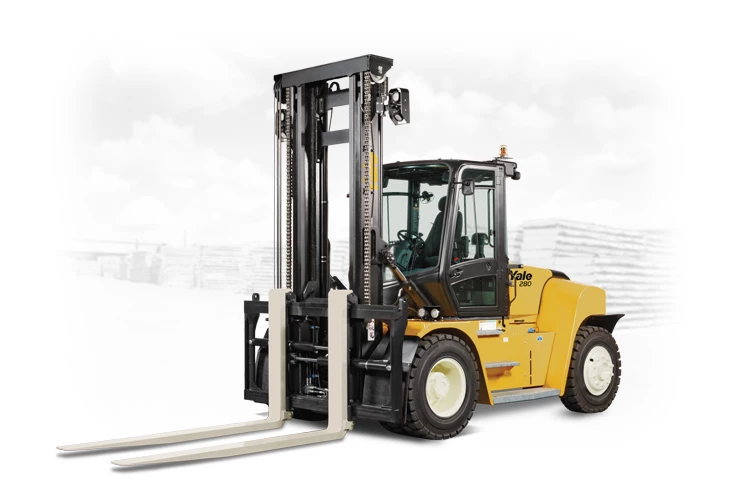 Heavy duty forklifts for outdoor applications
Models

GP190-280DF

Capacity

19000-28000lbs
The GP190-280DF is designed for heavy-duty operating conditions in produce, paper, forest products, metals and concrete.
Efficient performance
Operator comfort
Maximum productivity
Service and dependability
Forklifts engineered for demanding outdoor applications
Efficient performance
In heavy duty applications, you need a lift truck with the power to get through the toughest challenges while avoiding high running costs.
Cummins turbo diesel engine pairs with ZF WG 161 transmission, optimized for maximum performance and fuel economy
The Tier 4 Final after-treatment package offers cooled Exhaust Gas Recirculation (EGR), a Selective Catalytic Reduction system (SCR) for NOx reduction, a Diesel Oxidation Catalyst (DOC) for Particulate Matter (PM) removal, and a Diesel Exhaust Fluid (DEF) dosing module
ECO Modes control maximum engine RPM and throttle response for balance of performance and fuel savings
On-demand hydraulic system can result in 10% lower fuel consumption - $2,250 per year at $2.50/gal
Empty seat engine shutdown turns off the truck when the operator is out of the seat for a selectable 3-15 minute window, limiting idle hours on the truck
On-demand cooling uses viscous drive cooling fan that draws power only when cooling is required - unlike a direct drive fan
Operator comfort
The GP-DF series is designed to keep operators comfortable and focused, for lasting productivity.
Low step heights for easy entry and exit
Low noise thanks to vibration dampeners for the powertrain
High, open carriage and mast sections offer unobstructed view of fork tips
Optional foot directional control pedal for quicker, smoother control of travel direction
Optional Accutouch mini-lever e-hydraulic controls accompany the adjustable armrest for low-effort, fingertip control of hydraulic functions and horn
Maximum productivity
The GP-DF series delivers the performance you need to meet the highest performance benchmarks in tough duty cycles.
Automatic throttle up provides automatic response to lift inputs from the operator when the lift lever is activated, with a controlled rev-up to keep the engine in the most efficient operating range
Maximum travel speed of 18 mph, with load present
Fast lifting speeds of 79 ft/min, with or without load present
Lowering speeds of 98 ft / min with load present
Service and dependability
The GP-DF series offers the build quality, smart features and serviceability to keep performing, shift after shift.
Sideways tilting cab offers unobstructed access to the engine and key components
CAN bus connections help to reduce fault identification time
Longer service intervals increase uptime and reduce service costs. LSH oil change is up to 6,000 hours, transmission oil change interval is 2,000 hours.
Sturdy mast design with less deflection than comparable overhead tilt products
Engine protection system monitors coolant, air intake temperatures and oil pressure
Transmission system monitors pressure, temperature and forward/reverse lockout during changes in direction
Efficient hydraulic system does not require engine speeds to run as high to extend component life
Quad-cooler radiator design channels only cool air, not preheated air, across cores
| Model | Load Capacity | Load Center | Lift Height | Turning Radius | Overall Width | Weight | Engine Type | Transmission |
| --- | --- | --- | --- | --- | --- | --- | --- | --- |
| GP190DF | 19000lbs | 24in | 216 | 154.6 | 97 | 28167 | Cummims QSB 4.5L Diesel | ZF WG161 |
| GP210DF | 21000lbs | 24in | 216 | 154.6 | 97 | 28478 | Cummims QSB 4.5L Diesel | ZF WG161 |
| GP230DF | 23000lbs | 24in | 275 | 161.9 | 97 | 31770 | Cummims QSB 4.5L Diesel | ZF WG161 |
| GP230SDF | 23000lbs | 24in | 275 | 154.6 | 97 | 30767 | Cummims QSB 4.5L Diesel | ZF WG161 |
| GP250DF | 25000lbs | 24in | 275 | 161.9 | 97 | 31621 | Cummims QSB 4.5L Diesel | ZF WG161 |
| GP280DF | 28000lbs | 24in | 275 | 161.9 | 97 | 33534 | Cummims QSB 4.5L Diesel | ZF WG161 |

The GSA creates a centralized location for the federal government, offering products, services, and facilities needed for federal agencies to serve the public. As a GSA certified company, Yale supports the GSA's mission to provide innovative solutions for federal agencies with cost-effective and high-quality products. You can also find more information on the General Services Administration at www.gsaadvantage.gov
Support throughout the lift truck life cycle
Knowledgeable, reliable dealers make all the difference
When it comes to collaborating with a lift truck dealer, you can't settle – you need dealers wholly focused on your success. When you purchase equipment or technology solutions from Yale Lift Truck Technologies, you gain access to our independent dealer network. "Independent" means our dealers are not constrained by factory ownership or corporate red tape.
Our dealers are entirely focused on fulfilling your needs
A seamless experience, from order to factory to ongoing support
Effective recommendations and responsive support, from parts, maintenance and
emergency services to fleet management, rental trucks and operator training.
Expertise and guidance on special features and allied products and services for your
warehouse, like racking, guarding and safety equipment.
Assistance with financing options.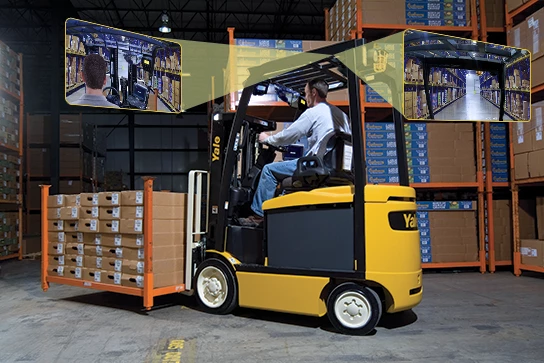 Yale Vision telemetry
Complete fleet visibility and control
Yale Vision provides real-time fleet monitoring for more informed decisions. The solution offers easy-to-use dashboards and analytics to manage cost, optimise productivity and protect assets.
See the difference
Value-added services
Lift trucks are only part of our solution
Our value-added services are designed to help you get the most out of material handling investments.