Beverage warehouse and production
Are your beverage operations drowning in SKUs?
Don't let consumer demand for greater beverage selection, countless size and quantity mixes and endless convenience outlets drown your operations. Get equipment engineered to handle and deliver more.

Join us at the NBWA Annual Convention & ShowcaseOctober
8-11, 2023, at Caesars Palace Las Vegas.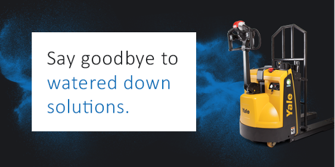 Beverage Showcase is heading West
September - October 2023NV, UT, ID, WA, OR and CA
Bringing the industry's finest material handling solutions directly to you.
From handling raw materials to delivering finished product into the hands of your customers, you need reliable material handling solutions to keep you moving.
Whether you need to eliminate product touches, boost awareness or automate processes, Yale has what you need to reduce bottlenecks slowing down your operations.
Need help finding the right solution? Connect with our beverage experts or see our lift trucks in action.
Resources & Support
Find the right truck for you application while discovering proven solutions and tactics beverage operators consider essential today.