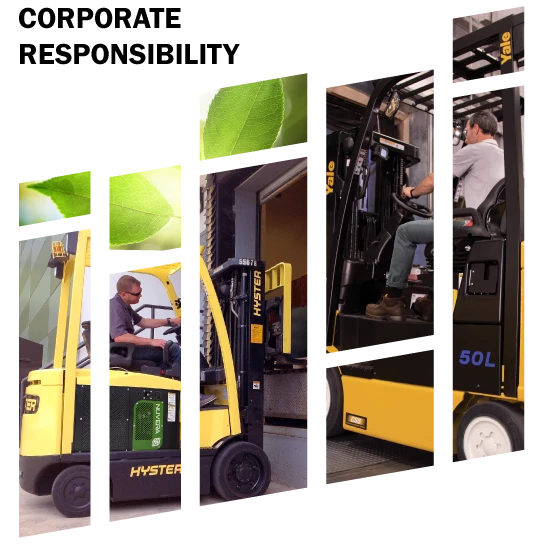 Behind the Yale® brand is the strength of an industry leader
Yale Materials Handling Corporation is part of Hyster-Yale Materials Handling, Inc. ("Hyster-Yale") a publicly traded company based in the United States. Hyster Company/Yale Lift Truck Technologies is a division of Hyster-Yale Group, Inc., a wholly owned subsidiary of Hyster-Yale Materials Handling, Inc. (NYSE:HY) which is headquartered in Cleveland, Ohio and operates globally.
We run our business with a long-term view, and we have established goals and strategic initiatives to help us achieve our long-term business objectives. Built into our strategic initiatives, and underlying our overall strategic planning process, is a broad program designed to ensure strong corporate responsibility. We believe that by embracing social, environmental, and economic health in every part of our organization, we are serving the long-term best interests of the Company and our shareholders while helping contribute to solving challenges that impact our customers and our communities.
This report describes Hyster-Yale's commitment to promote a culture of corporate responsibility throughout our company and the product value chain as we strive towards our 2026 Vision.
Corporate Responsibility Report