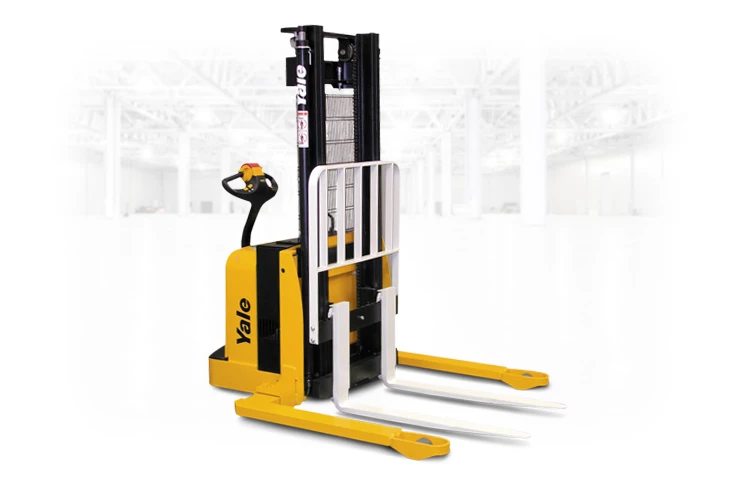 Superior walkie straddle stacker for reliability on the loading dock
Models

MSW025F-30F-MSW040E

Capacity

2500-4000lbs
The MSW025F-30F-MSW040E straddle stacker excels in applications where space is tight and you need a 2,500-4000-pound capacity to get the job done.
Ergonomic design
Built for productivity
Maintenance friendly
Electric Walkie Straddle Stacker
Ergonomic design
The Yale straddle stacker comes with key ergonomic features to reduce operator fatigue and keep them productive all shift long.
Bottom-mounted tiller handle optimizes operating position and keeps steering effort low
Centralized controls, with all functions located within easy reach on the handle
Wraparound traction reversing switch provides large area of contact for secure, precise control
Rotary throttle control offers maximum tactile feel
Hi-Vis mast offers wide range of view to help operators maintain maximum control in tight spaces
Built for productivity
The walkie stacker not only helps keep operators fresh, it comes with features designed to help them get the most productivity out of every shift.
Three performance modes enable operators to tailor truck performance to real-time demands
Two battery compartment sizes allow operations to match battery and application requirements
Stationary, separately activated drive motor and advanced transistorized hoist and traction controller to enhance truck performance
Creep speed control (optional) improves maneuverability in tight spaces
Auto Deceleration System reduces the need to manually apply service brake, activating when operators simple return throttle to neutral
Maintenance friendly
Easy service access and maintenance help you spend more time moving product and less time out of service. The MSW-E is designed to make this happen, with several key features to allow easy service access and reduce maintenance requirements.
Single power contactor reduces components that require service
Integrated steer bearing and string guard in drive unit enable low maintenance
Multi-function display (optional) provides batter charge state, truck hours, fault codes and lift interrupt warning
Translucent hydraulic tank allows quick inspection of oil level
Compartment cover is easy to remove for simple service access
| Model | Load Capacity | Lift Height | Battery Capacity Voltage | Weight |
| --- | --- | --- | --- | --- |
| MSW025F | 2500lbs | 104 | 24V / 150Ah | 2305 |
| MSW030F | 3000lbs | 104 | 24V / 150-255Ah | 2323 |
| MSW040E | 4000lbs | 122 | 24V / 255-510Ah | 2458 |

The GSA creates a centralized location for the federal government, offering products, services, and facilities needed for federal agencies to serve the public. As a GSA certified company, Yale supports the GSA's mission to provide innovative solutions for federal agencies with cost-effective and high-quality products. You can also find more information on the General Services Administration at www.gsaadvantage.gov
Support throughout the lift truck life cycle
Knowledgeable, reliable dealers make all the difference
When it comes to collaborating with a lift truck dealer, you can't settle – you need dealers wholly focused on your success. When you purchase equipment or technology solutions from Yale Lift Truck Technologies, you gain access to our independent dealer network. "Independent" means our dealers are not constrained by factory ownership or corporate red tape.
Our dealers are entirely focused on fulfilling your needs
A seamless experience, from order to factory to ongoing support
Effective recommendations and responsive support, from parts, maintenance and
emergency services to fleet management, rental trucks and operator training.
Expertise and guidance on special features and allied products and services for your
warehouse, like racking, guarding and safety equipment.
Assistance with financing options.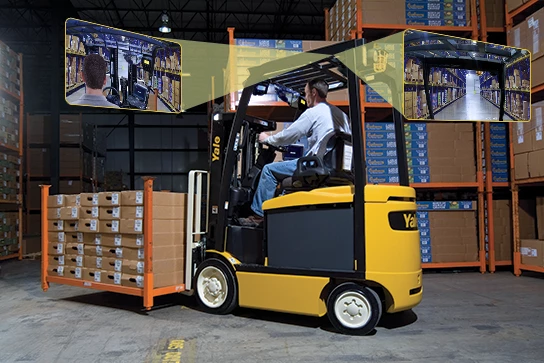 Yale Vision telemetry
Complete fleet visibility and control
Yale Vision provides real-time fleet monitoring for more informed decisions. The solution offers easy-to-use dashboards and analytics to manage cost, optimise productivity and protect assets.
See the difference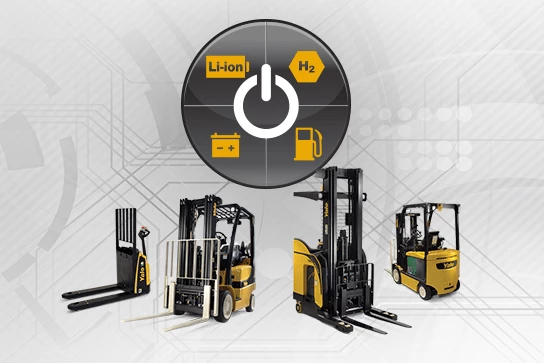 Yale Power Suite
Unlock the True Power of Your Operation
Yale Power Suite has the industry's widest range of power sources from a variety of brands, so you get the best solution available to maximize your operations. Our team has deep industry knowledge about forklift power sources to evaluate your application and recommend the power source that gives you the best return on your investment.
Learn more
Value-added services
Lift trucks are only part of our solution
Our value-added services are designed to help you get the most out of material handling investments.