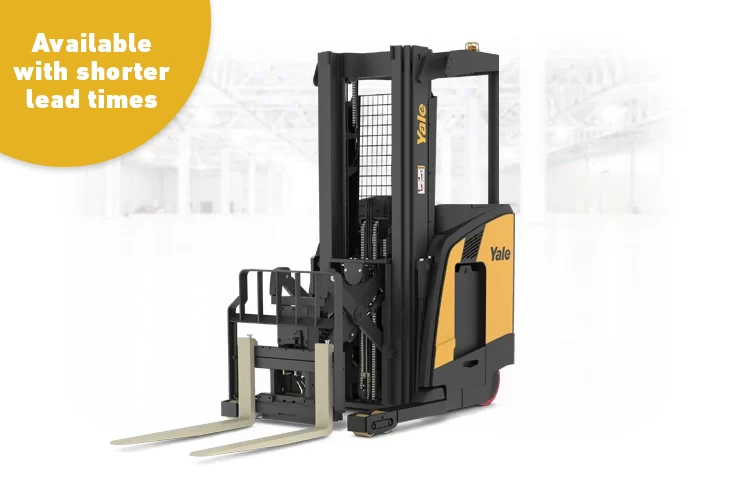 Pantograph reach truck for vertical storage
Narrow aisle reach truck
Models

NR/NDR-DC/EC

Capacity

3000-4500lbs
With a 3,000-4,500-lb capacity range and single or deep reach capabilities, Yale® narrow aisle reach trucks combine the latest technology with next-level performance to help exceed expectations in high-density warehousing.

Move more with less
Operator comfort
Best-in-class forward visibility
Simplified service
Get up and go
You can't afford to wait to see our reach truck in action. Sign up for our virtual event today.
Register today!
Maximize cubic storage volume with vertical storage
Move more with less
Compared to competitors, you can increase productivity by as much as 7% per reach truck, per shift but use up to 20% less energy with Yale narrow aisle reach trucks.
Cycle times – Industry-leading lift/lower speeds help shave seconds off each cycle
Energy efficiency – Up to 20% less energy consumption than competitors means you can get more out of a single battery charge
Capacity to height – The ability to lift heavier loads to greater heights allows you to truly take advantage of higher-level storage locations
Double reach capabilities – Easily reach into storage positions that are two pallet loads deep, helping maximize storage density without compromising speed
Return to center sideshift – Carriage automatically stops at center position, helping boost operator productivity and enable consistent performance
Return to set tilt – Forks automatically set at predetermined tilt angle enabling consistent load placement, entry and exit positioning
Operator comfort
Over the course of a shift, operator productivity can drop by as much as 30%. Yale narrow aisle reach trucks are meticulously designed around the operator with features to improve comfort and help reduce fatigue, delivering higher productivity and efficiency all shift long.
Forward stance automotive steering – Natural steering familiarity in both directions can help shorten training time for new operators
Operator sensing system – A pedal-free design gives operators more usable floor space than leading competitors, allowing the freedom to comfortably adjust stance
Yale® Smart Ride floor (optional) – Suspended floor system alleviates up to 60% of shocks and vibrations transmitted to operator
Adjustable armrest, backrest and steer tiller – Standard features to help operators find their ideal position
Best-in-class forward visibility
Yale narrow aisle reach trucks are designed to help operators handle product up to 444 inches with precision, speed and consistency, while helping reduce facility, product and truck damage.
Mast opening offers 33% greater visibility than competitors and enhances visibility of forks and load when picking at height
Lowered reach mechanism helps improve aisle visibility while traveling forward and minimizes postural adjustments to optimize line-of-sight
Frame profile improves base arm and fork tip visibility, allowing for precise control when interfacing with racking to pick and place pallets
Notched load backrest with industry-exclusive angled bar works with natural operator sight lines for clear view when picking up and dropping off pallets
Wireless cameras, built-in fork LED lights and fork laser levels (all optional) can help boost operator accuracy, especially at height
Simplified service
We understand the realities of the predicted technical shortage. That's why our narrow aisle reach trucks are engineered for simple service – reducing the amount of maintenance required and making service easier when necessary, helping reduce dependence on limited, skilled labor.
In fact, you can reduce overall cost of operation by saving up to $2,500 per truck, per year in scheduled maintenance costs compared to the competition.*
Pantograph can be disassembled in four steps to service or replace parts without removing it from the carriage
Mast wear plugs allow for mast adjustments in just 15 minutes - no shims, gauges or disassembly required
Access door allows technicians to get to traction and hydraulic motors without using any tools
*Calculation based on adhering to OEM recommended maintenance intervals and average $100/hour maintenance labor costs; operating 2,000 hours/year
| Model | Load Capacity | Lift Height | Battery Capacity Voltage | Weight |
| --- | --- | --- | --- | --- |
| NDR030DC | 3000lbs | 272 | 24-36V / 775-1395Ah | 5590 |
| NDR030EC | 3000lbs | 444 | 36V / 775-1240Ah | 5650 |
| NDR035EC | 3500lbs | 444 | 36V / 775-1240Ah | 6190 |
| NR035DC | 3500lbs | 272 | 24-36V / 775-1395Ah | 5340 |
| NR035EC | 3500lbs | 444 | 36V / 775-1240Ah | 5400 |
| NR040DC | 4000lbs | 272 | 24-36V / 775-1395Ah | 5360 |
| NR040EC | 4000lbs | 444 | 36V / 775-1240Ah | 5400 |
| NR045EC | 4500lbs | 444 | 36V / 775-1240Ah | 5930 |

The GSA creates a centralized location for the federal government, offering products, services, and facilities needed for federal agencies to serve the public. As a GSA certified company, Yale supports the GSA's mission to provide innovative solutions for federal agencies with cost-effective and high-quality products. You can also find more information on the General Services Administration at www.gsaadvantage.gov
Support throughout the lift truck life cycle
Knowledgeable, reliable dealers make all the difference
When it comes to collaborating with a lift truck dealer, you can't settle – you need dealers wholly focused on your success. When you purchase equipment or technology solutions from Yale Lift Truck Technologies, you gain access to our independent dealer network. "Independent" means our dealers are not constrained by factory ownership or corporate red tape.
Our dealers are entirely focused on fulfilling your needs
A seamless experience, from order to factory to ongoing support
Effective recommendations and responsive support, from parts, maintenance and
emergency services to fleet management, rental trucks and operator training.
Expertise and guidance on special features and allied products and services for your
warehouse, like racking, guarding and safety equipment.
Assistance with financing options.
Rise above the competition
Competitive testing proves Yale reach trucks outperform Raymond and Crown in not just one, but four key areas.
Learn how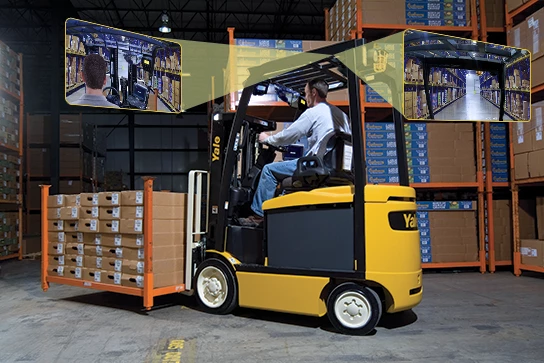 Yale Vision telemetry
Complete fleet visibility and control
Yale Vision provides real-time fleet monitoring for more informed decisions. The solution offers easy-to-use dashboards and analytics to manage cost, optimise productivity and protect assets.
See the difference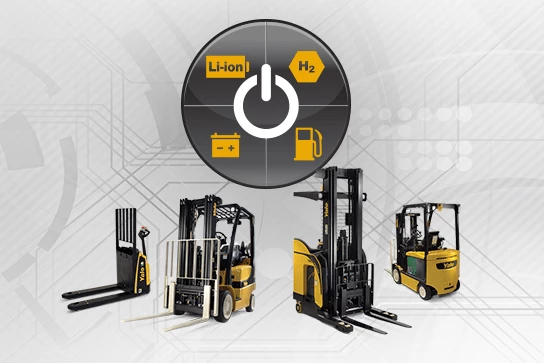 Yale Power Suite
Unlock the True Power of Your Operation
Yale Power Suite has the industry's widest range of power sources from a variety of brands, so you get the best solution available to maximize your operations. Our team has deep industry knowledge about forklift power sources to evaluate your application and recommend the power source that gives you the best return on your investment.
Learn more
Value-added services
Lift trucks are only part of our solution
Our value-added services are designed to help you get the most out of material handling investments.