Material handling solutions for retail & e-commerce
E-commerce fulfillment – work faster, win repeat business
If you can't achieve on-time order fulfillment, your customers will go elsewhere. Don't lose out to the competition.
Standard won't cut it anymore. It's time for retail and e-commerce material handling solutions engineered to boost productivity, reduce downtime and enhance operational safety – so you can keep orders flowing and your customers coming back.
Choose the perfect balance of lift truck and technology with Yale, one of the top material handling solutions providers in your industry.
See top retail and e-commerce lift trucks in action
Find the right solution for your operation
With delivery times shrinking and free shipping becoming an expectation, speed and agility are imperative to meet deadlines and keep costs down.
And if you're responsible for keeping retail operations stocked, you have to be just as nimble. If your stores don't have the inventory customers are looking for, they will go somewhere else.
Decrease order cycle times
Pull more product faster and achieve next-level performance with the Yale® reach truck. This narrow aisle forklift is a true warehouse workhorse.
Increase productivity as much as 7% per truck, per shift
Use up to 20% less energy for greater battery uptime
Achieve precise control with up to 33% greater through-the-mast visibility
Reduce operator fatigue with pedal-free design
Save up to $2,500 per truck, per year and improve uptime with reduced maintenance requirements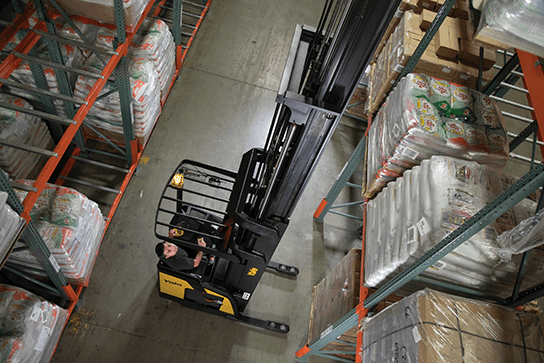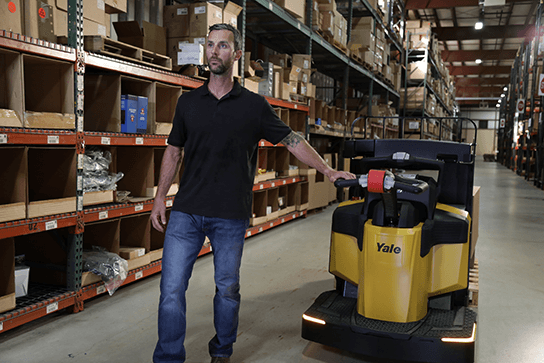 Pick, pack and ship orders faster
Get orders out the door at record speed, while keeping forklift operators fresh and comfortable all-shift long with the Yale end rider, an electric pallet jack engineered to outperform leading competitors.
Increase throughput with smart features that shave seconds off tasks
Control speed and coast functions in both direction with precision pick
Improve visibility in low-light or congested areas with LED fork and trailer lights
Enhance operator stability and reduce fatigue with extended operator platform option that offers 30% more usable floor space than leading competitors
Service faster and up to 50% less often than competitors, reducing downtime
Transport and deliver with ease
Whether moving around a warehouse, in a trailer or at a retail location, drive new levels of efficiency with the Yale walkie – a compact electric pallet jack perfect for retail and e-commerce fulfillment.
Maneuver confidently and efficiently with truck's small footprint
Optimize visibility with shorter, mid-mounted handle that brings the operator closer to the truck
Reduce cycle times up to 25% with Smart Lift, enabling operators to travel before unit is at full lift
Simplify transport from the trailer to the store using the Direct store delivery (DSD) package with lithium-ion power and exclusive handle design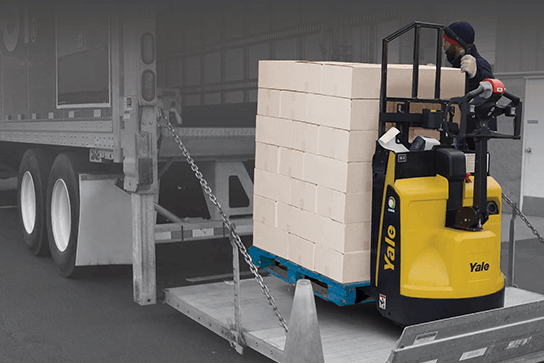 Retail labor shortages and warehouse turnover can bring your operation to a screeching halt – not to mention, cost you big time. To keep your operation running at peak productivity, your forklift fleet has to take advantage of smart technology to maximize labor efficiency and reduce costs.
Automate efficiency
With warehouse employee turnover hovering near 50%, inexperienced operators and the potential for errors become significant concerns. Help streamline workflows, increase throughput and adhere to the "rules of the road" with Yale robotics.
Enhance picking accuracy and transport efficiency
Limit product touches and human error
Reduce potential product damage and costly incidents
Improve retention by promoting skilled labor to more engaging roles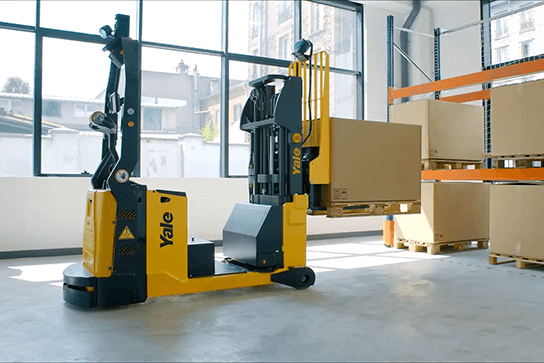 Power-up productivity
Keep your trucks moving all shift long with lithium-ion batteries – a productive power option that produces zero-emissions and requires zero battery maintenance
Reach up to 8 hours of continuous runtime with opportunity charging
Complete full charge in 1-2 hours, no cool down needed
Achieve consistent power throughout discharge cycle
Eliminate battery maintenance downtime and risk of incidents associated with battery changes
Realize a ROI in as little as 2-3 years for multi-shift operations
Incidents, OSHA fines and downtime can be crippling, bringing your operation to a screeching halt, which means delays and lost productivity. In addition to a comprehensive operator training program, forklift technology can help prioritize worker safety and security, so your facility can operate at peak efficiency.
Strategize safety
Increase awareness and reduce incidents with Yale Reliant™, a technology suite that automatically adjusts lift truck performance based on real-time conditions and site-specific rules.
Monitor and detect objects in the path of travel
Detect tagged trucks and pedestrians in proximity (360˚)
Monitor truck location, exclusion zones, lift height restrictions and more
Adjust travel speeds and hydraulic functions while maintaining truck stability
Available on select Class I, II, and III models. Consult with your Yale dealer to see if this technology is right for your unique application.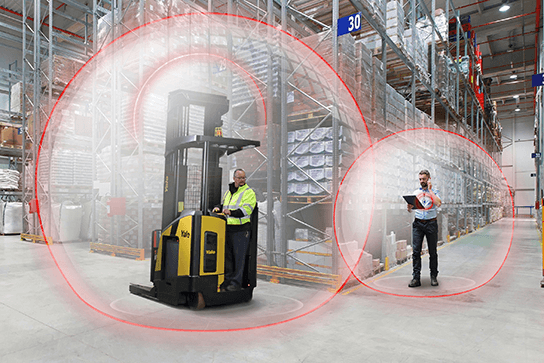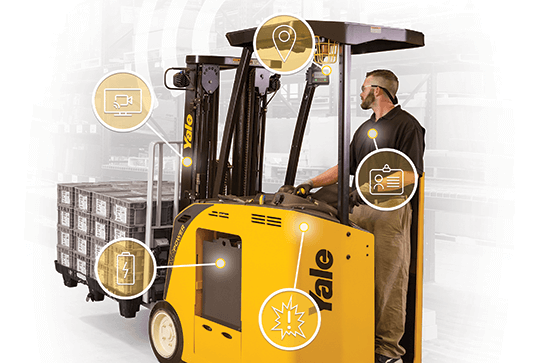 Secure 20/20 vision
Know exactly what your trucks and operators are doing, and how they are performing with Yale Vision telematics. It's time to get the data you need to make more informed decisions.
Receive usage metrics, impact detection and alerts
Restrict truck access to approved operators only
Enforce OSHA pre-shift checklist completion
Increase operator accountability with impact camera option
In the retail and e-commerce fulfillment space, customers continue to crave new options, resulting in escalating SKU counts and the need for more warehouse space, a costly capital expense. It's time to repurpose wasted space.
Maximize capacity
Get the stability and operator confidence you need to access higher storage locations and take advantage of unused cubic space with the Yale Very Narrow Aisle Turret Truck.
Operate in aisles as narrow as 56" and pick up to 622" high (52')
Minimize sway at height and increase operator confidence with rigid mast
Achieve optimum through-the-mast visibility
Take quick action if truck needs lowered using exclusive Emergency Lowering with Fork Traverse
Automatically steer along desired path with wire guidance option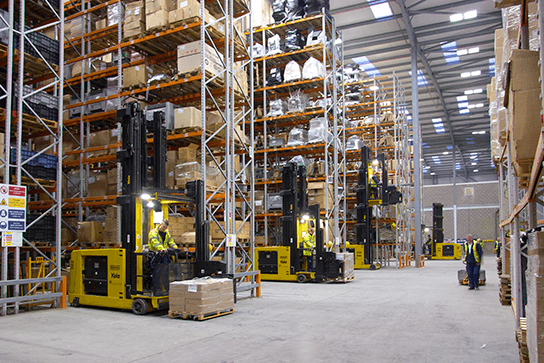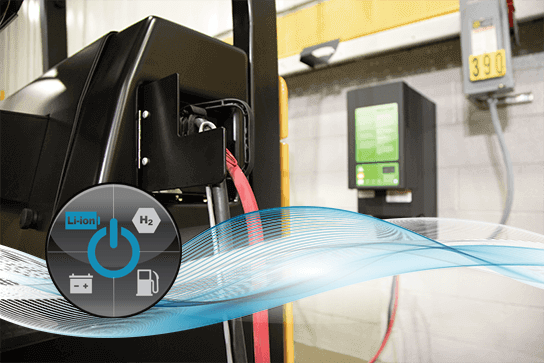 Re-gain valuable space
Select advanced lithium-ion power options with minimal infrastructure, helping to increase available warehouse space, while enhancing efficiency and productivity.
Repurpose valuable battery maintenance, storage and changing space for income generating storage
Eliminate need for redundant batteries per truck
Install "minimal footprint" charging stations near break rooms for easy access charging
Discover proven solutions and tactics retail & e-commerce customers consider essential today.