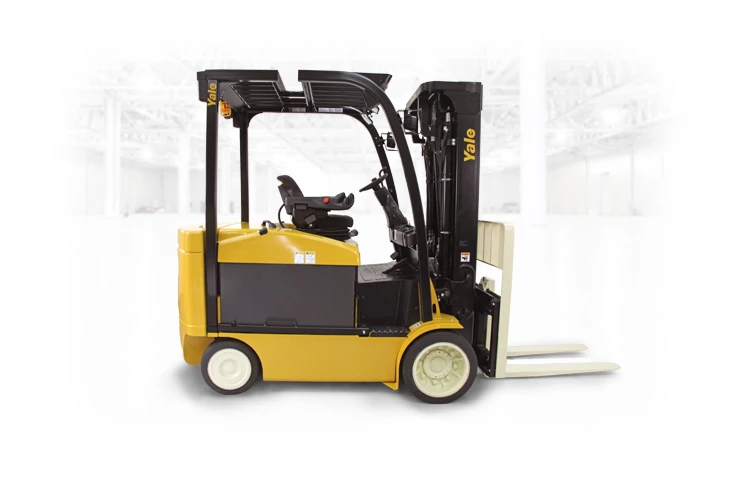 Indoor forklift for pallet storage, retrieval and transportation
High capacity 4 wheel electric cushion tire lift truck
Models

ERC080-120VH

Capacity

8000-12000lbs
The ERC-VH series is your electric solution for heavy lifting. It offers the power of an ICE forklift but the efficiency of an electric, with the ergonomics and toughness to handle the heaviest loads, all shift long.
Stability for toughest loads
Durability for demanding conditions
Designed for comfort
Ultimate productivity
Low cost of ownership
High-capacity electric counterbalance to efficiently handle the most demanding jobs
Stability for toughest loads
Irregularly shaped or unwieldy loads are no problem for the ERC-VH series, built for superior stability even while lifting materials with long load centers.
Yale Continuous Stability System reduces truck lean in turns, improving lateral stability and is completely maintenance free, with no controllers, no sensors and no extra wiring
Innovative steer axle mounting design enables superior travel over uneven surfaces
Trunnion-mounted masts reduce load distance, enabling improved long load center handling
Load rollers canted at three degrees to resist forward and backward movement
Durability for demanding conditions
Yale electric lift trucks must pass the same demanding 15-day environment test as ICE trucks, handling freezing temperatures, blistering heat, 30% grades and more. The ERC-VH is ready for loads up to 12,00 pounds in the most demanding conditions.
ICE-like drive axle assemblly is designed with a cast ductile iron housing and full floating axle to withstand heavy loads
Hydraulic components are industrial grade, including O-ring face seal fittings, hydraulic valves, fine micron filters and long-lasting hoist and tilt cylinders
Mast channels built with one-piece, high-strength rolled steel
CanBus electrical system offers strong performance and reduced wiring and electrical connections for improved reliability and excellent serviceability
Designed for comfort
Operator comfort enhances productivity and reduces fatigue. The ERC-VH prioritizes visibility, smooth, precise mast positioning, low-effort steering and human-engineerred controls to keep operators going strong, all shift long.
Large, textured grab handles and deep, anti-skid steps for easy entry and exit
Comfort-optimized seats, with no-cinch ELR seat belts and six inches of fore/aft adjustment with 13 latching positions
Infinitely adjustable standard steering column through 26-degree range
Rear drive handle with horn button
Accutouch minilever electro-hydraulic controls (optional) offer shorter reach and throw, requiring considerably less effort to operate compared to mechanical levers
Open floor plate design offers up to 11% more floor space
Power-assisted braking reduces pedal effort, with ergonomic layout for greater comfort
Ultimate productivity
The ERC-VH uses proven AC technology coupled with the Intellix VSM (vehicle systems manager) to provide enhanced performance through the usable battery discharge cycle.
Selectable performance modes allow truck performance to be tailored to real-time conditions and operator skill
AC motors provide powerful acceleration, fast travel speeds and fast lift and lower speeds
Thermal management system enables high productivity while protecting key truck components
Low cost of ownership
The largest share of money spent on a lift truck comes from operating costs, thrusting maintenance requirements, ease of service, durability and power costs front and center.
AC traction and hydraulic motors completely eliminate brushes and rigging, reducing maintenance requirements and cost
Disc brake system only requires periodic lubrication change at 4,000 hour intervals and automatically uses traction motor braking to reduce burden on service brakes
Easy component access, including easily-removable floor plates and a rear-hinged hood that opens nearly 80 degrees
| Model | Load Capacity | Load Center | Lift Height | Turning Radius | Battery Capacity Voltage | Weight |
| --- | --- | --- | --- | --- | --- | --- |
| ERC080VH | 8000lbs | 24in | 218 | 82.5 | 36V / 2300Ah - 48V / 1800Ah - 80V / 1000Ah | 11070 |
| ERC100VH | 10000lbs | 24in | 208 | 92.2 | 36V / 2300Ah - 48V / 1800Ah - 80V / 1000Ah | 12300 |
| ERC100SVH | 10000lbs | 24in | 208 | 88.2 | 36V / 2300Ah - 48V / 1800Ah - 80V / 1000Ah | 13070 |
| ERC120VH | 12000lbs | 24in | 208 | 95.3 | 36V / 2300Ah - 48V / 1800Ah - 80V / 1000Ah | 13810 |

The GSA creates a centralized location for the federal government, offering products, services, and facilities needed for federal agencies to serve the public. As a GSA certified company, Yale supports the GSA's mission to provide innovative solutions for federal agencies with cost-effective and high-quality products. You can also find more information on the General Services Administration at www.gsaadvantage.gov
Support throughout the lift truck life cycle
Knowledgeable, reliable dealers make all the difference
When it comes to collaborating with a lift truck dealer, you can't settle – you need dealers wholly focused on your success. When you purchase equipment or technology solutions from Yale Lift Truck Technologies, you gain access to our independent dealer network. "Independent" means our dealers are not constrained by factory ownership or corporate red tape.
Our dealers are entirely focused on fulfilling your needs
A seamless experience, from order to factory to ongoing support
Effective recommendations and responsive support, from parts, maintenance and
emergency services to fleet management, rental trucks and operator training.
Expertise and guidance on special features and allied products and services for your
warehouse, like racking, guarding and safety equipment.
Assistance with financing options.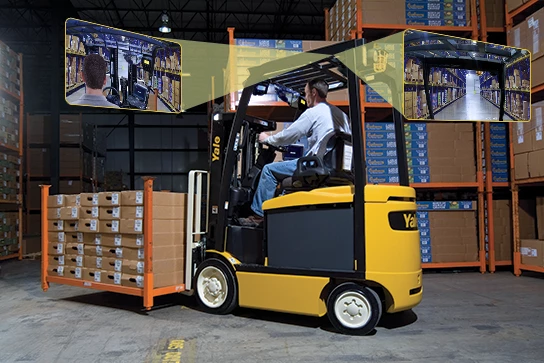 Yale Vision telemetry
Complete fleet visibility and control
Yale Vision provides real-time fleet monitoring for more informed decisions. The solution offers easy-to-use dashboards and analytics to manage cost, optimise productivity and protect assets.
See the difference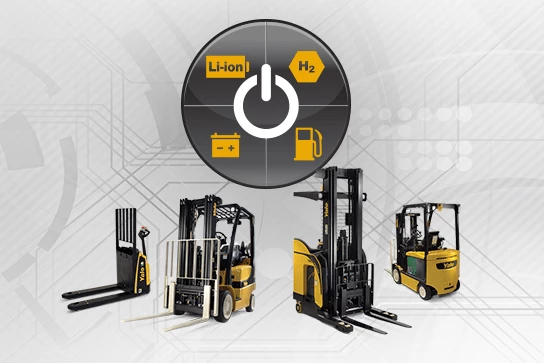 Yale Power Suite
Unlock the True Power of Your Operation
Yale Power Suite has the industry's widest range of power sources from a variety of brands, so you get the best solution available to maximize your operations. Our team has deep industry knowledge about forklift power sources to evaluate your application and recommend the power source that gives you the best return on your investment.
Learn more
Value-added services
Lift trucks are only part of our solution
Our value-added services are designed to help you get the most out of material handling investments.