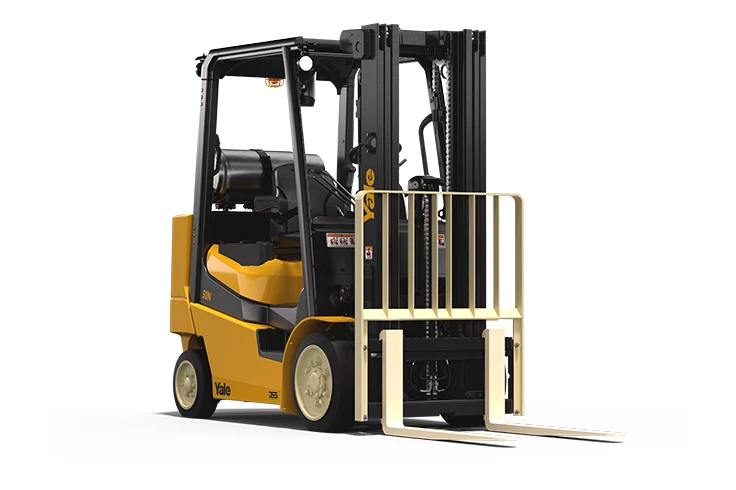 Raising the bar for what you expect
IC forklift with an innovative dynamic stability system
Models

GC40-70N

Capacity

4000-7000lbs
Built on a scalable platform, the Yale Series N can be easily configured to match your unique requirements. With a 4,000–7,000 lb. capacity range, the GC40-70N will raise the bar for what you expect from a lift truck in a wide range of applications and environments.
Operator-centric design
Safety features that boost productivity
Proven dependability and low cost of operation
Set your own standard. Then lift it.
Operator-centric design
An ergonomic compartment strategically engineered around comfort and convenience, the Yale® Series N was designed to make it easy for operators to get in and out of the truck, stay comfortable and sustain less stress while seated and operating the truck.
Convenient entry and exit – A large, strategically located step, large grab handle, contoured hood and flip up armrests help make it easy for the operator to get in and out of the truck.

Spacious operator compartment – Roomy operator compartment with ample floor space and a wide range of seat adjustment helps the operator to find a comfortable position, stretch their legs, and stay comfortable for long shifts.

Excellent visibility – A low dash and wide mast window provide excellent visibility through the mast, enhanced visibility of fork tips and load when picking at height, and excellent visibility when traveling forward.
Safety and productivity
Maintaining a strict focus on lift truck best practices can be a challenge, but with so much riding on lift truck operator performance, building and supporting safe, effective habits through proper, comprehensive training is critical. The Series N goes a step further, with smart features and technology that offers alerts and automated assistance to operators in real time.
Dynamic Stability System (DSS) - An innovative, maintenance-free system, standard on all Series N trucks that promotes operating best practices by implementing truck performance limitations to help minimize forward and sideways tip-overs. 1
Operator Assistance Systems (OAS) - A suite of options designed to support the behavior and awareness of both operators and pedestrians to promote safe practices and help prevent facility and product damage.1
Dependability and TCO
Harsh duty cycles and challenging environments can threaten uptime, and you need equipment proven to stand up and deliver, shift after shift. The Series N helps protect your bottom line with features engineered to minimize unplanned downtime, simplify service and lower fuel costs.
Heavy-duty industrial Yanmar engine - Utilizes a heavy-duty EPA-certified Yanmar 2.2L LPG engine designed with extended preventive maintenance service intervals for continuous, heavy use.
Dependable high performance technology - Engineered with a reliable, aluminum transmission and robust steer axle with tapered roller bearings to help minimize downtime and simplify service.
1 While lift truck systems support safe operation and help minimize the potential for tip overs, proper operation of the lift truck and 100% full-time utilization of the truck's seat belt are the primary and best means of keeping the truck and operator upright and safe. Refer to the operator and service manuals for proper operation and maintenance.
| Model | Load Capacity | Load Center | Lift Height | Turning Radius | Overall Width | Engine Type | Transmission |
| --- | --- | --- | --- | --- | --- | --- | --- |
| S40A | 3000lbs | 24in | 318 | 78.9 | 42.1 | Yanmar 2.2L LPG | Electric powershift |
| S60A | 3500 lbs | 24in | 276 | 84.1 | 44.1 | Yanmar 2.2L LPG | Electric powershift |
| S50A | 3500 lbs | 24in | 318 | 80.9 | 42.1 | Yanmar 2.2L LPG | Electric powershift |
| S70A | 4000lbs | 24in | 276 | 86.2 | 46.2 | Yanmar 2.2L LPG | Electric powershift |
| S55AS | 4000lbs | 24in | 318 | 76.3 | 44.1 | Yanmar 2.2L LPG | Electric powershift |

The GSA creates a centralized location for the federal government, offering products, services, and facilities needed for federal agencies to serve the public. As a GSA certified company, Yale supports the GSA's mission to provide innovative solutions for federal agencies with cost-effective and high-quality products. You can also find more information on the General Services Administration at www.gsaadvantage.gov
Support throughout the lift truck life cycle
Knowledgeable, reliable dealers make all the difference
When it comes to collaborating with a lift truck dealer, you can't settle – you need dealers wholly focused on your success. When you purchase equipment or technology solutions from Yale Lift Truck Technologies, you gain access to our independent dealer network. "Independent" means our dealers are not constrained by factory ownership or corporate red tape.
Our dealers are entirely focused on fulfilling your needs
A seamless experience, from order to factory to ongoing support
Effective recommendations and responsive support, from parts, maintenance and
emergency services to fleet management, rental trucks and operator training.
Expertise and guidance on special features and allied products and services for your
warehouse, like racking, guarding and safety equipment.
Assistance with financing options.

SMART. SIMPLE.
MAINTENANCE-FREE TECHNOLOGY.
Dynamic Stability System (DSS) is a maintenance-free system that sends audible and visual alerts to the operator to help promote safe operating practices. Standard on all Series N trucks, this innovative technology—made up of four sub-systems—limits truck performance in certain conditions to help minimize forward and sideways tip-overs.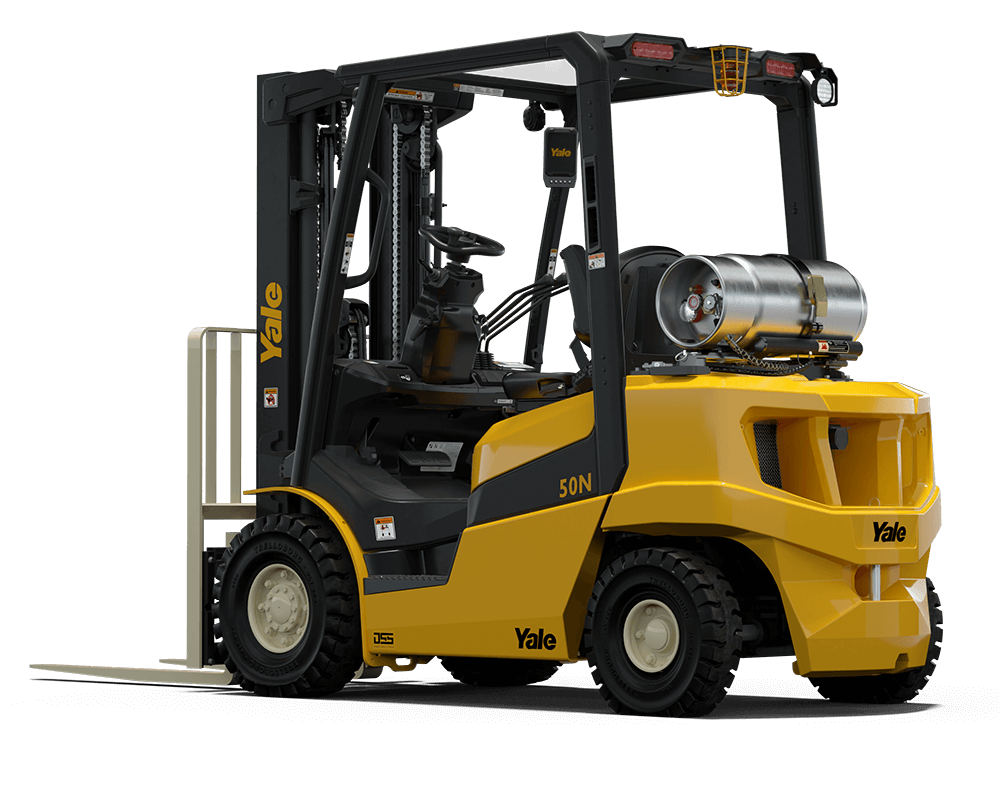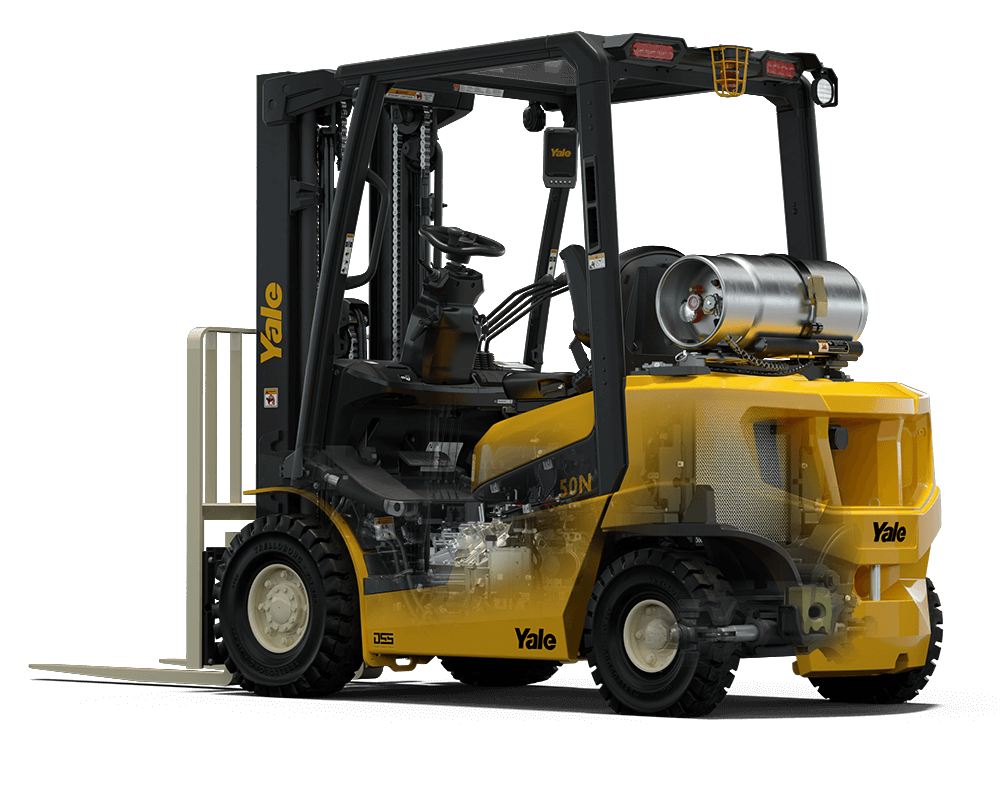 Click hotspots to explore how DSS functions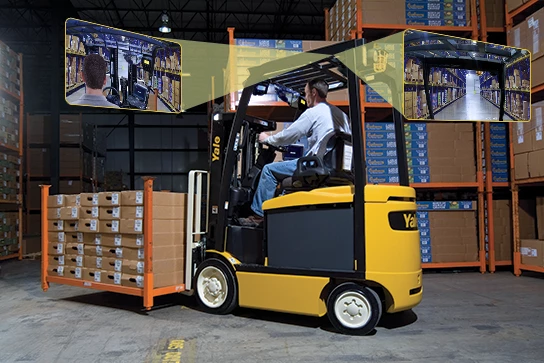 Yale Vision telemetry
Complete fleet visibility and control
Yale Vision provides real-time fleet monitoring for more informed decisions. The solution offers easy-to-use dashboards and analytics to manage cost, optimise productivity and protect assets.
See the difference
Value-added services
Lift trucks are only part of our solution
Our value-added services are designed to help you get the most out of material handling investments.