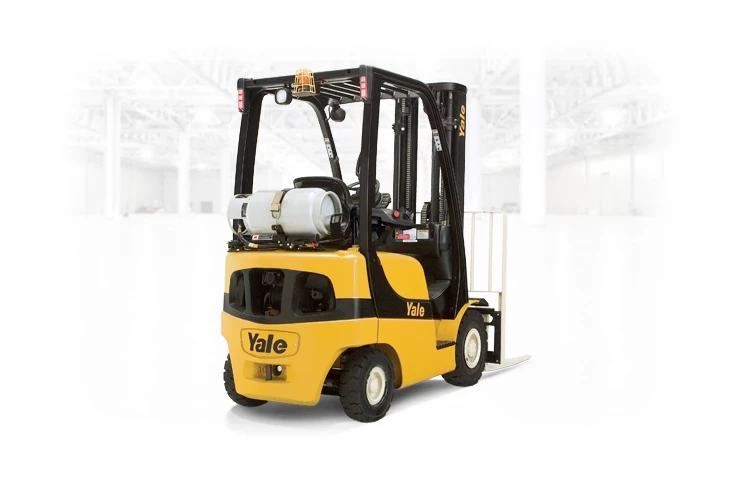 Yale Forklift Trucks With Pneumatic Tires
Serve standard and medium-duty applications, indoors and out
Models

GP030-040SVX

Capacity

3000-4000lbs
The GP030-040SVX Veracitor® is rugged enough for outdoor environments, but its maneuverability and speed also make the truck optimal for indoor use. It's designed for a long work life with less maintenance requirements in standard and medium-duty applications.
Customizable for the application
Ergonomic features
Built to last
Simple serviceability
Quality and configurability to fit even niche applications
Customizable for the application
Each truck in the Veracitor® VX series is customizable with packages for specific customer needs, ranging from standard- to medium-duty applications.
Engine: PSI 2.4L LPG with Yale® Flex Performance Technology™ that allows operators to boost fuel economy or turn up performance to maximize productivity during peaks
Transmission options:
Standard Electronic Powershift transmission with smooth electronic inching, electronic shift control and heavy duty clutch packs
Techtronix 100 transmission (optional) offers all features of the standard transmission, plus controlled power reversal for reduced tire spin and fuel consumption, controlled rollback and Auto Deceleration System
Hydraulics options:
Cowl mounted mechanical levers offer easy reach ergonomic design, excellent right-side access
Accutouch mini-lever electro-hydraulics (optional) with fingertip activation, best-in-class comfort
Ergonomic features
The GP-SVX series is packed with operator-friendly features to help stave off fatigue and keep productivity high, all shift long.
Hi-Vis™ mast with single free lift chain for clear visibility
Low step height for easy entry and exit
Steering wheel with 12-inch diameter and infinitely adjustable steer column helps operators of all sizes find comfortable operating position
Isolated powertrain reduces noise and vibration
Continuous Stability System (CSS) reduces truck lean in turns for improved lateral stability and uses an innovative steer axle mounting for superior travel over uneven surfaces
Rear drive handle with horn button (optional) improves comfort in reverse operation
Built to last
The Yale Veracitor series is engineered to be among the most dependable equipment available, with a rugged powertrain and enhanced monitoring options.
Innovative cooling system offers excellent airflow through optimized ducting and high-volume tunnels
Anti-clog radiator is completely shock-mounted for long service life
Reliable electronics, including sealed connectors, that enable entire truck to be pressure washed
Hall effect sensors and switches have magnetically operated solid state components and are completely sealed
Continuous Stability System is a completely maintenance-free solution, with no controllers, sensors and extra wiring
Simple serviceability
The GP-SVX series not only requires less maintenance, it's designed to make service easy when it is necessary - reducing associated time and cost.
Rear-opening, one-piece hood and one-piece floor plate offer excellent cowl-to-counterweight access
Coolant recovery bottle is easily visible for checks, and fill neck is within easy reach
Automatic electronic inching eliminates need for periodic adjustment
Auto Deceleration System reduces brake usage and maintenance
Coil-over-plug ignition design eliminates spark plug wires and need for periodic replacement
Intellix VSM vehicle systems manager (optional) continuously monitors truck functions and immediately alerts operators of service needs
PC-based diagnostics enable fast, accurate troubleshooting for first-time fixes
| Model | Load Capacity | Load Center | Lift Height | Turning Radius | Overall Width | Weight | Engine Type | Transmission |
| --- | --- | --- | --- | --- | --- | --- | --- | --- |
| GP040SVX | 4000lbs | 24in | 216 | 78.1 | 42 | 6884 | PSI 2.0L LPG | Electronic Powershift 1-speed / Techtronix 100-speed |
| GP035SVX | 3500lbs | 24in | 216 | 78.1 | 42 | 6533 | PSI 2.0L LPG | Electronic Powershift 1-speed / Techtronix 100-speed |
| GP030SVX | 3000lbs | 24in | 216 | 77 | 42 | 6367 | PSI 2.0L LPG | Electronic Powershift 1-speed / Techtronix 100-speed |
Our dealers are our most important partners in helping you
We would not be where we are today without one of the most professional dealer networks in the industry. We work hard to design and manufacture the best lift trucks, but it is our stellar dealers that bring it all together for you.
Dealers help at every step of the process
Understanding your specific lift truck applications
Recommending special features to improve your productivity
Configuring the proper quotation
Helping with financing options when required
Prepping your truck for delivery after it leaves our factory
Arranging for operator training
Providing planned maintenance on your trucks
Supporting National Accounts management
Providing fleet management services, if needed
Providing emergency service and parts
Providing rental trucks at short notice
Helping determine exactly when to purchase new lift trucks

The GSA creates a centralized location for the federal government, offering products, services, and facilities needed for federal agencies to serve the public. As a GSA certified company, Yale supports the GSA's mission to provide innovative solutions for federal agencies with cost-effective and high-quality products. You can also find more information on the General Services Administration at www.gsaadvantage.gov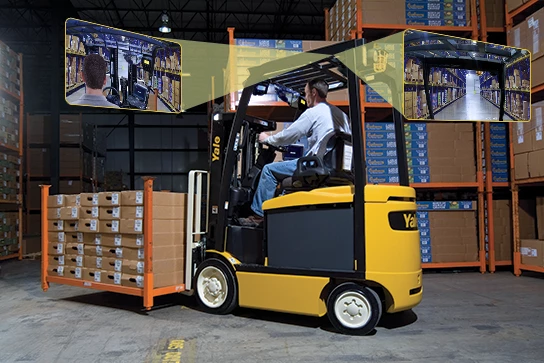 Yale Vision telemetry
Complete fleet visibility and control
Yale Vision provides real-time fleet monitoring for more informed decisions. The solution offers easy-to-use dashboards and analytics to manage cost, optimise productivity and protect assets.
See the difference
Value-added services
Lift trucks are only part of our solution
Our value-added services are designed to help you get the most out of material handling investments.