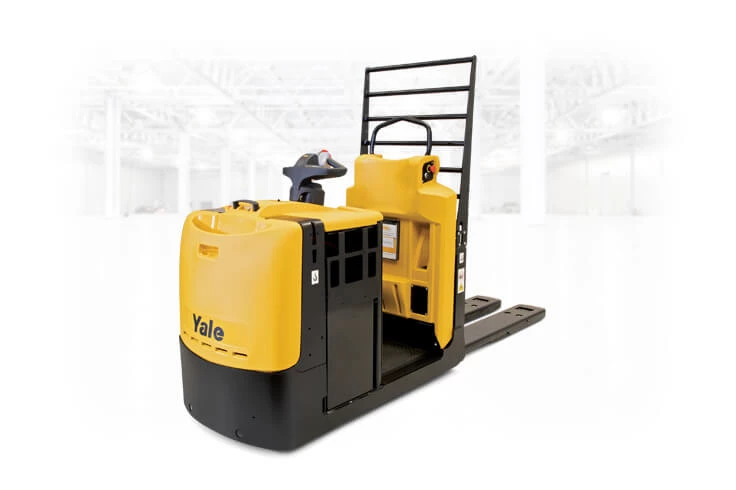 Make multi-level order picking a breeze
Low level order picker
Models

MO55-80

Capacity

5500-8000lbs
The Yale MO series of low level order pickers offers an efficient, cost-effective order picking solution that can enable more efficient slotting strategies for increased SKU capacity and decreased travel times.
Ergonomic advantages
Multi-level productivity
Dependability
Serviceability
Warehouse order picker to unlock innovating slotting strategies
Ergonomic advantages
Yale low level pickers offer a range of features designed to maximize operator productivity and reduce fatigue, all shift long.
Spacious operator compartment enables easy access and offers a backrest and plenty of space for a comfortable operating position
Operator sensing floor mat completely covers the platform to allow onboard personnel to adjust stance
Power steering uses electric, fly-by-wire technology to reduce steering effort by up to 90%
Coast control uses slow-speed forward and reverse buttons to move to the next pick location while allowing the operator to walk alongside it, avoiding the need to re-mount the truck
Multi-level productivity
The MO series leverages the capabilities of a conventional pick vehicle with the speed and efficiency of a pallet truck, enabling the operator to easily access the 6-10 foot strike zone.
Operations can take advantage of innovative slotting strategies to increase capacity and reduce travel time between picks.
Foot controlled lifting platform allows operators to focus on making picks, and offers easy access to second level storage locations
Travel speed up to 8 mph help limit travel times between docking and picking
Customizable performance settings such as acceleration, travel speed and braking to match application and operator needs

Dependability
High-throughput operations do not have time for equipment downtime. The MO series is designed with key features to keep going strong, shift after shift.
Double-sealed IP65 connectors offer long service life and reliable operation
Robust fork design helps reduce stress and the heavy duty pull rod and load axle offer long-term reliability
Industrial-grade frame design and sturdy wrap-around bumper plate protects internal components
AC traction motor uses built-in thermal protection and is fully enclosed to protect from damage and debris
Serviceability
When service is necessary, the MO series is engineered with maintenance friendly features to expedite the process and get back to work.
One-piece hood can be easily removed with just two screws for quick access to all components
Single-point diagnostics help simplify service processes
Vertical or lateral battery extraction to help operations tailor changing to their needs
| Model | Load Capacity | Lift Height | Platform Height | Battery Capacity Voltage | Weight |
| --- | --- | --- | --- | --- | --- |
| MO55 | 5500lbs | 4.7 | 38.6 | 34V | 2888 |
| MO60 | 6000lbs | 4.7 | 38.6 | 24V / 425-750Ah | 2888 |
| MO80 | 8000lbs | 4.7 | 38.6 | 24V / 425-750Ah | 2888 |

The GSA creates a centralized location for the federal government, offering products, services, and facilities needed for federal agencies to serve the public. As a GSA certified company, Yale supports the GSA's mission to provide innovative solutions for federal agencies with cost-effective and high-quality products. You can also find more information on the General Services Administration at www.gsaadvantage.gov
Support throughout the lift truck life cycle
Knowledgeable, reliable dealers make all the difference
When it comes to collaborating with a lift truck dealer, you can't settle – you need dealers wholly focused on your success. When you purchase equipment or technology solutions from Yale Lift Truck Technologies, you gain access to our independent dealer network. "Independent" means our dealers are not constrained by factory ownership or corporate red tape.
Our dealers are entirely focused on fulfilling your needs
A seamless experience, from order to factory to ongoing support
Effective recommendations and responsive support, from parts, maintenance and
emergency services to fleet management, rental trucks and operator training.
Expertise and guidance on special features and allied products and services for your
warehouse, like racking, guarding and safety equipment.
Assistance with financing options.
Increase slot capacity and picking efficiency
The multi-level lift truck design can expand the "golden zone" of the pick face, enabling new slotting strategies that increase capacity and picking efficiency, reduce labor and storage requirements and decrease overall materials handling costs.
Learn how
Case study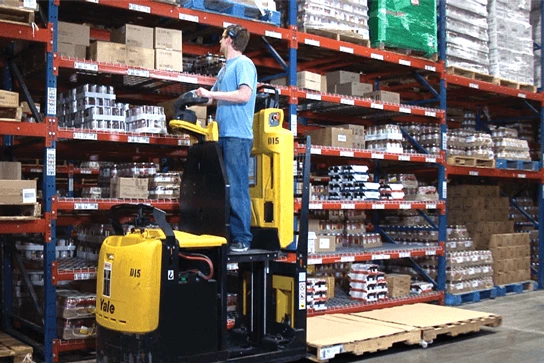 Nature's Best  
See how Nature's Best added 33-45% more pick positions, increasing their number of SKUs and revenue per square foot – all without a costly facility expansion.
Watch video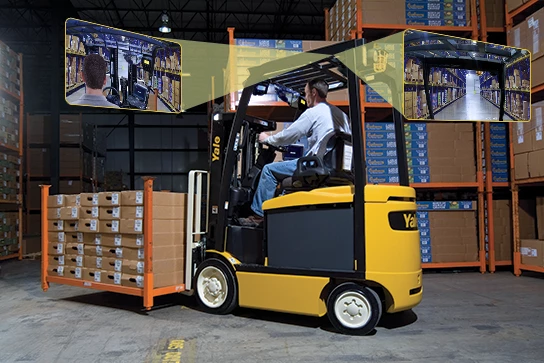 Yale Vision telemetry
Complete fleet visibility and control
Yale Vision provides real-time fleet monitoring for more informed decisions. The solution offers easy-to-use dashboards and analytics to manage cost, optimise productivity and protect assets.
See the difference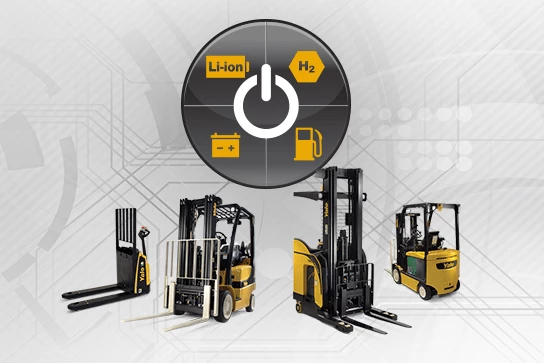 Yale Power Suite
Unlock the True Power of Your Operation
Yale Power Suite has the industry's widest range of power sources from a variety of brands, so you get the best solution available to maximize your operations. Our team has deep industry knowledge about forklift power sources to evaluate your application and recommend the power source that gives you the best return on your investment.
Learn more
Value-added services
Lift trucks are only part of our solution
Our value-added services are designed to help you get the most out of material handling investments.