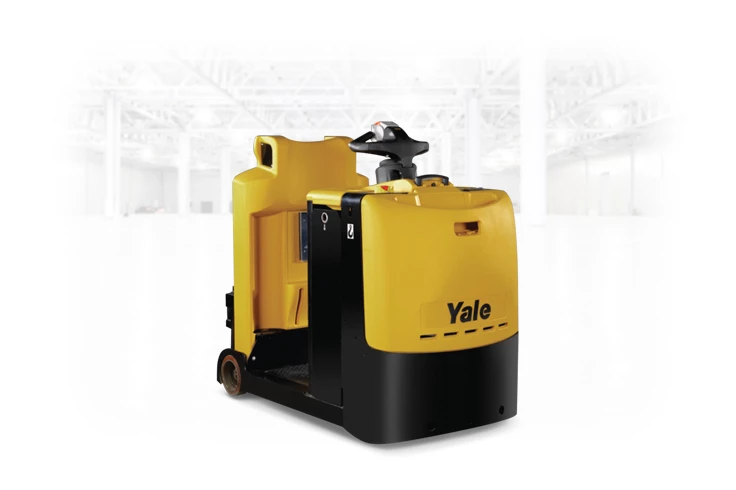 Premium stand-up tugger to move product with ease
Models

MO100T-150T

Capacity

10000-15000lbs
Move carts and product through your facility with ease, using a cost-effective solution you can count on.
Ergonomic advantages
Productivity
Dependability
Serviceability
Low ownership costs
Tugger forklifts designed for a wide range of product transportation applications
Ergonomic advantages
Equip operators to stay focused, alert and productive all shift long.
Power steering reduces arm movement required to change direction
Personnel sensor covers entire platform floor and combines with large backrest to help operator find comfortable position
Coasting function for slow forward and reverse speed easily controlled from backrest
Productivity
Meeting high performance targets requires a tool with speed and control.
High capacity 3.5 horsepower AC drive motor offers acceleration and travel speed to get the job done in stop and go operations
Acceleration, travel and braking speeds can be adjusted according to the needs of each application
Electric steering and automatic speed reduction in cornering offers the control necessary to meet productivity benchmarks
Maximum 5.6 mph travel speed reduces time spent on long runs between docking and picking areas
Dependability
You need equipment you can count on. The MO50-70T is strong enough to keep going, day after day.
Solid frame construction and industrial grade components offer long-term reliability and durability
Sturdy wrap around bumper plate protects truck from impacts and damage
Electronics are sealed for protection from damage
CANbus communication system reduces wiring complexity
Serviceability
When it's time for service, you need it to get done correctly and quickly. The MO50-70T offers the easy access and low maintenance requirements your operation needs.
Fault codes can be displayed on console for easy service verification
One-piece hood offers easy access to key components
Motor cover is easily removable with just two screws, for full access to serviceable components
Low ownership costs
Margins are tight in the supply chain. This tow tractor is a solution built to provide lasting value and help you keep costs in check.
Adjustable performance settings allow you to tailor truck performance to the needs of the application, for reduced energy consumption
Regenerative braking reduces the use of the service brake and dissipates heat from the traction motor, increasing the life of key components
Motors and controllers are protected against damage and debris, for reduced service and repair costs
| Model | Load Capacity | Turning Radius | Battery Capacity Voltage | Overall Width |
| --- | --- | --- | --- | --- |
| MO100T (robot) | 10000lbs | 56 | 24V / 425-600Ah | 31.3 |
| MO100T | 10000lbs | 56 | 24V / 425-600Ah | 31.3 |
| MO150T | 15000lbs | 56 | 24V / 425-600Ah | 31.3 |
| MO150T (robot) | 15000lbs | 56 | 24V / 425-600Ah | 31.3 |

The GSA creates a centralized location for the federal government, offering products, services, and facilities needed for federal agencies to serve the public. As a GSA certified company, Yale supports the GSA's mission to provide innovative solutions for federal agencies with cost-effective and high-quality products. You can also find more information on the General Services Administration at www.gsaadvantage.gov
Support throughout the lift truck life cycle
Knowledgeable, reliable dealers make all the difference
When it comes to collaborating with a lift truck dealer, you can't settle – you need dealers wholly focused on your success. When you purchase equipment or technology solutions from Yale Lift Truck Technologies, you gain access to our independent dealer network. "Independent" means our dealers are not constrained by factory ownership or corporate red tape.
Our dealers are entirely focused on fulfilling your needs
A seamless experience, from order to factory to ongoing support
Effective recommendations and responsive support, from parts, maintenance and
emergency services to fleet management, rental trucks and operator training.
Expertise and guidance on special features and allied products and services for your
warehouse, like racking, guarding and safety equipment.
Assistance with financing options.
Automate your tow tractor
The Robotic Tow Tractor offers an autonomous solution specifically for long, repetitive transportation tasks prone to high operator turnover.
Learn more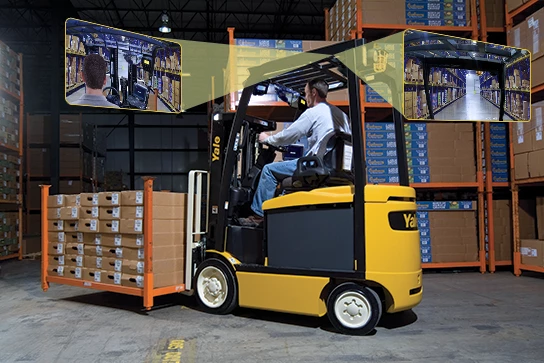 Yale Vision telemetry
Complete fleet visibility and control
Yale Vision provides real-time fleet monitoring for more informed decisions. The solution offers easy-to-use dashboards and analytics to manage cost, optimise productivity and protect assets.
See the difference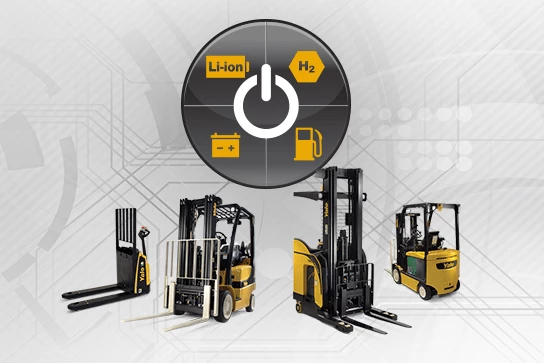 Yale Power Suite
Unlock the True Power of Your Operation
Yale Power Suite has the industry's widest range of power sources from a variety of brands, so you get the best solution available to maximize your operations. Our team has deep industry knowledge about forklift power sources to evaluate your application and recommend the power source that gives you the best return on your investment.
Learn more
Value-added services
Lift trucks are only part of our solution
Our value-added services are designed to help you get the most out of material handling investments.