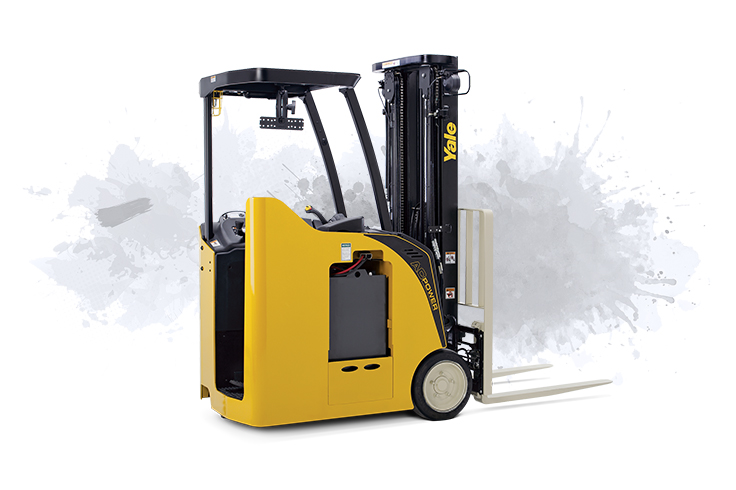 Efficient stand-up lift truck for dock and drive-in rack applications
Models

ESC030-40AD

Capacity

3000-4000lbs
The three-wheel stand can help you move products in and out of tight spaces more efficiently and enhance operator productivity in the following applications: Dock-to-stock load transportation, Loading and unloading, Staging, Stock replenishment
Tight turning radius
Ergonomic features
Simplified service
Keep shipments moving on time with increased maneuverability and productivity
Tight turning radius
More SKUs and more racks means denser storage layouts and tighter spaces. You need trucks specifically designed to whip in and out of those environments.
The Yale® three-wheel stand has one of the tightest turning radiuses in the industry. As the truck turns, the inside motor slows, stops and reverses to minimize turn radius, making stacking in limited space and congested loading bays easier than ever.
Standard, dual independent AC drive motors with separate drive controllers provide optimal maneuverability while turning
Dual steer tires with hydraulically actuated rack and pinion steering axle for precise, reliable control
Ability to position loads even on an incline minimizes likelihood of product damage from unintended load contact
Ergonomic features
Labor costs can consume anywhere from 50-70% of your budget. The three-wheel stand is designed to get the most from labor expenditures by keeping operators sharp and on-task with state-of-the-art productivity and ergonomic features.
Multifunction control handle provides simultaneous control of travel and hydraulic functions
Yale® Smart Operator Sensing System includes no pedals, providing more useable floor space than leading competitors
Yale® Smart Ride Floor System eliminates up to 65% of shock and vibration transmitted to the operator
Easy access, low step height and spacious suspended floor help reduce operator fatigue
Optional Clear View™ mast offers up to 40% greater visibility than leading competitors
Simplified service
Out-of-service trucks can disrupt work, cause operator downtime and lead to inefficiently structured fleets - accumulating excess costs and putting you behind schedule.
The three-wheel stand is engineered to be ready when you need it, with quality components, long-lasting performance and simple maintenance requirements to greatly reduce your chance of downtime and unplanned service.
Brushless, maintenance-free AC traction and hydraulic motors offer reduced maintenance requirements
Electrical system with CANbus communications reduces connections and complex wiring
Yale® Smart Operator Sensing System uses fewer moving parts than competitors, reducing the chance of component failure
Yale iSi Technology™ provides common diagnostics with other Yale® trucks for simpler service
| Model | Load Capacity | Load Centre | Lift Height | Turning Radius | Battery Capacity Voltage | Weight |
| --- | --- | --- | --- | --- | --- | --- |
| ESC040AD | 4000lbs | 24 | 283 | 57.4 | 36V / 775-1240Ah | 6801 |
| ESC035AD | 3500lbs | 24 | 283 | 54.9 | 36V / 775-1240Ah | 6445 |
| ESC030AD | 3000lbs | 24 | 283 | 50.7 | 36V / 775-1240Ah | 6353 |
Excepteur quis
In in duis.
Elit, exercitation eu in adipisicing mollit velit non consequat, laborum. Enim minim ad reprehenderit occaecat magna amet, ea commodo veniam. Lorem aliqua, esse minim dolor in quis deserunt laborum, voluptate. Ipsum in qui labore ex exercitation irure excepteur veniam, do. Excepteur deserunt ut reprehenderit in consequat, sint minim aute ad. Fugiat eu voluptate labore nulla in ullamco officia tempor qui. Velit cillum reprehenderit incididunt deserunt irure commodo nostrud fugiat et. Id dolore eiusmod incididunt occaecat consectetur adipisicing sint anim esse. Proident, deserunt aliquip in dolore non sit elit, enim consectetur. Minim voluptate ullamco ea esse ut aute dolor laboris do