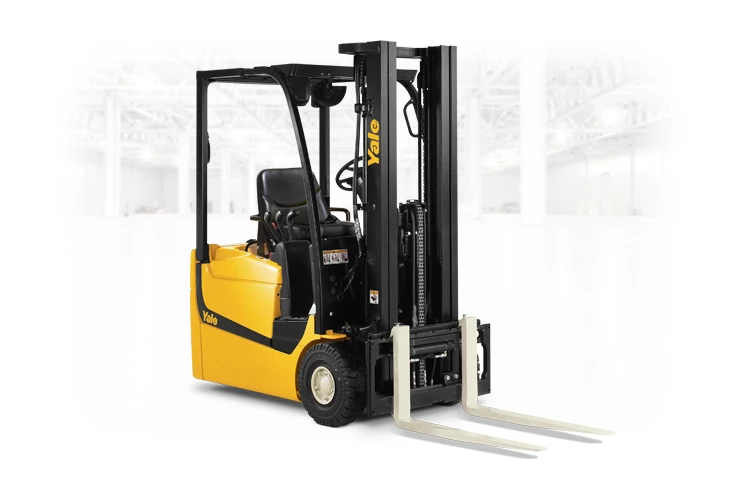 Rear-wheel steering forklift
Sit down electric forklift for tight spaces
Models

ERP025-030VC

Capacity

2500-3000lbs
The Yale® ERP-VC series combines the ergonomics and maneuverability warehouses need for dependable performance. The 3 wheel counterbalanced forklift is easy to maneuver through tight layouts and access elevated storage locations.

Productivity
Ergonomic advantages
Long-term dependability
Simple serviceability
Maneuverable pallet-handling solution
Competitive performance with a tight turning radius for when space is at a premium
Productivity
The ERP-VC series is packed with features to get the job done, all shift long.
Tight turning radius and overall width of 39.2 inches for excellent maneuverability in restricted spaces and congested areas
AC motors provide smooth acceleration and strong travel, torque and lifting performance
Competitive top travel speed of 7.5 mph and lifting speed of 59 feet per minute
Ergonomic advantages
An operator-focused design helps productivity start high and stay high, all shift long.
Mast offers clear, wide range of visibility to help operators work more quickly and precisely
Operator compartment offers generous foot space, intuitive pedal arrangement and low step height to keep operators fresh over long shifts
Optional full suspension seat helps reduce truck vibration for extra comfort
Low noise level of only 59db(A) reduces stress on operators
Display mounted on overhead guard keeps field of vision clear and easy, at-a-glance access to truck information and operating conditions
Long-term dependability
In today's competitive landscape, downtime is not an option. The ERP-VC series is designed with proven technology and strong components from the ground up.
Strong chassis construction provides excellent durability and stability
O-ring face seal fittings, CANbus communications and sealed electrical connectors offer long-term reliability
Hall-Effect sensors are virtually maintenance free, making the truck more reliable and decreasing downtime
Auto Deceleration System automatically slows when operator removes pressure from accelerator, reducing brake usage and associated maintenance requirements
Power-Assisted braking system further increases brake and drivetrain life by automatically utilizing traction motor braking in proportion to brake pedla pressure to reduce demand on service brakes
Simple serviceability
The ERP-VC series includes a range of maintenance friendly features and advanced diagnostics to make service simple and limit total cost of operation.
Intellix Vehicle System Manager continuously monitors all major truck functions for proper, efficient operation
Thermal management system protects motors and controllers, for reduced maintenance consts
Steer column includes diagnostic port for easy access to on-board diagnostics and programming
Floor plate easily lifts out without tools for easy access to serviceable components
No battery removal required for full serivce
| Model | Load Capacity | Load Center | Lift Height | Turning Radius | Battery Capacity Voltage | Weight |
| --- | --- | --- | --- | --- | --- | --- |
| ERP025VC | 2500lbs | 24in | 192 | 55 | 24V / 600Ah | 4560 |
| ERP030VC | 3000lbs | 24in | 192 | 57.2 | 24V / 1000Ah | 4830 |

The GSA creates a centralized location for the federal government, offering products, services, and facilities needed for federal agencies to serve the public. As a GSA certified company, Yale supports the GSA's mission to provide innovative solutions for federal agencies with cost-effective and high-quality products. You can also find more information on the General Services Administration at www.gsaadvantage.gov
Support throughout the lift truck life cycle
Knowledgeable, reliable dealers make all the difference
When it comes to collaborating with a lift truck dealer, you can't settle – you need dealers wholly focused on your success. When you purchase equipment or technology solutions from Yale Lift Truck Technologies, you gain access to our independent dealer network. "Independent" means our dealers are not constrained by factory ownership or corporate red tape.
Our dealers are entirely focused on fulfilling your needs
A seamless experience, from order to factory to ongoing support
Effective recommendations and responsive support, from parts, maintenance and
emergency services to fleet management, rental trucks and operator training.
Expertise and guidance on special features and allied products and services for your
warehouse, like racking, guarding and safety equipment.
Assistance with financing options.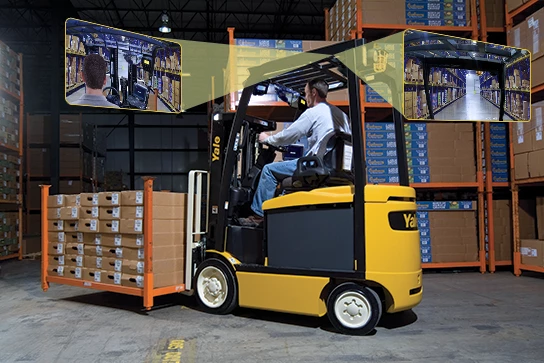 Yale Vision telemetry
Complete fleet visibility and control
Yale Vision provides real-time fleet monitoring for more informed decisions. The solution offers easy-to-use dashboards and analytics to manage cost, optimise productivity and protect assets.
See the difference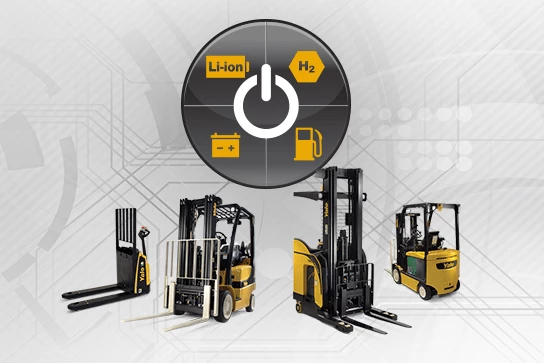 Yale Power Suite
Unlock the True Power of Your Operation
Yale Power Suite has the industry's widest range of power sources from a variety of brands, so you get the best solution available to maximize your operations. Our team has deep industry knowledge about forklift power sources to evaluate your application and recommend the power source that gives you the best return on your investment.
Learn more
Value-added services
Lift trucks are only part of our solution
Our value-added services are designed to help you get the most out of material handling investments.