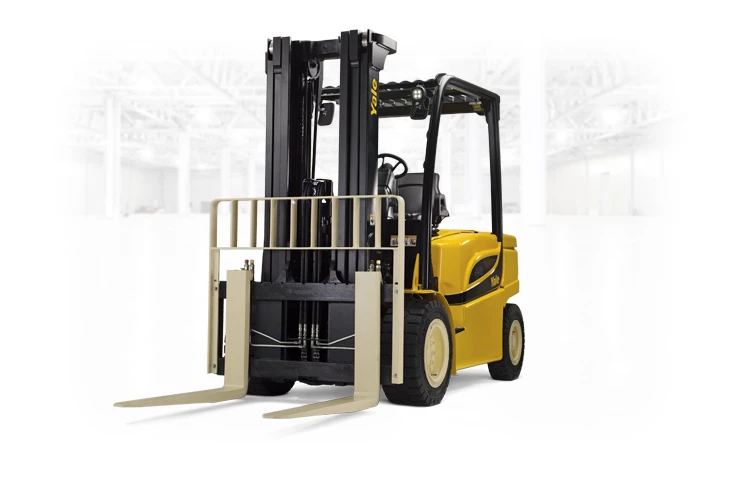 4 Wheel Electric Forklift Truck Pneumatic Tire
Robust battery operated forklift for outdoor and indoor applications
Models

ERP080-120VM

Capacity

8000-12000lbs
The ERP080-120VM is versatile, configurable solution with the power to take on tasks historically reserved for ICE models and the benefits of an electric.
Operator friendly
Power and versatility
Count on it
Simple serviceability
Power of an ICE with the efficiency of an electric forklift
Operator friendly
Equipping operators for success keeps them productive all shift long.
Innovative Zero Turn radius steer axle and dual AC drive motors provide exceptional maneuverability in congested areas and narrow aisles
Continuous Stability System requires no maintenance and bolsters stability over uneven surfaces
Infinitely adjustable steering column with available telescopic adjustment and tilt memory
Strong drivability thanks to car-like feel of pneumatic tires and convenient pedal positioning
Auto-deceleration system helps reduce operator pressure on brakes
Optional Accutouch mini-levers provide low effort, tactile control over hydraulic functions
Power and versatility
The power for tasks traditionally reserved for ICE models, while maintaining the benefits of electrification.
Standard Extended Shift feature allows longer run time between recharging
Increased loaded travel speeds and acceleration is possible with Extended Shift setting turned off
AC transistor hydraulic control enables precise load handling with greater efficiency and less noise
Multifunction display enables adjustment of customizable performance parameters to meet application needs
Optional "quick connect" rapid charge system simplifies charging operation through easy-access side-mounted port
Standard 80-volt electrical system
Count on it
You need dependability, not downtime. The ERP-VM series uses industrial grade components and smart design choices for longlisting productivity and value.
AC motors eliminate brushes, which mean there are none to ever require service
Oil-cooled wet disc brakes and completely sealed from water and other contaminants, virtually eliminated brake maintenance
CANbus technology reduces wiring and related serviceable components
10-micron hydraulic filter captures 99.5% of hydraulic system debris
Thermal management system protects key components
Unitized frame and welded steel construction provide improved overall rigidity and protection of internal components
Simple serviceability
When maintenance is required, you need it done quickly and efficiently, so operators can get back to work. The ERP-VM is designed just for that - and to require less service to begin with.
Easily removable floor plates and rear-hinged hood for easy access to serviceable components
Lift out floor plates require no tools for quick service checks
Intellix Vehicle System Manager continuously monitors and controls all major truck functions
Simplified wire and hose routing, clearly numbered wires and sealed connectors to make service tasks easier
| Model | Load Capacity | Load Center | Lift Height | Turning Radius | Battery Capacity Voltage |
| --- | --- | --- | --- | --- | --- |
| ERP080VM | 8000lbs | 24in | 236 | 94.9 | 80V / 700-840Ah |
| ERP090VM | 9000lbs | 24in | 236 | 94.9 | 80V / 700-840Ah |
| ERP100VML | 10000lbs | 24in | 208 | 101.3 | 80V / 840Ah |
| ERP100VM | 10000lbs | 24in | 208 | 94.9 | 80V / 840Ah |
| ERP110VM | 11000lbs | 24in | 208 | 101.3 | 80V / 840Ah |
| ERP120VM | 12000lbs | 24in | 208 | 101.3 | 80V / 840Ah |

The GSA creates a centralized location for the federal government, offering products, services, and facilities needed for federal agencies to serve the public. As a GSA certified company, Yale supports the GSA's mission to provide innovative solutions for federal agencies with cost-effective and high-quality products. You can also find more information on the General Services Administration at www.gsaadvantage.gov
Support throughout the lift truck life cycle
Knowledgeable, reliable dealers make all the difference
When it comes to collaborating with a lift truck dealer, you can't settle – you need dealers wholly focused on your success. When you purchase equipment or technology solutions from Yale Lift Truck Technologies, you gain access to our independent dealer network. "Independent" means our dealers are not constrained by factory ownership or corporate red tape.
Our dealers are entirely focused on fulfilling your needs
A seamless experience, from order to factory to ongoing support
Effective recommendations and responsive support, from parts, maintenance and
emergency services to fleet management, rental trucks and operator training.
Expertise and guidance on special features and allied products and services for your
warehouse, like racking, guarding and safety equipment.
Assistance with financing options.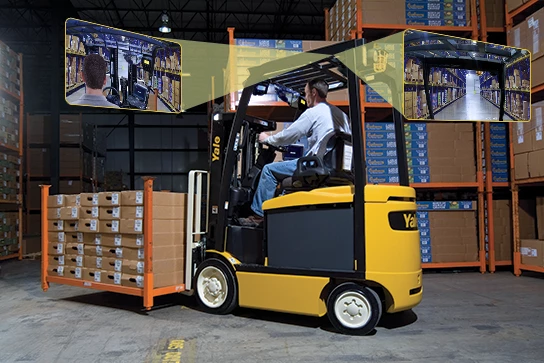 Yale Vision telemetry
Complete fleet visibility and control
Yale Vision provides real-time fleet monitoring for more informed decisions. The solution offers easy-to-use dashboards and analytics to manage cost, optimise productivity and protect assets.
See the difference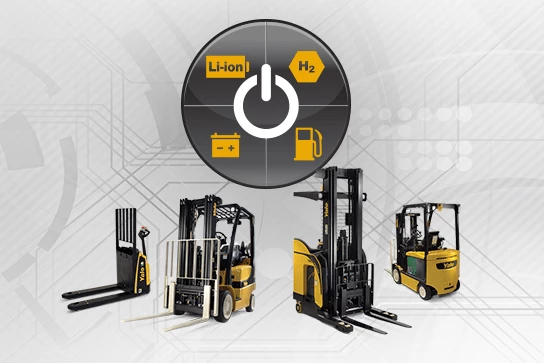 Yale Power Suite
Unlock the True Power of Your Operation
Yale Power Suite has the industry's widest range of power sources from a variety of brands, so you get the best solution available to maximize your operations. Our team has deep industry knowledge about forklift power sources to evaluate your application and recommend the power source that gives you the best return on your investment.
Learn more
Value-added services
Lift trucks are only part of our solution
Our value-added services are designed to help you get the most out of material handling investments.