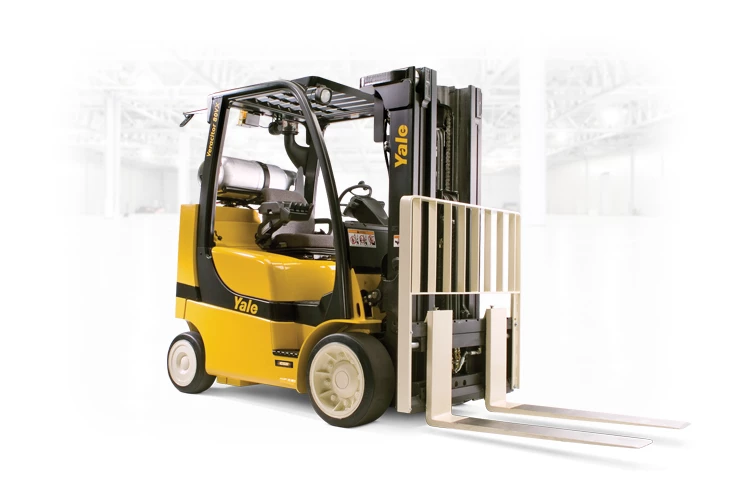 Internal Combustion Cushion Tire Lift Truck
The forklift for medium to heavy-duty indoor applications
Models

GC080-120VX

Capacity

8000-12000lbs
The Veracitor® GC-VX series can be configured as a high-performance solution with low cost of operation for medium- to heavy-duty applications, ranging from 8,000-12,000-lb capacities.

Customizable for the application
Ergonomic features
Built to last
Reduced cost of operation
Attachment options
Powerful lift truck performance in medium to heavy-duty applications
Customizable for the application
Each truck in the Veracitor® VX series is customizable with packages for specific needs, ranging from medium- to heavy-duty applications.
Engine: GM 4.3L VG with Yale® Flex Performance Technology™ to boost fuel economy or turn up performance to maximize productivity during peaks
Transmission options:
Standard Electronic (one-speed) - electronic inching, heavy duty clutch packs
Techtronix 100 (one/two speed) - all features of the standard transmission, plus Auto Deceleration System, extended drawbar pull, controlled rollback
Techtronix 100X (two-speed) - all features of the 100, plus improved power and gradeability, traction speed limiter
Techtronix 200X (two-speed) - all features of the 100X, auto-speed hydraulics with automatic inching control, throttle response management
Hydraulics options:
Manual cowl - easy reach ergonomic design, excellent right-side access
Accutouch electro-hydraulics - fingertip activation, best-in-class comfort, excellent right-side access
PalmTech-Joystick electro-hydraulics - all-in-one control with leading edge design, excellent right-side access
Ergonomic features
The GC-VX series is packed with operator-friendly features to help stave off fatigue and keep productivity and focus high, all shift long.
Low step height for easy entry and exit
Moderately sized steering wheel with infinitely adjustable steer column helps operators of all sizes find comfortable position
Isolated powertrain reduces noise and vibration
Continuous Stability System (CSS) reduces truck lean in turns for improved lateral stability and uses an innovative steer axle mounting design for superior travel over uneven surfaces
Built to last
The Yale Veracitor series is engineered to be among the most dependable lift trucks available, with a rugged powertrain and computer-controlled engine and transmission.
Innovative cooling system enables lower operating temperatures through excellent airflow through optimized ducting and high volume tunnels
Radiator is 100% shock-mounted for long service life
Reliable electronics, including sealed connectors, enable entire truck to be pressure washed
Hall effect sensors and switches have solid state components that are magnetically operated and completely sealed
Continuous Stability System is a completely maintenance-free solution, with no controllers, sensors and extra wiring
Reduced cost of operation
The GC-VX series not only requires less maintenance, it's designed to make service easy when it is necessary - reducing related time and cost. In fact, the VX series is rated by the Society of Automotive Engineers as having faster and easier service than competitors over more than 30 service routines.
Rear-opening, one-piece hood and one-piece floor plate offer excellent cowl-to-counterweight access
Auto Deceleration System (standard on the Techtronix 100 transmission) reduces brake usage and associated wear and maintenance
Automatic electronic inching eliminates need for periodic adjustment
Coil-over-plug ignition design eliminates spark plug wires and need for periodic replacement
Uncluttered layout under the hood offers clean hydraulic and electrical routings
Coolant recovery bottle is easily visible for checks, and fill neck is within easy reach
Intellix VSM vehicle systems manager (optional) continuously monitors truck functions and immediately alerts operators of service needs
Attachment options
The Veracitor series offers a variety of attachment packages to provide the right tool to drive lasting productivity in your operation.
Rotator attachment - secure, 360- and 180-degree rotation of food ingredients, liquid metal, chemicals, waste and scrap
Paper clamp attachment - fast, accurate 180-degree rotation with adjustable clamping pressure for paper roll handling
Bale clamp attachment - wide selection of opening ranges and arm dimensions for efficient transportation of pulp, waste and recycled paper, aluminum and clothing bales
| Model | Load Capacity | Load Center | Lift Height | Turning Radius | Overall Width | Weight | Engine Type | Transmission |
| --- | --- | --- | --- | --- | --- | --- | --- | --- |
| GC080VX | 8000lbs | 24in | 218 | 90.5 | 52 | 12650 | Kubota 3.8L LPG | Electronic Powershift 1-speed / Electronic Powershift 2-speed |
| GC100VX | 10000lbs | 24in | 208 | 96.3 | 52 | 15329 | Kubota 3.8L LPG | Electronic Powershift 1-speed / Electronic Powershift 2-speed |
| GC120VX | 12000lbs | 24in | 208 | 99.8 | 52 | 16689 | Kubota 3.8L LPG | Electronic Powershift 1-speed / Electronic Powershift 2-speed |
| GC120SVX | 12000lbs | 24in | 208 | 93.5 | 52 | 16743 | Kubota 3.8L LPG | Electronic Powershift 1-speed / Electronic Powershift 2-speed |

The GSA creates a centralized location for the federal government, offering products, services, and facilities needed for federal agencies to serve the public. As a GSA certified company, Yale supports the GSA's mission to provide innovative solutions for federal agencies with cost-effective and high-quality products. You can also find more information on the General Services Administration at www.gsaadvantage.gov
Support throughout the lift truck life cycle
Knowledgeable, reliable dealers make all the difference
When it comes to collaborating with a lift truck dealer, you can't settle – you need dealers wholly focused on your success. When you purchase equipment or technology solutions from Yale Lift Truck Technologies, you gain access to our independent dealer network. "Independent" means our dealers are not constrained by factory ownership or corporate red tape.
Our dealers are entirely focused on fulfilling your needs
A seamless experience, from order to factory to ongoing support
Effective recommendations and responsive support, from parts, maintenance and
emergency services to fleet management, rental trucks and operator training.
Expertise and guidance on special features and allied products and services for your
warehouse, like racking, guarding and safety equipment.
Assistance with financing options.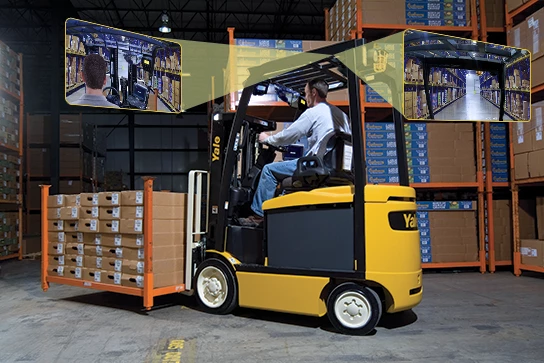 Yale Vision telemetry
Complete fleet visibility and control
Yale Vision provides real-time fleet monitoring for more informed decisions. The solution offers easy-to-use dashboards and analytics to manage cost, optimise productivity and protect assets.
See the difference
Value-added services
Lift trucks are only part of our solution
Our value-added services are designed to help you get the most out of material handling investments.