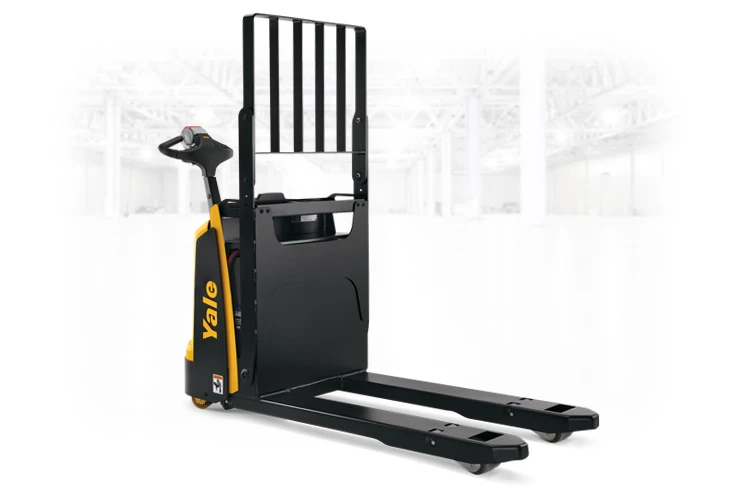 Keep pallets moving on the dock and through deliveries
Compact and efficient walkie pallet jack
Models

MPB045VH

Capacity

4500lbs
With a small footprint and productivity-enhancing features, the walkie pallet truck provides operators the confidence to move loads quickly and efficiently in a variety of applications including loading and unloading trailers and trucks, direct-store delivery, horizontal transport, in-store replenishment and stocking, and dock work.
Ergonomic advantages
Smart features
Durable construction
Direct store delivery (DSD) package
Designed for the toughest conditions
Drive new levels of productivity with our walkie forklift
Ergonomic advantages
A comfortable operator is a productive operator. From a shortened handle to the vertically mounted drive motor assembly, our walkie pallet trucks are more comfortable, compact and easier to operate than ever before.
Large handle run zone enables comfortable operation for a wide range of operators
Shorter, mid-mounted handle brings operators closer to the truck, optimizing visibility and maneuverability
Light hold-down effort for tiller requires little exertion by the operator to move handle and maintain position
Smart features
With its small footprint, the MPB-VH is designed to help operators confidently move pallets in and out of tight areas. And with several exclusive, productivity-enhancing features, you can move product quickly and efficiently.
Smart Lift feature allows operators to begin travel before the unit is at full lift, helping reduce cycle times up to 25%
Smart Slow Down automatically reduces truck speed in corners, helping improve load stability and operator confidence
Durable construction
You need a truck that can handle rigorous duty cycles — moving across various surfaces, engaging pallets, starting, stopping and starting again.
That's why we strengthened every inch of our walkie pallet truck. From enhanced frame stability and reinforced forks to a tough, protective undercarriage and more — we've designed the MPB-VH to stand up to your toughest challenges.
Hardened flag pins, 14% larger than competition at all connections
Resistant to rusting and seizing up when wet
Bronze bushings with a twice as thick wall compared to competitors
'x' groove bushings at all pivot points helps retain grease, reduce wear and/or frequent replacement
Direct store delivery (DSD) package
The Direct Store Delivery (DSD) package for the MPB045-VH is specifically designed for the unique challenges of moving product from trailer to store.
Stay charged on the go — Charge lithium-ion batteries anytime, anywhere with a 120V outlet – even in the trailer between delivery stops
Total control in tight spaces — Exclusive handle design offers full control in the upright position for maneuverability and visibility inside a trailer or between aisles
Handle multiple pallet types — Movable load backrest with quick latch and pivot arms enables the walkie to handle multiple pallet types with a single fork configuration
Maintain stability on challenging terrain — Navigate door jambs, rough parking lots, curbs and more while keeping loads secure with a 2-inch ratcheting and locking load retention strap
Designed for the toughest conditions
Tough applications come in all shapes and sizes. The MPB-VH has packages specifically designed to meet the unique challenges of a variety of applications.
Standard construction — Designed to operate in +32° F to +120° F
Cooler/freezer package — Designed for 0° F to +120° F, with red polyurethane groove or rubber drive tire recommended
Sub-zero freezer package — Designed for -40° F to +120° F, with red polyurethane groove or rubber drive tire recommended
Wash down package — Includes electric brake enclosure, lubrication (hydraulic freezer oil) and corrosion inhibitor on unpainted surfaces of drive wheel and drive unit
Heavy corrosion wash down package — Includes galvanized frame and lift linkage, electric brake enclosure, lubrication (hydraulic freezer oil) and corrosion inhibitor on unpainted surfaces of drive wheel and drive unit
| Model | Load Capacity | Lift Height | Battery Capacity Voltage | Weight |
| --- | --- | --- | --- | --- |
| MPB045VG | 4500lbs | 8.4 | 24V / 208-224Ah | Li-ion 24V / 56-168Ah | 624 |

The GSA creates a centralized location for the federal government, offering products, services, and facilities needed for federal agencies to serve the public. As a GSA certified company, Yale supports the GSA's mission to provide innovative solutions for federal agencies with cost-effective and high-quality products. You can also find more information on the General Services Administration at www.gsaadvantage.gov
Support throughout the lift truck life cycle
Knowledgeable, reliable dealers make all the difference
When it comes to collaborating with a lift truck dealer, you can't settle – you need dealers wholly focused on your success. When you purchase equipment or technology solutions from Yale Lift Truck Technologies, you gain access to our independent dealer network. "Independent" means our dealers are not constrained by factory ownership or corporate red tape.
Our dealers are entirely focused on fulfilling your needs
A seamless experience, from order to factory to ongoing support
Effective recommendations and responsive support, from parts, maintenance and
emergency services to fleet management, rental trucks and operator training.
Expertise and guidance on special features and allied products and services for your
warehouse, like racking, guarding and safety equipment.
Assistance with financing options.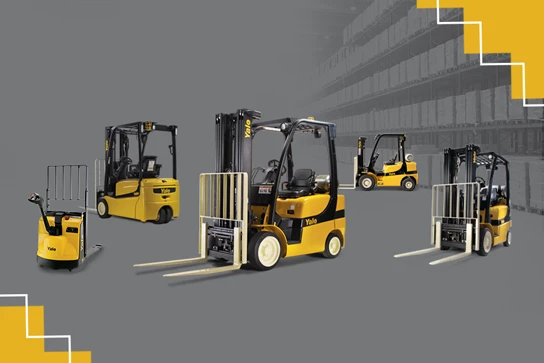 Right Truck, Right Now
This model is in-stock now
Time is of the essence when you need a new lift truck, so our dealers keep essential Yale® models like this on-site, ready right now.
Inventory availability page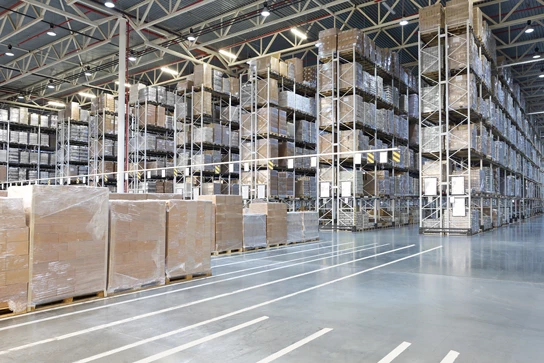 Industry highlight
Food distribution & cold storage
The pressure is on to store and move more, while keeping food safety and traceability in check. Are you prepared?
Learn more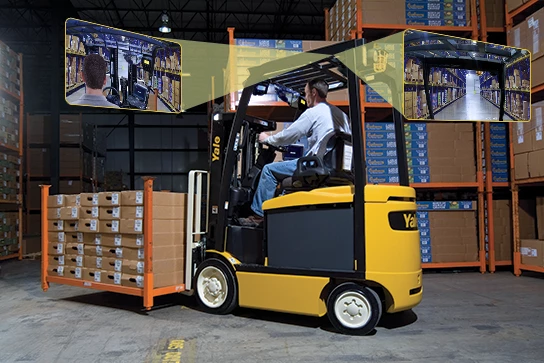 Yale Vision telemetry
Complete fleet visibility and control
Yale Vision provides real-time fleet monitoring for more informed decisions. The solution offers easy-to-use dashboards and analytics to manage cost, optimise productivity and protect assets.
See the difference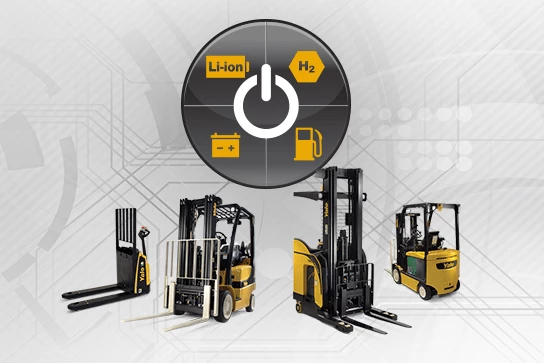 Yale Power Suite
Unlock the True Power of Your Operation
Yale Power Suite has the industry's widest range of power sources from a variety of brands, so you get the best solution available to maximize your operations. Our team has deep industry knowledge about forklift power sources to evaluate your application and recommend the power source that gives you the best return on your investment.
Learn more
Value-added services
Lift trucks are only part of our solution
Our value-added services are designed to help you get the most out of material handling investments.