Forklift safety
Supporting warehouse safety initiatives and boosting productivity
Technology is revolutionizing supply chains. And while labor challenges, performance targets and other forces are responsible for driving adoption, advanced technologies all have a potential effect on forklift safety. Success requires a partner with expertise in the latest advanced materials handling solutions and a proven commitment to safety.

Yale® Robotics can automate repetitive warehouse tasks and work safely alongside human co-workers. A comprehensive package of laser scanners, sensors, cameras and software enable these robotic solutions to detect, avoid and adapt to obstacles, helping deliver the high levels of safety and productivity your operation demands.

Yale Vision telemetry helps encourage operators to adhere to safety regulations by restricting access to properly trained operators authorized by management, limiting truck performance based on operator experience and automating OSHA pre-shift checklists. The impact detection feature also sends real-time alerts to management, helping identify impact-prone areas of the facility and operators who could use additional training.
Operator Assistance Technologies
Yale Reliant™ is a first-of-its-kind package of technologies designed to reinforce lift truck operating best practices and support operator awareness. Tailored to the unique challenges of warehouse operations, it limits equipment performance based on equipment status, location and operating conditions, while keeping the operator in control of the lift truck.

Yale offers the industry's broadest range of lift truck power options, available on our comprehensive line of lift trucks. Whether your challenge is meeting strict regulations for hygiene and air quality, minimizing the risk of repetitive stress injuries or both, the Yale Power Suite team can identify the right source for your operation.

Warehouses looking to enrich their training portfolio may want to consider virtual reality simulation. While not a substitute for OSHA-mandated hands-on training, the Forklift Simulator™ from Yale can help operators learn accurate equipment response, complete with automated, real-time feedback on their performance, all while working in an immersive and realistic learning experience. Button copy: Explore Simulator Training

Want an impactful reminder of safety best practices? With Yale's free forklift and pedestrian safety tips posters, you can help elevate safety awareness throughout your operation.
Operator Safety Poster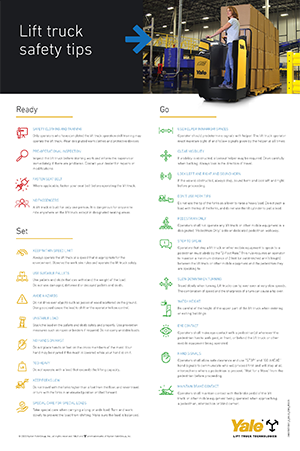 Pedestrian Safety Poster